Quorum, Hospitals Fall as Trump Stumps for GOP Health Bill
By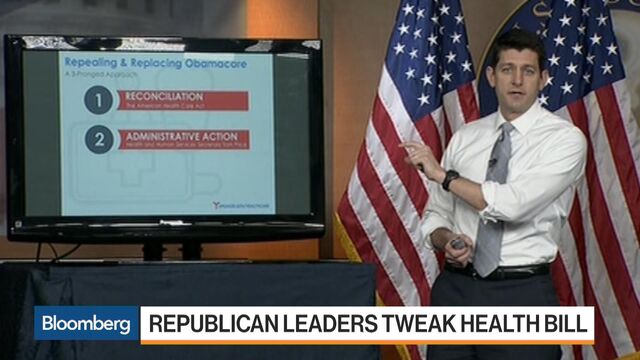 Quorum Health Corp. and other hospital chains fell Tuesday as President Donald Trump went to Capitol Hill to drum up support for a Republican health bill that would repeal parts of Obamacare and add to the number of people who can't pay their medical bills.
Quorum plunged 11 percent to $6.64 at 1:41 p.m. in New York trading, while Community Health Systems Inc. dropped 7.5 percent to $8.23 and Tenet Healthcare Corp. slid 5 percent to $16.65. HCA Holdings Inc., the biggest U.S. hospital chain, fell 1.3 percent to $82.79.
Republicans are proposing to roll back the Medicaid program for the poor that was expanded under the Affordable Care Act, also called Obamacare, and trim programs that made health coverage cheaper for older people buying private insurance. Trump is warning House Republicans that they may lose their seats if they fail to vote for the bill, and passage looks more likely, Mizuho Securities analyst Sheryl Skolnick said.
"The realization that Trump could get this thing passed is hitting hospital stocks hard today,"Skolnick wrote in a note to clients. The bill is negative for hospitals in the medium-long run and "further regulatory repeal of the ACA could throw health care providers into additional disarray with little warning."
An analysis of the original version of the GOP bill, called the American Health Care Act, from the nonpartisan Congressional Budget Office showed it could lead to 24 million more Americans going uninsured in 10 years than under existing law. Changes to the bill revealed last night would still increase the number of the uninsured, many of whom would need hospital care at some point and run up bills they can't afford to pay.

The Bloomberg Intelligence North America Hospitals Competitive Peers index of seven companies fell 4.1 percent, while the Standard & Poor's 500 index lost 1.1 percent.
Quorum has fewer resources than its competitors to cope with the losses in Medicaid coverage that would come in 2020 under the Republican measure, Skolnick said. HCA, meanwhile, is the best positioned among hospital chains to withstand a "more harsh legislative and regulatory stance," she said.
Before it's here, it's on the Bloomberg Terminal.
LEARN MORE