Failure to Repeal Obamacare Would Endanger Tax-Cut Goals, Some in GOP Warn
By
Trump says no 'very big tax cut' until Obamacare repealed

Obstacles seen remaining after House leaders tweak health bill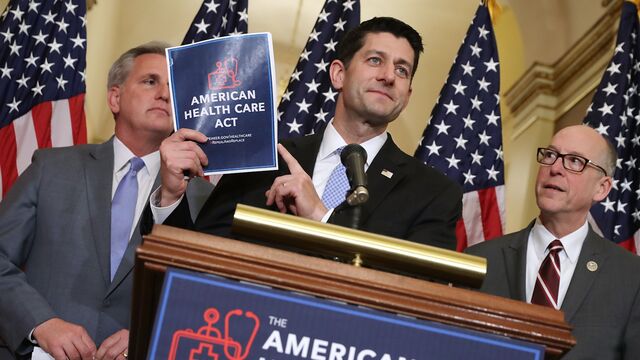 Top Republicans are warning their fellow party members that failing to repeal Obamacare could imperil the goal of a massive tax cut -- and perhaps more of President Donald Trump's legislative agenda.
As a health-care replacement bill backed by House Speaker Paul Ryan struggles to gain support from House conservatives and Senate Republicans, some GOP lawmakers argue that a once-in-a-generation opportunity to overhaul the U.S. tax code with stout cuts in tax rates for businesses and individuals depends on the outcome. U.S. stocks have rallied since Trump's election, with the Standard & Poor's 500 Index reaching a record high earlier this month, buoyed in part by the expectation of corporate tax cuts. The index had declined Tuesday by almost 1 percent to 2,352.52 at 1:15 p.m. in New York.
"If we are not able to move forward with health-care reform, it endangers tax reform," Representative Bill Flores of Texas, a former chairman of a House conservative caucus, said in an interview Friday. "The folks that were able to tear this down would feel like they're empowered to tear the next big project down."
The health-care legislation contains tax cuts of its own -- about $883 billion worth over 10 years -- that the bill would pay for by cutting roughly the same amount of federal Medicaid spending. Accomplishing those tax cuts would set a lower revenue baseline, Republicans say -- giving them a better chance of achieving revenue neutrality in subsequent tax legislation. A revenue-neutral tax bill could bypass rules requiring 60 votes in the Senate, where Republicans hold only 52 seats.
"This is so basic to what we've promised over the last few elections," Senator John Cornyn of Texas, the majority whip, said of the health-care legislation. "I think if we fail to keep this promise then I think it makes the rest of our work much, much more difficult to accomplish."
A Bloomberg National Poll in December found that 20 percent of respondents ranked health care as their most important issue; only 4 percent cited taxes.
Trump's Test
Health care represents the first big test of Trump's ability to steer ambitious proposals through Congress. During a Monday night rally, he repeated a theme from recent speeches, saying he wishes he could have done "massive tax reform" first.
"We want a very big tax cut, but cannot do that until we keep our promise to repeal and replace the disaster known as Obamacare," Trump said at the campaign-style rally in Louisville, Kentucky.
Obstacles remain for the health-care bill, even with House GOP leaders making a series of 11th hour changes to it Monday evening in a bid to secure more votes. Representative Mark Meadows of North Carolina, who chairs the conservative House Freedom Caucus, told Bloomberg Monday: "Currently there are not enough votes to pass the legislation."
There's no procedural obstacle that prevented Republicans from addressing taxes first, according to Stan Collender, a budget expert and former Democratic budget aide. And they can still act on tax legislation if the health bill stalls, he said. Nonetheless, he agreed that Republicans would have an easier time passing a tax overhaul if the health-care bill -- and its tax cuts -- succeeds first.
"To the extent that they can lower the tax baseline with health care, it means there's less to do on tax reform," Collender said.
There's a potential fallback option if the health-care legislation stalls: Leaders could try to salvage portions of the bill and merge it with tax legislation. That package would still be protected from a Democratic filibuster, provided that it reduces the deficit. And a larger bill would give leaders more carrots to pass out in return for votes.
But Representative Chris Collins, a New York Republican and top ally of Trump's, said Monday there's "no appetite" for such a combo platter among his fellow Republicans, who he said want to pass the health bill quickly and move on.
If the health-care bill fails, though, Republicans would probably need to find revenue raisers elsewhere in the tax code to cover the repeal of the health-care taxes, which include a 3.8 percent tax on investment income and a 0.9 percent Medicare surcharge for top earners.
August Target
Representative Kevin Brady of Texas, chairman of the tax-writing Ways and Means Committee, told reporters on Monday that tax reform won't be "as pro-growth" unless the Obamacare taxes are repealed first.
"Making sure we have an accurate tax foundation on which to start tax reform is very important," Brady said.
Senate Finance Committee Chairman Orrin Hatch said last week that cutting the Obamacare taxes as part of the health proposal "certainly should" make it easier to achieve a larger tax cut after rewriting the tax code.
Hatch and Senate Majority Leader Mitch McConnell have signaled that Ryan's August target for completion of a tax overhaul may be unrealistic. That leaves a narrow time window in the fall, with key Republicans warning that the legislation can't wait until 2018, a congressional election year.
"I think it happens in 2017, or it doesn't happen," Representative Peter Roskam of Illinois, the chairman of the Ways and Means tax panel, said last week on Fox News.
Even if House leaders successfully pressure members into supporting the health-care bill, that move could backfire on future issues -- including the controversial border-adjusted tax, a centerpiece of the House GOP tax proposal -- said a GOP lawmaker who asked not to be named to speak more candidly. Republicans who fall in line on health care at the risk of hurting some constituents will find it hard to cast a similarly risky vote on taxes, the lawmaker said.
Shutdown Deadline
Republicans will also have to tackle averting a government shutdown when funding expires on April 28, as well as raising the debt limit later this year -- two tasks that have taken time and political capital for party leaders in recent years. Both measures are subject to a 60-vote threshold in the Senate, meaning they'll have to win at least eight Democrats.
Despite the hurdles, Representative Tom Cole, an Oklahoma Republican, remains optimistic, saying tax cuts will "go ahead one way or another."
"Obviously it's a setback" for Trump and for Republicans if health care fails, he said. But he added, "God made Republicans to cut taxes. That's what they do. And they don't worry too much about the budgetary consequences of it sometimes."
— With assistance by Anna Edgerton, and Steven T. Dennis
Before it's here, it's on the Bloomberg Terminal.
LEARN MORE