Netanyahu Asks Xi to Exempt Israel From Investment Curbs
By
Tells Chinese president that technology deals need fast track

Israelis say China deals collapsing over currency controls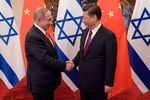 Israeli Prime Minister Benjamin Netanyahu asked China's President Xi Jinping to lift foreign currency restrictions for Chinese investors in Israeli technology companies.
"I said that Israel's a special case" because it "has significance for technology but it doesn't have any significance in terms of volume on markets or currencies," Netanyahu told reporters Tuesday after meeting Xi at the government's official guesthouse in Beijing. "He said he was willing to do it."
While one-third of foreign investment in Israel last year came from China, some startup executives complained that financing deals were being canceled because Chinese investors couldn't take money out of their country, the Israeli leader said.
Chinese regulatory authorities imposed restrictions on overseas use of the yuan last year to limit an outflow of the currency that contributed to its weakening against the dollar.
A Chinese government spokesman could not immediately be reached for comment on Xi's reaction to Netanyahu's request.
'Major Setback'
The currency restrictions are "a major setback to our effort to bring Israeli technology to China and to bring Chinese capital into Israel," said Yigal Livne, managing partner of Oriental Fortune Capital Co., an investment fund based in Herzliya, Israel and Shenzhen, China. Livne said he knows of at least six deals that have fallen through or been frozen because of the Chinese currency policy.
Xi and Deputy Premier Liu Yandong both met with Netanyahu Tuesday and praised Israel's technological prowess, announcing steps to create an "innovation partnership" that would encourage joint ventures, particularly in the fields of desalination, and health-care databases.
Netanyahu cited Intel Corp.'s $15.3 billion acquisition last week of Mobileye NV, which makes image-sensing products aimed at preventing car crashes, as evidence of Israel's leadership in technology. The premier also met with Robin Li, the billionaire chairman of Chinese internet search company Baidu Inc., who's invested in four Israeli start-ups and said he's scouting for more.
Israeli cabinet ministers traveling with Netanyahu also signed a raft of agreements with China, ranging from granting visas for 20,000 Chinese construction workers to opening joint research centers in both countries to develop applications for artificial intelligence technology.
In public remarks at his meeting with Xi, Netanyahu said Israel "can be a partner, a junior partner, but a perfect partner for China in the development of a variety of technologies that change the way we live."
Netanyahu's four-day visit to China was overshadowed in Israel by his threat to dissolve his government for a fourth time in a dispute with coalition partners over the future of Israel's public broadcasting authority. The 67-year-old leader refused to address the political storm at home and whether it will lead to new elections.
Before it's here, it's on the Bloomberg Terminal.
LEARN MORE