Macron on Top After First Presidential Debate of French Race
By , , and
Snap polls shows Macron most convincing, Hamon trailing

Le Pen, Macron clash on Europe, euro, Russia, and immigration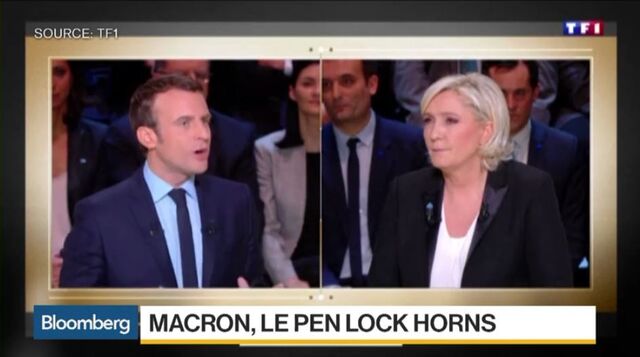 In the first debate between the main contenders to become France's next president the centrist front-runner emerged with his lead intact.
Emmanuel Macron, a 39-year-old running for office for the first time, parried attacks from both ends of the political spectrum as he navigated questions on the economy, terrorism and immigration.
Voters are still getting to know Macron who's been in the public eye for less than three years, so the stakes were high in front of a television audience of almost 10 million. Two snap polls judged the rookie candidate, who has the backing of no established party, the most convincing and markets rose as he stopped the National Front's Marine Le Pen from landing a knock-out punch.
"Macron managed quite well," said Bruno Cautres, a political scientist at SciencesPo in Paris. "The challenge for him was to show that he wasn't just the new and inexperienced one, to show he has the depth and the skills."
The euro strengthened against most of its major peers after the debate.
Le Pen, the anti-euro, anti-immigration candidate, attacked with a series of blunt propositions to ban all immigration and impose a 35 percent tariff on certain imported goods. But Macron fired back, criticizing her for what he said was a lack of ethics, her lack of experience outside politics, and her divisive attitudes toward immigrants.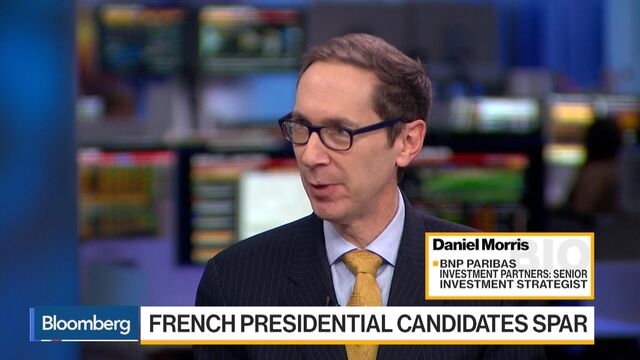 Polls show that both he and Le Pen have about a quarter of the electorate behind them in the first round vote on April 23, with Republican candidate Francois Fillon trailing in third place with about 19 percent support. Macron is projected to win the May runoff by about 20 percentage points.
Facing the biggest television audience of his career, Macron was seen as the most convincing candidate by 29 percent of viewers, according to an Elabe poll of 1,157 people who watched. Far-left candidate Jean-Luc Melenchon placed second with a score of 20 percent while Fillon and Le Pen were at 19 percent. Socialist candidate Benoit Hamon trailed with 11 percent support.
For a dashboard tracking European political risk, click here
OpinionWay had Macron at 24 percent with Fillon and Le Pen tied at 19 percent and Melenchon at 15 percent, in a separate survey of 1,037 viewers. Hamon was last on 10 percent.
The independent candidate received a further boost Tuesday when junior minister Barbara Pompili became the first member of President Francois Hollande's government to endorse him.
Le Pen 'at Ease'
Le Pen, carrying the populist mantle of the National Front party founded by her father and making her second bid for the presidency, hammered away at her opponents, suggesting that their records as ministers meant they are responsible for the current state of France. Using direct language, lists and emphatic body language, she implicitly dismissed their policy exchanges as quibbling.
After others exchanged their thoughts on immigration policy, for instance, she was unequivocal: "I want to stop immigration both legal and illegal and I'm proud of my plan," she said. Or take her closing statement, in which she attacked the European Union: "Savage globalization has been a nightmare for you," she told voters.
"Marine Le Pen was very at ease and dominant," Cautres said. "She managed to show authority and calm" and "no other candidates managed to push her into making a mistake," he said.
Macron interjected regularly when Le Pen was speaking. "Unlike you, I want responsible politics," told her. "I want a strong France within Europe. That's our great disagreement."
Economic Chaos
Fillon jumped on Le Pen in the middle of a discussion about household purchasing power. "The real serial killer of French purchasing power is you with your plan to pull out of the euro," he said. Your policies would "bring the country into veritable economic chaos."
Le Pen retorted that he was resorting to "Project Fear," just like the opponents of Brexit in the U.K.
Backers of all the candidates hit the airwaves Tuesday morning to claim victory.
"She was the only one who spoke concretely about what we must do about pensions, how we combat Islamic fundamentalism, how we stop factories from leaving," National Front Vice President Florian Philippot said on BFMTV.
"I was struck by the weakness of Marine Le Pen: She wasn't prepared, had no knowledge of the subjects," retorted Socialist Party head Jean-Christophe Cambadelis on RTL Radio. "Benoit Hamon was solid, and was the only one who spoke about the France of the future."
In a debate that ranged from Fillon's call to bring back uniforms in school to the intricacy of France's 35-hour work week and to the right of Muslim women to wear Burkinis on beaches, the Socialist candidate Hamon repeatedly sniped about the forces of "money" and vaunted his plan for a guaranteed minimum income. The communist-backed Melenchon won the one real laugh of the evening, mocking Macron and Hamon.
While the debate touched on the role of money in politics none of the other four ever directly mentioned that Fillon's under investigation over whether family members ever did any actual work when he employed them as parliamentary aides. Fillon had been the front-runner until the allegations broke.
Another debate is tentatively scheduled for April 4.