markets
How the U.K. Beat Predictions of a Brexit Crunch So Far
By and
Economy has maintained momentum since the EU vote last year

But pound decline has helped to boost inflation rate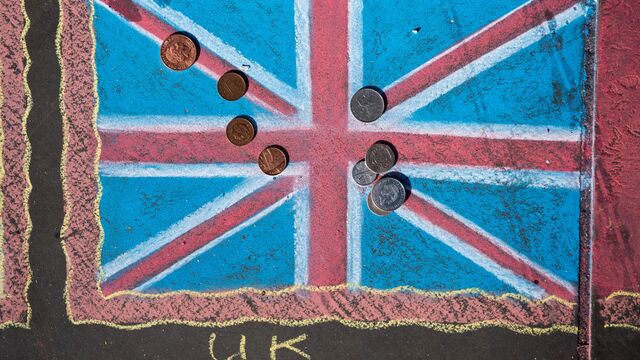 The road to Brexit has been littered with inaccurate economic forecasts.
Since the U.K. voted to leave the European Union in June, growth has surpassed expectations on the strength of consumer spending, defying projections just after the vote for two quarters of contraction and barely any expansion through much of 2017. Economists still see a slowdown, albeit gentler, and many warn that the impact will be protracted.
With Prime Minister Theresa May planning to finally trigger Article 50 on March 29, nine months after the referendum, here's a snapshot of how the economy is looking. The country is heading into at least two years of negotiations to disentangle itself from decades of agreements on everything from trade to farming to financial regulation -- changes that will have repercussions across Europe's second-largest economy.

Part of the reason for the gloomy forecasts last year was a sharp drop in surveys of confidence and activity after the EU vote. While the measures subsequently recovered, the decline was enough for Bank of England Governor Mark Carney to unleash a barrage of stimulus in August.

Justifying the stimulus, Carney in August warned the U.K. was entering a "protracted period of heightened uncertainty." While that's true -- and there's still a lack of clarity about the Brexit deal -- policy maker Kristin Forbes warned in September that the bank may have miscalculated the impact of that uncertainty. The BOE has subsequently raised its projection for 2017 twice, though it retains a more cautious view of 2018.

One thing the economists got right is inflation. The pound has taken a 17 percent hit since the EU vote and that, along with higher oil prices, is pushing up the cost of imports. The rate of inflation has tripled since last summer and new data on Tuesday show it was at 2.3 percent in February, the fastest since 2013.

But while economists got the direction right, they have still become even more pessimistic about the outlook for inflation. Having previously seen price growth hovering around the BOE's 2 percent target this year, the median forecast now is that it will now push close to 3 percent.

Faster price growth has ramifications for consumer spending, one of the main engines of economy in recent years, as higher prices outstrip income gains. There are already signs of that in the latest retail-sales data.

Before it's here, it's on the Bloomberg Terminal.
LEARN MORE