politics
Trump Says GOP Must Pass Health Bill or Risk Losing Seats
By , , and
Changes include optional work requirement for Medicaid

Trump to rally Republicans but Conservatives could block bill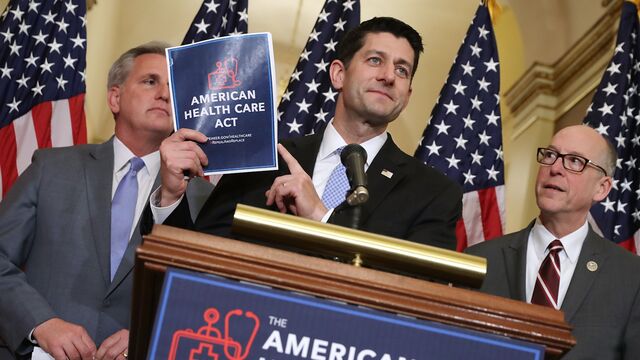 Donald Trump warned House Republicans in a closed-door meeting Tuesday that many of them could lose their seats in the 2018 elections if they don't pass their bill to replace Obamacare.
The president's message came a day after GOP leaders made several changes to their measure aimed at wooing reluctant Republicans, including limits to Medicaid enrollment and an accelerated phaseout of some taxes.
"Support it!" Trump told lawmakers, according to Representative Walter Jones of North Carolina, who said he still opposes the measure. He said Trump's remarks contained "nothing in detail, except politically it's the right thing to do." Trump didn't take any questions from lawmakers.
Here's What You Missed From President Trump Today
Asked on his way into a closed-door GOP meeting whether they had the votes, Trump said, "I think so." And Republican leaders voiced optimism that the new changes would put them over the top when the bill reaches the House floor Thursday. A member of the House vote-counting team said they're getting closer to the 216 votes they need for passage.
"The president just came here and knocked the ball out of the park," House Speaker Paul Ryan told reporters Tuesday. "He knocked the cover off the ball." He called the moment a "rendezvous with destiny" for Republicans.
'Not Enough Votes'
But House conservatives said late Monday that they didn't get the changes they were looking for and could block passage.
"Currently there are not enough votes to pass the legislation," House Freedom Caucus Chairman Mark Meadows said Monday night after a raucous caucus meeting. The group, which has opposed earlier versions, didn't take an official position on the changes, but a spokeswoman said a whip count by the group showed it could defeat the bill.
During Tuesday's meeting, Trump singled out Meadows and joked that he'd "get there too," according to Representative Fred Upton of Michigan. Upton added that Meadows, red-faced, stood up and acknowledged the president.
After the meeting, Meadows said he's still a no. "If this was about the president, I would have changed a long time ago," he said.
Conservative Republican Mo Brooks of Alabama also said he wasn't impressed by Trump's election threat.
"I think if we do vote for this we will lose the majority," Brooks said after the meeting.
Deficit Problems
Another problem for conservatives could come when the Congressional Budget Office releases a new estimate on how the changes would affect the measure's deficit savings. 
That estimate, which leaders say will come before the Thursday floor vote, is expected to show significantly less deficit reduction than the $337 billion the CBO estimated would result from the original bill.
"I think this reduces total deficit reduction somewhere in the range of $150 billion, leaving less than $200 billion in deficit reduction," Committee for a Responsible Federal Budget scholar Ed Lorenzen said.
The alterations are being proposed to help add Republican support for the bill, which is set to come up for a vote on the House floor Thursday, and House leaders sounded an optimistic note about the chance for passage. The changes would allow states to require people covered by Medicaid to work and block U.S. funds for any new efforts to expand the health program for the poor.
It isn't clear yet whether the changes will persuade enough Republicans.
"I don't know" if it will pass, said New York Republican Peter King. "It's going to be close."
While it softens some measures that would make health coverage more expensive for older people, the Obamacare overhaul remains a threat to hospitals and some insurers, which would see fewer paying patients if it passed.
Wooing Moderates
One indication that Ryan and his lieutenants are gaining important ground came late Monday when Representative Tom MacArthur of New Jersey and several other moderates said they would back the bill.
MacArthur co-chairs a group of House centrists known as the "Tuesday Group." He was joined in his announcement by Representatives Tom McClintock of California, Martha McSally of Arizona and Robert Aderholt of Alabama. In a statement, the group pointed to adjustments to boost the bill's tax credits for lower-income adults as key in helping to address their concerns. 
Not all House moderates had yet joined in support by Tuesday morning, including MacArthur's Tuesday Group co-chairman -- Charlie Dent of Pennsylvania. But securing centrist backing is key for GOP vote counters, who have little wiggle room given ongoing opposition from some conservatives.
"The bill will pass," MacArthur said Tuesday.
But members had different opinions on whether the changes would be enough to get it through.
"I think there are obviously some small tweaks that are good tweaks but there's no substantial changes in the manager's amendment that would make anybody be more compelled to vote for this," Meadows said Monday night.
House leaders were working hard to to win over remaining holdouts, both conservatives and moderates in their party, a process known as whipping votes.
'A Whip That's 10 Feet Long'
"They're already whipping with a whip that's 10 feet long and five feet wide," Meadows said when asked if GOP leaders were trying to pick off individual members of the Freedom Caucus.
Ryan and his GOP lieutenants can afford to lose no more than 21 votes in the chamber, presuming all Democrats vote against the bill.
An outcry followed the introduction of the GOP bill, which would cut assistance for people buying insurance, roll back the Medicaid program for the poor and lead 24 million more Americans to be uninsured in 2026 than under Obamacare, according to one analysis. Swelling numbers of people unable to pay their medical bills would take billions of dollars out of the health-care system, pressuring hospitals, insurers and other health-care companies.
The changes to the bill give states another option for how their Medicaid payments from the federal government would be calculated. States could opt for block grant payments, instead of the per-person payment caps that were already in the measure. The so-called manager's amendment would also repeal Obamacare's taxes this year, one year earlier than originally planned.
New York Provision
Representative Chris Collins, a New York Republican, also told reporters Monday that leaders agreed to add a special provision to hold $2.3 billion a year in Medicaid funding from New York unless the state's governor and state legislature agree to stop forcing counties to help pay for Medicaid. He said the change was needed to help persuade most New York Republicans in the House to back the measure.
The Medicaid provision is written to pertain only to New York counties outside of New York City, said Representative John Faso, a co-author.
Lawmakers are also facing pressure from back home. Michigan's Republican governor, Rick Snyder, sent a letter to his state's delegation -- nine Republicans and five Democrats -- warning them of the law's consequences in each of their districts. New York's Andrew Cuomo, a Democrat, on Monday slammed some of the state's Republicans for supporting an amendment that could limit federal funding of the state's Medicaid program.
The changes didn't include an alteration some conservative GOP members sought to wind down Obamacare's expansion of Medicaid starting in 2018 rather than in 2020 as was proposed in the original legislation. 
Some moderate Republicans also wanted to increase tax credits for older, poorer people -- a demographic that would pay substantially more for health coverage under the GOP bill than under Obamacare. Those changes weren't made in the most recent version, but part of the amendment leaves room for the Senate to increase the tax credits for that group.
Under the original legislation, older Americans would have been hit with significant increases in premiums without adequate financial assistance. This new pot of money is created by a tweak to the bill that lowers the amount Americans can deduct from their taxes for the cost of medical expenses that exceed 10 percent of their income. The threshold would shrink to 5.8 percent.
The Medicaid limits are an appeal to more conservative Republicans. Most members of the Freedom Caucus want to go further and make it mandatory in all states, a GOP aide said.
— With assistance by Sahil Kapur, Arit John, Terrence Dopp, Justin Sink, Steven T. Dennis, Zachary Tracer, and Anna Edgerton
(
Updates with deficit effect starting in 12th paragraph.
)
Before it's here, it's on the Bloomberg Terminal.
LEARN MORE