Fillon Slips Further in France as Canard Reports Putin Ties
By and
Paper says he fixed Lebanese billionaire's meeting with Putin

Putin spokesman Dmitry Peskov says report is "another fake"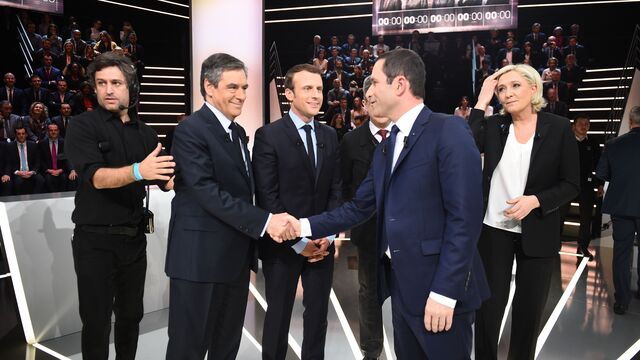 Republican candidate Francois Fillon fell further behind in the French presidential race as satirical newspaper Le Canard Enchaine published details of his financial ties to the Russian government and prosecutors broadened a probe into his affairs.
Fillon dropped half a percentage point, to 17 percent, in an Elabe survey of first-round voting intentions to be published in Wednesday's edition of L'Express while independent front-runner Emmanuel Macron rose a half-point, to 26 percent. Fillon, who was the favorite to be France's next head of state less than three months ago, has seen his campaign battered by almost weekly revelations in Le Canard about his finances.

On Tuesday, the newspaper reported that the 63-year-old former prime minister earned 50,000 euros ($54,000) for setting up a meeting between a Lebanese billionaire, Russian President Vladimir Putin and Total SA Chief Executive Officer Patrick Pouyanne in 2015. Le Monde newspaper reported separately that prosecutors have asked judges to widen a criminal probe stemming from an earlier report in Le Canard to include charges of fraud, forgery and falsification of records.
Fillon aide Bruno Retailleau said in an interview on RTL radio Wednesday that the candidate's work was "absolutely legal" and had been reviewed by officials at the National Assembly. "Politicians have a network," he said. The prosecutor's office didn't respond to phone calls and emails seeking comment.
As Fillon's bid has faltered, Macron has seized the initiative. The 39-year-old former economy minister, running in his first political campaign without the backing of an established party, picked up the endorsement of Junior Biodiversity Minister Barbara Pompili Tuesday, the first member of President Francois Hollande's administration to back him. On Monday night, the political rookie bolstered his position by fending off attacks from both sides in the first televised debate of the campaign.

Macron has emerged as the most likely candidate to defeat the nationalist Marine Le Pen's bid to take France out of the European currency union and reinstate border controls. Le Pen also lost half a point in the Elabe poll, falling to 24.5 percent. Macron would beat the National Front leader by 28 points in the runoff on May 7, Elabe projected.
Fillon clinched the Republicans' nomination in November, promising a major departure from incumbent Hollande's handling of Russia. While Hollande has backed European efforts to limit Russian meddling in Ukraine and Syria, Fillon wants to revive France's relationship with Moscow and ease its reliance on the U.S., a throwback to the Cold War policy of Charles de Gaulle.
An explainer: Don't Be Misled by Polling for French Election
In Monday's debate, Fillon said he was prepared to discuss redrawing the borders of Crimea, the Ukrainian territory that Russia annexed in March 2014, citing the right to "self-determination of people."
Back in November, Putin said that he has a "very good" personal relationship with Fillon and that he wants to "fully restore Russian-French relations." After the Republican primaries concluded, Putin's spokesman, Dmitry Peskov, struck a more cautious note, saying Russia doesn't get involved in other countries' elections.
Sees No Threat
Fillon often referred to Russia as a "great nation" in his presidential campaign and didn't see the former Soviet Union as a threat to Europe. Staffing his campaign team with two longtime advisers -- Jean de Boishue and Igor Mitrovanov -- descended from Russians exiled after the 1917 revolution, Fillon has called on France to work with Russia, even in Syria and Ukraine.
That relationship was thrown into a harsher light on Tuesday with Le Canard's report that Fillon's advisory firm, 2F, was paid by Dubai-based Future Pipe Industries Group Ltd. to set up a meeting between its director, Lebanese billionaire Fouad Makhzoumi, Putin and Pouyanne at an annual economic conference in St. Petersburg, Russia, in June 2015.
According to the contract, Fillon would help Makhzoumi access influential figures and policy makers in Russia, Algeria, Gabon, and Ivory Coast as well as at French companies, the weekly newspaper reported.
Calls to Makhzoumi's offices in Dubai and Abu Dhabi weren't answered. Staff at the company's Paris office weren't able to comment. A Total spokesman said in a text message that it's possible that Pouyanne met with Makhzoumi at the St. Petersburg forum, where he usually meets dozens of people.
While photographs published by Russia's official news agency, RIA Novosti, show Putin and Fillon meeting with Makhzoumi, Peskov denied that Fillon had played any role in organizing the meetings. 
"Another fake," he said in a text message.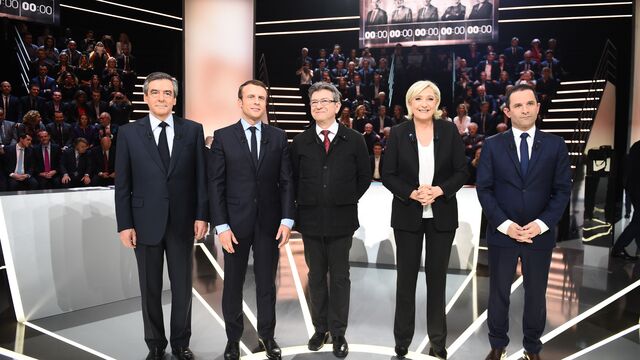 — With assistance by Henry Meyer, Francois De Beaupuy, Mark Deen, and Rudy Ruitenberg
Before it's here, it's on the Bloomberg Terminal.
LEARN MORE