business
Tronc Board Dispute Said to Center on Soon-Shiong's Trades
By
Soon-Shiong holds 24 percent stake in L.A. Times owner Tronc

Board committees decided not to renominate him as director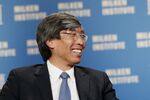 Tronc Inc. directors took steps to get Patrick Soon-Shiong off the board amid questions about whether he violated company trading policies by acquiring shares near the dates of earnings reports, according to people familiar with the matter.
The directors of Tronc, owner of the Los Angeles Times and Chicago Tribune, decided not to renominate Soon-Shiong because of the timing of those trades and also because he had been disruptive on the board, said one of the people, who asked not to be identified discussing private information.
Yet Soon-Shiong maintains he and other board members had an agreement that let them acquire shares as long as they weren't in possession of material, non-public information, one of the people said. Soon-Shiong has also raised concerns about Chairman Michael Ferro's use of corporate assets, one person said.
Tronc reported fourth-quarter results on Feb. 22. Filings by the company and Soon-Shiong show he entered into an agreement on Feb. 28 to acquire 950,000 Tronc shares from Oaktree Capital Management LP. The billionaire also agreed on Feb. 24 to buy 2 million shares from HG Vora and purchased 244,553 shares on the open market between Nov. 23 and Feb. 17.
The share purchases and Soon-Shiong's exit from the board suggest a growing rift between the Los Angeles biotech billionaire and the Chicago-based company, which publishes newspapers in nine of the largest big-city markets, including San Diego and Baltimore.
In possible signs of a power struggle, Soon-Shiong boosted his stake in the company to 24 percent from about 16 percent, according to a regulatory filing Tuesday. He acquired shares from the two institutional investors and is now the second-largest stockholder behind Ferro, whose Merrick Ventures LLC owns 24.8 percent.
Ferro bought Tronc shares on Dec. 23, just before the end of the quarter, according to a regulatory filing. The trades made by Ferro and Soon-Shiong were different, the person close to Tronc said, without elaborating.
In a statement Tuesday, Tronc said "the work of our compensation, nominating and corporate governance committee is confidential." The company first revealed that a board committee chose not to nominate Soon-Shiong for re-election in a March 9 filing. But Tronc hadn't informed Soon-Shiong of the reasons, one person familiar with the matter said.
White Knight No More?
Last May, Soon-Shiong's Nant Capital made a $70.5 million investment in the publisher, a move seen back then as an attempt to fend off a hostile takeover by Gannett Co. Soon-Shiong became vice chairman of the board, and his Nant Capital gained a 13 percent stake.
Soon-Shiong became a billionaire after selling two drug companies he founded. He sold APP Pharmaceuticals Inc., a supplier of drugs given through injections and intravenous drips, to Fresenius SE in 2008 for $4.6 billion. He then started Abraxis BioScience, maker of breast cancer drug Abraxane, and sold the company to Celgene Corp. for $2.9 billion.
The biotech entrepreneur ranks 149th on the Bloomberg Billionaire's Index with a net worth of $8.7 billion.
(
Adds Ferro buying Tronc shares in late December.
)
Before it's here, it's on the Bloomberg Terminal.
LEARN MORE