American Billionaires Are Pouring Money Into an Emerging Jewish Battleground
By
Beit El is a big donation draw for Trump aides and officials

But attempts to solve Palestinian conflict may curb its growth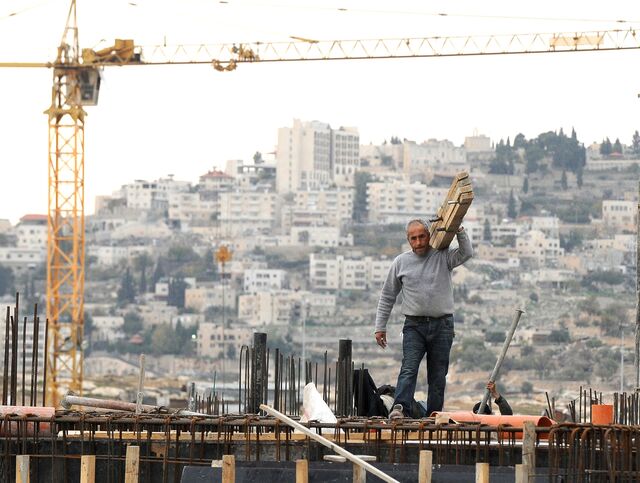 Tucked amid the terraced rocky hills of the West Bank and overlooking the Arab city of Ramallah, the Jewish settlement of Beit El has long been a religious touchstone for Jews and a source of anger for Palestinians. Now it is turning into a symbol of the tug-of-war for the sentiments of the Trump administration.
A gated town of 6,500 built around a Jewish seminary, or yeshiva, Beit El is far beyond the frontier settlement blocs that are likely to stay inside Israel as part of a future two-state solution. American supporters pour $2 million a year into its educational institutions. One contributor has a rare distinction: he went on to become president of the U.S. -- Donald Trump.

The administration's links to Beit El don't end there. David Friedman, the nominee for ambassador to Israel, served for years as chief of the yeshiva's U.S. fundraising arm. The family of Jared Kushner, Trump's son-in-law and senior adviser, has also given faithfully. 
Beit El "should write a tax-deductible receipt to President Trump for the tens of millions of dollars of free publicity that he's given us," said Chaim Silberstein, a member of Beit El's governing council.
A Golden Age?
Like other settler leaders, Silberstein had been counting on the new White House ties to herald a kind of golden age, a turnaround from the Obama administration, which dismissed settlements as illegitimate and mapped out an evacuation in a peace settlement. But things may not turn out precisely that way. As the visit here last week by U.S. envoy Jason Greenblatt shows, the administration is pushing something that is anathema to the settlement's residents: restrict Jewish construction in the West Bank.
Read more: Settlements in context -- a QuickTake explainer
Palestinians, whose seat of government lies a few miles away, regard Beit El as an illegal usurpation of their land and vow to uproot it when they establish an independent state. A next-door Israeli military base, also called Beit El, is where West Bank Palestinians accused of political violence are put on military trial. Greenblatt, who once studied at a different West Bank settlement, met last week with Palestinians and their leaders to hear their concerns.
Besides the seminary, Beit El hosts separate high schools for boys and girls and an army preparatory academy for disadvantaged youth, with a total enrollment of about 1,100 students. A media arm offers news from a settler perspective. The organization recently started a campaign to equip American students "with the tools to successfully delegitimize the notion of a two-state solution.''
The truth is that even over the past eight years, as U.S. policy frowned on settlement construction, money kept flowing to Beit El from billionaires abroad. Among the top contributors are American Eagle Outfitters Inc. Chief Executive Jay Schottenstein, Duty-Free Americas Inc. President Leon Falic, Jordache Jeans founder Joe Nakash and Renco Metals Inc.'s Ira Rennert. 
Jacob's Dream
The settlement is a mixture of neat residential homes with a scruffy look to its shopping strip and administrative offices housed in prefab trailers. The main study hall, which is also a synagogue, is an immense space lined with books and filled with young men, many of them swaying as they learn Jewish texts. The site has a resonance for many of its Jewish supporters as it's identified in the Bible with Jacob's dream, in which angels waft up and down a ladder that rises to the heavens. At the edge of the settlement is an upright stone said to be the place where the biblical forefather laid his head and fell asleep.
Inside the settlement, Friedman's name is everywhere, starting in the study hall where a brass plaque identifies his father, Rabbi Morris Friedman, as one of the founding trustees. Then there is the Rabbi Morris Friedman Center for Computer Sciences, the Friedman Faculty House and the Friedman fitness center at the settlement's pre-army academy.
In addition to their support for Beit El, Schottenstein and Falic were among the biggest contributors to Prime Minister Benjamin Netanyahu's campaign in the 2015 Likud party primaries, each together with other family members donating $40,000 or more. Rennert, chief executive of Renco Metals Inc. with a fortune estimated by Bloomberg at $5.7 billion, is one of the biggest contributors to yeshivas in West Bank settlements and east Jerusalem. Nakash, who was born in Tel Aviv, emigrated to the U.S. and with his brothers co-founded Jordache, which set off a craze for designer jeans in the 1970s. He now invests in real estate, hotels and shipping.
Falic, Nakash and Rennert didn't respond to emails and phone calls requesting comment. Charles Kushner, Jared's billionaire father, and Schottenstein declined through spokesmen to comment.
'Worse Than Kapos'
Friedman angered many liberals with some of the remarks he made before his nomination, including calling J-Street, the left-leaning Washington organization that lobbies for Israel, "smug advocates of Israel's destruction" and "far worse then kapos," a reference to Jews in Nazi concentration camps who were forced to work for the guards. Among Beit El's supporters, Friedman is admired for his bluntness. "He says what we all think but we don't say it out loud," said Zvi Sand, a donor to the yeshiva and president of the Orthodox Union in Israel whose wife is Friedman's first cousin.

But Friedman later apologized at his Senate confirmation hearing, saying "the inflammatory language that accompanied the presidential campaign is entirely over."
That may not be the only thing that is over.
Ultimately, said Gilead Sher, a former Israeli peace negotiator, the settlers in Beit El are likely be disappointed in Trump who will "bow to reality" and work toward a two-state solution that keeps Israel and the Palestinians from hurting each other. "We're looking for a divorce, not a real estate deal," he said.
Still, Beit El isn't close to giving up. Mayor Shai Alon has plans drawn up to build as many as 500 new homes that would push the population to 10,000, while other settlements have even more ambitious expansion plans. "For years, we've gotten pressure from all over the world to just go away," he said. "But we just keep getting bigger."
Before it's here, it's on the Bloomberg Terminal.
LEARN MORE