markets
Argentine Economy Exits Recession, Easing Pressure on Macri
By
Economy grew 0.5% in 4Q from previous quarter: Indec

Revised figures show economy exited recession in third quarter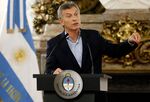 Embattled President Mauricio Macri can breath a sigh of relief after new figures show Argentina's economy emerged from recession in the third quarter, earlier than previously estimated, with growth then accelerating in the fourth.
Gross domestic product expanded 0.5 percent in the last three months of the year from the previous quarter, the national statistics agency said in a statement Tuesday. Third quarter growth was revised to 0.1 percent, from a decline of 0.2 percent. Still, for the full year, the economy contracted 2.3 percent.
"There's enough evidence here to support the government's claim that the economy is now through the worst," Neil Shearing, chief emerging markets economist at Capital Economics, wrote in an emailed report.
The incipient recovery in production is the first sign that Macri's policies are gaining traction after a year in which inflation soared, unemployment rose and purchasing power declined. Still, the rebound is too weak for labor unions planning the first national strike under Macri for April 6, shutting down public transport and bringing the country to a halt on the first full day of the World Economic Forum in Buenos Aires.

Macri assumed office in December 2015 promising that the negative effects of his reforms would be over by the second half of 2016. The government expects the economy to grow 3.5 percent in 2017.
Growth in the fourth quarter was led by agriculture, which expanded 1.6 percent from a year ago. Restaurants and hotels and social and health services grew 1.9 percent and 2.3 percent respectively. The economy contracted 2.1 percent in the fourth quarter from a year earlier, with manufacturing and construction shrinking 5 percent and 10.7 percent.
The full effects of a recovery probably won't be felt for a few months and leading indicators continue to deliver mixed signals. While the government points to record consumption of asphalt, which grew 132 percent in February from a year earlier, cement sales fell 0.8 percent over the same period, according to the Association of Portland Cement Producers.
Private consumption, traditionally the main driver of Argentina's economy, is picking up more slowly than forecast and its benefits probably won't be seen until May or June, Treasury Minister Nicolas Dujovne said March 14.
How much and how quickly the economy grows this year will have a significant impact on how Macri fares in congressional elections in the final quarter. Investors will be treating that vote as a plebiscite on the long-term prospects for the president's bid to open up Argentina's economy after years of protectionism.
"With the fiscal squeeze likely to ease in the run-up to congressional elections in October, we expect growth to accelerate a little over the course of this year," Shearing said.
(
Updates with analyst comment in ninth paragraph.
)
Before it's here, it's on the Bloomberg Terminal.
LEARN MORE