technology
Apple Faces Tough Competition in China's $5.5 Trillion Mobile Payments Market
Bloomberg News
Alipay, Tencent cover 90% of mobile payment users in China

Low payment usage comes amid decline in iPhone market share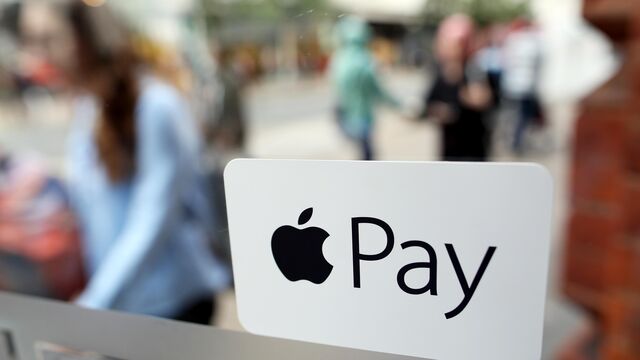 Dong Ximiao was buying a meal at KFC in Hangzhou on a recent Sunday and pulled out his phone to pay, like everyone does in China, when the cashier asked: "Alipay or WeChat Pay?"
The problem was, Dong wanted to use Apple Pay for the 36 yuan ($5.20) bill, but the cashier told him she had never handled transactions before and wasn't sure whether it was accepted at the fried-chicken outlet. "I knew for sure KFC stores accept it," said Dong, 39, a researcher at Renmin University. "So I ended up teaching her step-by-step how to complete the transaction, and she was surprised at how easy it was."
A year after introducing its payments technology to China, Apple Inc. is struggling to win share in the $5.5 trillion market, even with the backing of the country's biggest banks and clearing network. That's partly because there are fewer iPhones, which made up just 9.6 percent of smartphone sales last year. But mainly, consumers are far more accustomed to using Alibaba Group Holding Ltd.'s affiliate Alipay and Tencent Holdings Ltd.'s WeChat Pay, which have been available for several years and work on all mobile devices, including iPhones.
"I don't think Apple Pay can achieve the same market share as Alipay or WeChat Pay in the foreseeable future," said Marie Sun, a Shenzhen-based analyst at Morningstar Investment Service. "The only chance I can think of is if there's any big security breach happening to Chinese rivals so customers will seek for some alternative. Personally, I don't see any benefits to switching myself."
Carolyn Wu, a spokeswoman for Apple, declined to comment by email. Chief Executive Officer Tim Cook said in October that he's "very bullish" on China, even as revenue in Greater China declined 17 percent in the latest fiscal year. Introduced in 2014, Apple Pay isn't designed to bring in significant revenue by itself; instead, the feature is aimed at making iPhones a more attractive device compared with rival smartphones.
Click here for more on how Apple Pay has fared since it debuted.
If there's a country where Apple Pay should have a decent chance of succeeding, it would be China. According to TNS Global Ltd., 40 percent of connected consumers pay with mobile devices on a weekly basis. That makes China the No. 1 market globally, followed by Hong Kong and South Korea. Asia also leads in mobile payments over the U.S. and Europe, the researcher said.
When Apple Pay debuted in China in February 2016, it had lined up more than a dozen partners, including the Industrial & Commercial Bank of China Ltd. and China Construction Bank Corp. Even more importantly, users could register their bank or credit cards and make purchases through China UnionPay Co.'s dominant point-of-sales network, which includes more than 10 million machines capable of handling touch-and-pay transactions. A UnionPay representative declined to comment.
Alipay or WeChat Pay, however, work by scanning codes, directly online or other methods, making them an easier and cheaper option for merchants to set up. The machines required for Apple Pay and other devices using near-field communication are more expensive. Alipay and WeChat Pay were also designed so that people can send money to each other or split restaurant bills, making the apps more like cash wallets.
"Alipay and WeChat Pay are early movers," Sun said. "They are still doing a lot of promotions, like giving cash rebates to encourage Chinese customers to use their payments system."
At one major Chinese bank, just 1 percent of 10 million-plus digital-banking customers have signed up for Apple Pay since it was rolled out, according to an executive at the bank. User activity has dropped to once every three months per user, on average, from once a month a year earlier, said the executive, who asked not to be identified because the matter is private.
One key factor why Apple Pay is lagging behind WeChat and Alipay: iPhones are being squeezed out by Oppo, Huawei and other Chinese smartphone brands, which have introduced high-end devices that are popular with consumers. IPhone shipments in China fell 23 percent in 2016, according to IDC. 
Apple Pay is facing setbacks in other markets too. In Australia, Apple has stepped up its battle with the nation's banks over the future of mobile payments, accusing an industry consortium of attempting to "delay or even block" its entry into the country. In Japan, Apple Pay had a rough start in October when some commuters had trouble registering their train passes onto iPhones. Even in its home market, Apple is facing stiffer competition as retailers and fast-food restaurants introduce their own mobile-payment services.
Click here for more on Apple Pay's rollout in Japan.
While Apple struggles against entrenched rivals, mobile payments are booming in China, with total transaction value topping 38 trillion yuan in 2016, triple the previous year, according to Beijing-based IResearch. Alipay and Tencent together cover about 90 percent of mobile-payment users in China, the market-research firm said. By comparison, the U.S. mobile-payments market increased by 39 percent to $112 billion last year, according to Forrester Research.
At a Wedome bakery shop in Beijing's central business district, the cashier said Apple Pay is accepted at more than 280 of the stores across the city. "But I'm sorry, I don't know how it works as I never got to use it," she said, while scanning a WeChat payment on a customer's iPhone.
"It's very hard to change the existing landscape -- not entirely impossible, but very hard," Dong said. "Apple needs to fix two gaps --the last kilometer and the last centimeter. The last kilometer is about having more merchants accept it, especially in the smaller Chinese cities, while the last centimeter means having more consumers choose it. Both are costly and time-consuming."
— With assistance by Jun Luo, Lulu Yilun Chen, and Dingmin Zhang
Before it's here, it's on the Bloomberg Terminal.
LEARN MORE