politics
Trump Bashes Predecessors' Iraq Strategies in Abadi Meeting
By and
U.S. president praises Iraqi soldiers for 'tough job' in Mosul

Iraqi leader first Arab head of government to meet Trump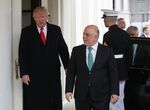 President Donald Trump used a White House meeting with Iraqi Prime Minister Haider al-Abadi to criticize both his immediate predecessors' military strategies in the country.
"Perhaps we shouldn't have gone in, but certainly we shouldn't have left, we never ever should have left and the vacuum was created," Trump said Monday during a photo session with Abadi.
Trump made public comments in support of President George W. Bush's 2003 invasion of Iraq then later said he opposed the military operation. He criticized President Barack Obama's withdrawal of combat troops from Iraq after the two countries failed to reach an agreement to continue U.S. troops' immunity from prosecution in Iraqi courts.
Abadi, the first Arab head of government to meet with Trump since he took office, is in Washington as the U.S. convenes a summit with 68 nations fighting the Islamic State.
Trump praised the "very tough job" Iraqi soldiers are performing as they battle to re-take control of Mosul from the terrorist organization. During the campaign, he called the U.S.-backed offensive "a total disaster."
Abadi said afterward he was "happy" with the discussion he had at the White House. Trump gave assurances that the U.S. will "accelerate" help for Iraq's fight to regain territory captured by Islamic State but the U.S. president didn't share a concrete plan, Abadi said in a speech at the U.S. Institute of Peace.
Trump also had planned to talk with Abadi about relations with Iran, a White House official said before the meeting.
Abadi's regime, dominated by the same Muslim Shiite sect as governs Iran, maintains a close relationship with the Iranian government and Iranian fighters are assisting the Iraqi government in the campaign against the Islamic State.
Trump has taken a more combative stance toward Iran. Days after the administration took over, then-Trump National Security Adviser Mike Flynn public declared the U.S. government was "officially putting Iran on notice."
Trump's ban on travel to the U.S. by citizens of several mostly Muslim nations initially provoked a political uproar in Iraq but the controversy there subsided when the administration dropped Iraq from the nations covered in revised order. In dropping Iraq from the list of nations subject to a 90-day ban on entry to the U.S., the Trump administration officials cited assurances on the quality of information for vetting Iraqis as well as the military cooperation between the U.S. and Iraq.
— With assistance by Nafeesa Syeed
(
Updates with Abadi comment in sixth paragraph.
)
Before it's here, it's on the Bloomberg Terminal.
LEARN MORE