markets
50% Chance Trump Will Start Trade War With China: Loomis Sayles
By
Sees a '50-50' chance U.S. could start trade war with China

Loomis Sayles 'very cautious' on emerging market debt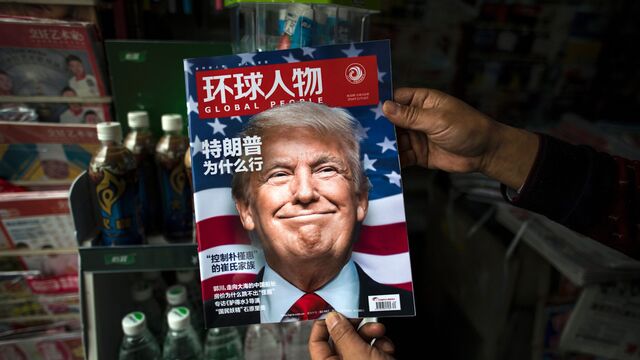 There is a 50 percent chance Donald Trump could start a trade war with China, raising investment risks across emerging markets this year, according to Loomis Sayles & Co.
The threat of a trade spat between the world's two biggest economies is "quite real" as the U.S. president pledges to protect American industry, said Lynda Schweitzer, vice president and portfolio manager at the investment firm that oversees $240 billion. While a clash isn't a certainty, the chance has "got to be 50-50," prompting the company to stay lukewarm toward emerging market debt investments, she said.
"We're very cautious on emerging markets right now," Schweitzer said in Sydney. "The whole idea that he could turn protectionist on especially a trade war with China would be bad for emerging markets in general."

Loomis Sayles' view comes as investors await more information from Trump, who talked of slapping a levy on Chinese products that could reach 45 percent. The fund manager joins the ranks of other investment powerhouses such as the $343 billion Eaton Vance Management and Bridgewater Associates that remain cautious of Trump's rhetoric despite a post-election rally that has added $6.3 trillion to global equities since his Nov. 8 election.
Click here to read about the risks of a trade tariff for Chinese companies
Loomis Sayles has halved its emerging market debt exposure to less than 10 percent from three years ago in its global aggregate bonds portfolio, Schweitzer said. It has no major plans to add significantly to its holdings in that market as Trump eases into the top seat at the White House.
"We have small ideas here and there that we put in our portfolio but in aggregate our emerging market is very conservative right now," she said.
Chinese Premier Li Keqiang struck an optimistic tone on China's relations with the U.S. last week. The world's biggest economies share extensive common interests on jobs, foreign exchange and security, Li said at a press conference after the close of the annual National People's Congress.
Read a story on Standard Chartered's views on risks to progress in globalization
Boston-based Loomis Sayles favors the debt of U.S. banks and insurers as Trump promises to ease regulations in the financial services sector, Schweitzer said. The manager has held an overweight position in banks for the past 18 months, and is peeling back its investments in U.S. automotive company debt amid worries on tariffs Trump may impose on businesses.
"We had an overweight in autos last year that was very good," she said. "But that's another that we've been paring back because of fears around border adjustments, tariffs and bringing OEM manufacturing back to the U.S."
(
Adds background on Premier Li comments in seventh paragraph.
)
Before it's here, it's on the Bloomberg Terminal.
LEARN MORE