markets
Vodafone, Idea Agree on Merger to Create Indian Wireless Leader
By , , and
Enlarged company has valuation of about $23.2 billion

Idea shares fall after initially surging in Mumbai trading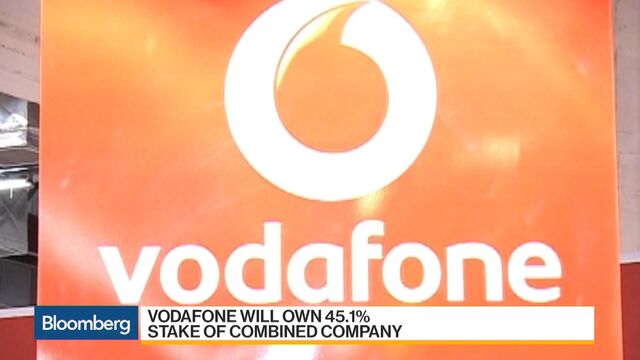 Vodafone Group Plc agreed to merge its unit in India with Idea Cellular Ltd., joining forces with a local partner to confront a raging price war in the world's second-largest mobile-phone market.
The U.K. carrier will own 45.1 percent after selling a 4.9 percent stake to billionaire Kumar Mangalam Birla's holding companies, the companies said on Monday. Birla's holding companies will initially own 26 percent in the publicly traded company, with the right to equalize their stake by buying more from Vodafone. Vodafone and Idea will share control of the entity.
The tie-up helps redeem Vodafone's costly bet on India, marred by writedowns and a $2 billion tax dispute, by moving an unprofitable business off its balance sheet and providing a long-sought listing. Cost savings for the $23.2-billion merged unit will help it challenge billionaire Mukesh Ambani's Reliance Jio Infocomm Ltd., which has spurred consolidation after offering free calls and data since last year.
"The deal should be viewed as a positive," giving Vodafone and Idea scale to help reduce costs, Saeed Baradar, a telecoms sales specialist at Louis Capital Markets UK, said in a note. "While there is a history of de-consolidating loss-making businesses by Vodafone's management, they have nevertheless made the right decision for their shareholders."
For Gadfly's take on Vodafone's Indian retreat, click here
Last year, Vodafone postponed plans for an Indian IPO and wrote down the value of the unit by $5.4 billion, two months after announcing another $7.3 billion of investment. It's also sought to resolve a disagreement with Indian authorities wanting to collect taxes and interest on Vodafone's $11 billion acquisition in 2007 of a 67 percent stake in Lee Ka-Shing's local mobile-phone business.
Vodafone rose as much as 1.2 percent, to its highest in two months. The shares were down 0.2 percent at 211 pence as of 1:24 p.m. in London. Idea Cellular fell 9.6 percent to 97.70 rupees in Mumbai, after surging as much as 14 percent.

The enlarged operator will have 395 million subscribers, more than Bharti Airtel Ltd., the current market leader. The deal values Vodafone India at $12.4 billion and Idea Cellular at $10.8 billion. Last month, Bharti agreed to acquire the local business of Norwegian carrier Telenor ASA.
Birla's holding companies will pay 38.74 billion rupees ($592 million), or 108 rupees a share, for the additional 4.9 percent stake. They will have the right to pay Vodafone 130 rupees a share to raise their holding in the first three years, and market price in the fourth year, Saurabh Agarwal, head of strategy at the group, told reporters in Mumbai.
More Scale
The merger will make better use of spectrum and the combined entity will have a complementary footprint across India, Vodafone Chief Executive Officer Vittorio Colao told reporters. Some excess spectrum will be sold or returned to the government to meet regulatory requirements, he said.
"This is a transformational deal that changes, at the same time, the prospect and future of Vodafone and Idea in India, but also the industrial structure in India," Colao said.
The venture will save an estimated $2.1 billion a year on operating costs and capital investments after four years, the companies said. The deal is expected to be completed in 2018.
The agreement shows that Vodafone, increasingly becoming a holding company, is willing to relinquish partial control of its most troubled assets, Stephane Beyazian, an analyst with Raymond James in London, wrote in a note.
Following Vodafone's venture with Liberty Global Plc in the Netherlands, a broader tie-up of the two companies remains the best option as Vodafone confronts the price war in India, competition in the Netherlands and Italy and regulation in Germany, Beyazian said, referring to on-again-off-again talks for an asset swap.
Intense Competition
Indian carries will continue to fight for market share in data, according to Rajan S. Mathews, the director general of Cellular Operators Association of India. "Increasingly, operators will start looking to future opportunities like internet-of-things and cloud computing, and begin to focus on these to augment their revenues and profitability," he said.
In the quarter ended Dec. 31, Idea reported its first loss for the group in about a decade. Idea cut voice calling rates by 11 percent and mobile data rates by 15 percent from the previous quarter. Free calls and data offered by Reliance Jio also reduced data consumers on its network.
While Vodafone's Colao on Monday highlighted the benefits of de-consolidating $8.2 billion of debt with the deal, the bigger gain for shareholders is that the merger will make the industry and in turn Vodafone more profitable India, said Arun Agarwal, partner at London-based hedge fund Altavista Investment Management, which owns Vodafone shares.
"India was a big bet for Vodafone which was not working out, because of the extreme competition there," Agarwal said. "This was the logical outcome and it was a great outcome."
— With assistance by Debjit Chakraborty
(
Updates Vodafone CEO comment in 10th paragraph.
)
Before it's here, it's on the Bloomberg Terminal.
LEARN MORE