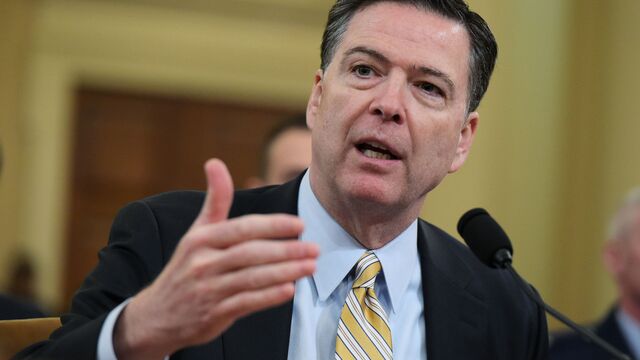 The FBI confirmed that it's investigating Russia's effort to interfere with the 2016 presidential election, including possible links between the Donald Trump campaign and the Russian government. That's one of the big headlines from testimony by James Comey, director of the Federal Bureau of Investigation, before the U.S. House of Representatives Intelligence Committee on March 20. It was extraordinary testimony, not least because it may have revealed some of the inner workings of a secretive foreign-intelligence court.
1. Why was this testimony so important?
It was the first time a confirmation of the ongoing investigation was made in public. And it appeared to confirm -- albeit indirectly -- that the FBI had sought and received a special warrant from the U.S. Foreign Intelligence Surveillance Court. This court has to approve any federal government electronic monitoring of people in the U.S. who might have information related to security threats. The surveillance can include wiretaps, data collection, business records and physical searches.
2. Why is that a big deal?
It's normally against the law to reveal the existence of an investigation under the Foreign Intelligence Surveillance Act, or FISA. House Republicans are focused on finding out who might have leaked that an investigation is under way of contacts between associates of the Trump presidential campaign and Russian officials. (Comey made sure to tell lawmakers that he had received Justice Department approval for his testimony.)
3. What sort of Russian contact?
One example: In the month before Trump was sworn in as president, his national security adviser, Michael Flynn, spoke with Sergey Kislyak, Russia's ambassador to the U.S., on the same day that President Barack Obama imposed sanctions on Russia for meddling in the U.S. election. In its article, the Washington Post noted that the call came to light as part of the routine monitoring of Russian diplomats' communications, which may not have required FISA approval. Flynn was later fired for misleading Vice President Mike Pence about the content of these phone calls. Another example: Lawmakers asked about Trump ally Roger Stone, a longtime Republican operative who has bragged about his contacts with a Russian hacker, but Comey wouldn't confirm or deny that Stone was under investigation.
4. What's the story behind this FISA court?
In the aftermath of the Watergate probe, a U.S. Senate investigation revealed in 1976 that presidents since Franklin Roosevelt had been conducting domestic surveillance using vague rationales like "subversive activities." Congress passed the Foreign Intelligence Surveillance Act in 1978, which created a special court made up of rotating federal district court judges, to ensure that the government would have to present evidence that surveillance was necessary for foreign intelligence purposes.
5. So it's difficult to get the FISA court to approve a wiretap?
Hardly. The vast majority of applications before the court are approved. In 2015, the government made 1,499 applications. One of these was eventually withdrawn. The FISA court made modifications to 80 others, and the rest were approved. In 2013, leaks by Edward Snowden, a national security contractor, revealed that the FISA court had let the National Security Agency collect email and internet data from hundreds of millions of people. Subsequent amendments to the act narrowed the ability of intelligence agencies to collect vast troves of data.
6. Then did FISA OK a wiretap on Trump's phones?
On a bipartisan basis, members of the congressional intelligence committees have dismissed the idea that there was a FISA warrant to tap Trump Tower. Trump statements that Obama ordered such a move would essentially be accusing his predecessor of a criminal act. Comey testified that he had no information to back up Trump's claims.
The Reference Shelf
Before it's here, it's on the Bloomberg Terminal.
LEARN MORE