Accused Spy in Yahoo Hack Worked for Russian Tycoon's Bank
By , , and
RenCap says Igor Sushchin left bank after indictment unsealed

U.S. says suspects had access to half-billion email accounts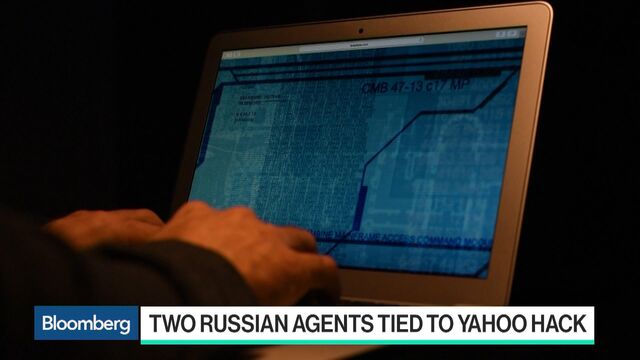 One of two alleged Russian intelligence officers charged by the U.S. with hacking a half-billion Yahoo! Inc. email accounts worked for billionaire Mikhail Prokhorov's investment bank until last week.
Igor Sushchin left his job as head of security at Renaissance Capital's brokerage unit March 16, a day after the U.S. unsealed its indictment in San Francisco, the company's press service said in a statement Monday.
RenCap said it learned about the case from media reports and wasn't aware of any accusations of wrongdoing in connection with Sushchin's employment, which was first reported by the Kommersant newspaper. Sushchin couldn't be reached via two home numbers listed in a Moscow directory.
The U.S. government accused Sushchin and a second agent of the Federal Security Service, or FSB, of conducting a broad scheme of profit-seeking and intelligence gathering that started no later than January 2014 and continued through at least Dec. 1, 2016.
Sushchin joined Renaissance Broker at the end of 2010, two people familiar with the situation said, declining to be identified as they are not authorized to speak officially.
The U.S. prosecutors outlined a scheme of economic espionage, wire fraud and theft of trade secrets, accusing the two Russian agents of conspiring with a hacker in the 2014 breach of Yahoo. A second hacker, a Kazakh-born Canadian, allegedly targeted people inside Russia in related data-gathering efforts.
Prosecutors said Sushchin was "embedded" at a Russian financial firm, where he monitored employee communications. They said it wasn't clear if the firm, which they didn't identify, knew of his FSB affiliation.
Another FSB officer in the U.S. indictment is Dmitry Dokuchaev, a former hacker that was recruited by Russia's FSB.  He, as well as senior FSB cyber investigator Sergei Mikhailov were arrested in December on treason charges and are being held in Moscow's Lefortovo prison, according to Ivan Pavlov, a lawyer involved in the case. They are charged with having contacts with U.S. intelligence, though few details of the case have been made public.
Russian investigators also detained Ruslan Stoyanov, an executive at Kaspersky Lab, a cybersecurity company. Kaspersky said the case involved allegations of wrongdoing before he worked for the company.
The people familiar with Renaissance Broker said the company started an internal investigation after the U.S. allegations became public.
Prokhorov, who also owns the Brooklyn Nets basketball team, couldn't be reached for comment immediately through his Onexim Group holding company, which declined to comment.
Russian officials have repeatedly denied conducting state-sponsored hacking.
Before it's here, it's on the Bloomberg Terminal.
LEARN MORE