business
Jimmy Breslin, Columnist for Gritty New York, Dies at 88
By
He won Pulitzer for columns that 'champion ordinary citizens'

Recipient of letters from serial killer known as Son of Sam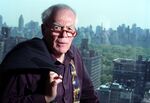 Jimmy Breslin, the newspaper columnist who remained true to New York City's beat cops and bureaucrats, hustlers and homeless, immigrants, blue-collar workers and outer-borough commuters even as he became famous and wealthy as a morning must-read, has died. He was 88.
He died Sunday at his home in Manhattan, Emily Eldridge, his stepdaughter, said by telephone. The cause was complications from pneumonia.
As a columnist for four decades, and as author of more than a dozen books, Breslin chronicled the goings-on of New York from the perspective of its barrooms and backrooms. After winning the 1986 Pulitzer Prize for commentary, "for columns which consistently champion ordinary citizens," he said journalism's highest prize came as no surprise because he already knew he was the best.
He wrote about the doctors who tried to save President John F. Kennedy and the gravediggers who helped bury him. Before he was caught in 1977, the serial killer who called himself "Son of Sam" communicated with a terrified city in letters to Breslin. In the 1980s, Breslin uncovered bribery and corruption in his backyard, the borough of Queens, even when it implicated friends and sources.
"Essentially he was a storyteller," Richard and Phyllis Kluger wrote in "The Paper," their 1986 book on the New York Herald Tribune, where Breslin began writing columns in 1963. "His technique was generally to approach a story from the standpoint of the least exalted person connected with it or from the most unexpected angle, the one no other reporter had thought of or knew how to do or had been granted the license to attempt."
New Journalism
In telling stories that read like novels -- high on emotional impact, rich in dialogue, featuring characters such as Klein the Lawyer and Fat Thomas -- Breslin became an early practitioner of what became known as the New Journalism.
He and contemporaries such as Tom Wolfe, Truman Capote, Norman Mailer, Gay Talese and Joan Didion "came to tell us stories about ourselves in ways that we couldn't, stories about the way life was being lived in the '60s and '70s and what it all meant," Marc Weingarten wrote in his 2005 book, "The Gang That Wouldn't Write Straight: Wolfe, Thompson, Didion, and the New Journalism Revolution."
Recalling a Breslin first-hand account of the sentencing of a Teamsters union leader for extortion, Wolfe wrote in a New York magazine reminiscence in 1972: "There it was, a short story, complete with symbolism, in fact, and yet true-life, as they say, about something that happened today, and you could pick it up on the newsstand by 11 tonight for a dime."
'Actual Legwork'
Breslin "made the discovery that it was feasible for a columnist to leave the building, go outside and do reporting on his own, actual legwork," Wolfe wrote.
In one of the early columns that established his approach, Breslin wrote in November 1963 about the funeral of the assassinated U.S. president through the eyes of Clifton Pollard and the other Arlington Cemetery workers who spent a solemn Sunday digging his grave:
"Pollard is 42. He is a slim man with a mustache who was born in Pittsburgh and served as a private in the 352nd Engineers battalion in Burma in World War II," Breslin wrote in the Herald Tribune. "He is an equipment operator, grade 10, which means he gets $3.01 an hour. One of the last to serve John Fitzgerald Kennedy, who was the 35th President of this country, was a working man who earns $3.01 an hour and said it was an honor to dig the grave."
Nuclear Accident
One complaint about the New Journalism was that it sacrificed precision for drama, and Breslin at times found himself on the defensive over accuracy.
Visiting the scene of the 1979 nuclear accident at Three Mile Island in Pennsylvania, he wrote that he watched as "steam drifted out of the tops of the four cooling towers and ran down the sides like candle wax. The steam was evil, laced with radiation." That was not an accurate depiction -- as he acknowledged to Newsweek in 1986 -- and a task force that studied press coverage for the presidential commission on the Three Mile Island accident singled him out for criticism.
"Breslin tends to combine reporting with fiction, using a combination of real and fictional characters in his columns," the report said. "The best that can be said of his version of TMI is that it made lively reading and a vivid contrast to most other stories."
Two-Week Suspension
That wasn't the only time Breslin found himself in hot water. In 1990, New York Newsday suspended Breslin for two weeks without pay for sexist and racial slurs he directed at a Korean-American colleague.
The 1985 columns that won him the Pulitzer included pieces describing the difficult lives of AIDS patients and condemning the vigilante Bernard Goetz, who shot four young men who had surrounded him and asked for money.
"We in New York have arrived at that sourest of all moments, when people become what they hate," Breslin wrote at a time when public sentiment was supportive of Goetz.
James Breslin was born on Oct. 17, 1928, in Jamaica, Queens. A sister, Deirdre, followed. After their musician father, James, left, their mother, Frances, went to work as a teacher to support the family.
Breslin began his newspaper career at 16 as a copyboy on the Long Island Press, shuttling typewritten articles from reporters to editors when he wasn't getting them coffee. Sports-writing jobs followed, at the New York Journal-American and the Scripps-Howard news syndicate. His 1963 book, "Can't Anybody Here Play This Game?," recollected the inaugural 1962 season of the New York Mets, who lost 120 of 162 games.
New Magazine
Jim Bellows, editor of New York's Herald Tribune, hired Breslin as a sportswriter. When he created a Sunday magazine supplement -- which became New York magazine -- he hired Clay Felker as editor and enlisted Breslin and Wolfe, two reporters he considered "extraordinary young men."
"I put Jimmy to work writing a sports column, but I sensed that he was wasted there -- Jimmy Breslin had enormous potential," Bellows wrote in "The Last Editor," his memoir. "So I asked him to write about the city. And the rest, as they say, is history."
Breslin moved to the New York Post in 1968 and quit in 1969, a year before his contract ran out, complaining that his column was being "lost between the girdle ads." He began writing for Felker at New York magazine but left there in 1971, denouncing what he called frivolous "boutique journalism."
Electoral Campaign
In May 1969 he declared himself a candidate for City Council president on a ticket headed by fellow writer Norman Mailer, who was running for mayor. Atop their platform was making New York City the 51st U.S. state. With 75,000 votes, Breslin came in fifth in the Democratic primary, ahead only of Charles B. Rangel. Mailer, who took the race more seriously, collected 41,000 votes, good for fourth.
Breslin had more success that year with publication of his well-received first novel, "The Gang That Couldn't Shoot Straight," about a feuding Mafia family in Brooklyn.
After joining the New York Daily News, Breslin became a figure in one of New York's most frightening crime stories. In May 1977, the serial killer who called himself Son of Sam wrote him a letter that said in part, "I read your column daily and I find it quite informative."
The letter also said, "Mr. Breslin, sir, don't think that because you haven't heard from me for a while that I went to sleep. No, rather, I am still here. Like a spirit roaming the night. Thirsty, hungry, seldom stopping to rest; anxious to please Sam. I love my work. Now the void has been filled."
In August 1977, police caught the killer, David Berkowitz.
Broadcast Career
Breslin's scoops about police using a stun gun to torture a drug-crime suspect won him the 1986 George Polk Award for metropolitan reporting. A month after that came word of his Pulitzer.
Breslin hosted an episode of "Saturday Night Live" and began a twice-weekly late-night talk show on ABC's New York affiliate. After complaining about unpredictable scheduling -- and wishing the station manager "dive in front of a bus" -- Breslin took out a tiny ad on the front page of the New York Times to announce the show would end after 26 episodes.
"ABC Television Network," the notice read, "your services, such as they are, will no longer be required as of 12-20-86 -- Jimmy Breslin."
He joined Newsday in 1988, writing for its New York City edition. His reporting on a 1999 building collapse in Brooklyn led to a 2002 book, "The Short Sweet Dream of Eduardo Gutierrez," about a hardworking illegal immigrant from Mexico who drowned in concrete as a result of the collapse.
Wrong Pick
He retired as a full-time columnist on Election Day in November 2004, using his final column to state, with characteristic unequivocal certainty, that Democrat John Kerry would oust President George W. Bush.
"I invented this column form," Breslin wrote in his sign-off. "I now leave, but will return here for cameo appearances. And I leave today as the only one in America who from the start was sure John Kerry would win by a wide margin."
In "The Good Rat," a 2008 book, Breslin lamented the demise of the Mafia and the characters it provided. As Breslin told New York magazine in 2008: "Who would you rather have? These animals in this book, or these hedge-fund operators? Who contributes the most to the electricity of the day in New York? They ought to let the Mafia shoot the hedge-fund people."
Brain Injury
Breslin's first wife, the former Rosemary Dattolico, died in 1981, at age 50. Married in 1954, they had six children: Kevin, James, Rosemary, Kelly, Patrick and Chris. Rosemary died in 2004, at 47, of a rare blood disease. Kelly died in 2009, at 44, after collapsing at a Manhattan restaurant.
In 1982, Breslin married Ronnie Eldridge, who served on the New York City Council from 1989 to 2001.
Breslin documented his own brush with mortality -- a brain aneurysm found in 1994 -- and celebrated his survival with his 1996 memoir, "I Want to Thank My Brain for Remembering Me."
He described being wheeled into surgery and worrying about the part of his brain that governs writing: "I sure didn't want to start thinking about not being able to write a verb: rush, race, run, gallop, canter, veer, saunter. What if they all came out as 'bus'?"
(
Updates with cause of death in the second paragraph.
)
Before it's here, it's on the Bloomberg Terminal.
LEARN MORE