TPG Sees Asia Health, Finance Opportunities to Tap Unmet Demand
By
Search for growth to benefit India market, TPG co-founder says

Microfinance firms attractive for domestic banks: Coulter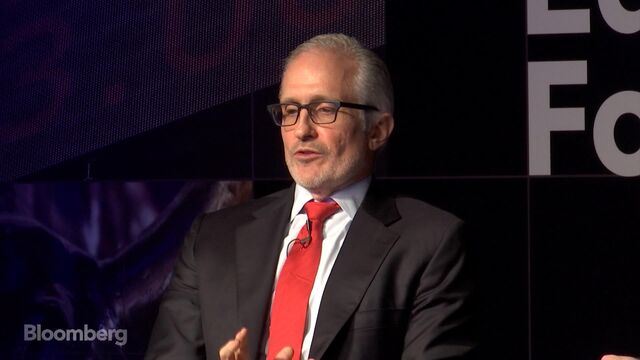 TPG, the U.S. alternative-investment firm that oversees more than $74 billion, sees opportunities in health care and microlending in Asia to meet untapped demand in some of the world's fastest-growing economies.
The region is short of quality health-care infrastructure, Jim Coulter, TPG's co-founder and co-chief executive officer, told a Bloomberg private equity forum Friday in Mumbai. In India, industries are undergoing a lot of change, and private equity has a "massive role" to play in working through that, Coulter said.
TPG's Asian investment arm manages about $6 billion in assets, including stakes in Indian microlender Janalakshmi Financial Services Pvt and the United Family Healthcare chain of high-end Chinese hospitals. Companies in the region were involved in a record $255 billion of private equity transactions last year, up from $193 billion in 2015, according to data compiled by Bloomberg.
"The world needs high returns. We're at a period of time when we really need it," Coulter said. "We have to be aware of risk but search for growth, something I think bodes well for the Indian market."
TPG is bullish on private equity in India and plans to invest more in the country, Coulter added.
Hospital Beds
Rising affluence in Asia is set to increase the unmet demand for hospital spots to 100,000 beds three years from now, according to a TPG presentation shown at the Bloomberg event. Corporate health-care chains in the region will expand their share of hospital beds to 12 percent by 2022, up from five percent in 2010, the presentation shows.
In India, microfinance institutions' distributed model and their low loss rates will make them attractive acquisition targets for domestic banks, which can also bring cheaper funding costs to such businesses, Coulter said. Major microfinance lenders boast higher returns than traditional banks, according to Coulter.
Buyout firms including TPG and KKR & Co. have been flocking to India, lured by prospects of buying assets at deep discounts in a nation that's forecast to expand 7.4 percent in the year starting April. A surge in problem loans prompted Prime Minister Narendra Modi's government to ease rules for private equity firms to invest in stressed assets.
Coulter is so excited about India that he brought 65 of his investors to the South Asian nation last year to meet policy makers and companies. In India, "we would like to find a way to invest a billion a year for the next three years if we can find the right investments," Coulter said last March.
Industry Disruption
Globally, TPG is looking to invest in industries that are undergoing disruption, Coulter said Friday in Mumbai. The private equity firm has been doing deals in media, where greater personal mobility, smartphones and high-speed internet have changed listening and viewing habits, he said. 
It also seeks investments that will benefit from a younger generation's preference to spend money on experiences rather than possessions, according to Coulter. That's led to deals for companies like Cirque du Soleil, the acrobatic troupe known for its ethereal performances. TPG's portfolio also includes Airbnb Inc., the home-sharing website that lists more rooms than Marriott International Inc., and music-streaming service Spotify.
TPG, which has its main offices in San Francisco and Fort Worth, Texas, has invested in more than 400 companies. It's been bolstering its top ranks in recent years, hiring former Goldman Sachs Group Inc. executive Jon Winkelried in 2015 to be co-chief executive officer. Coulter started the firm in 1992 with David Bonderman.
Before it's here, it's on the Bloomberg Terminal.
LEARN MORE