The Anti-Ackman: Valeant Short Sellers Have Made $2.8 Billion
By
Traders who shorted after August 2015 record have benefited

Bill Ackman unloaded his stake in the drugmaker this week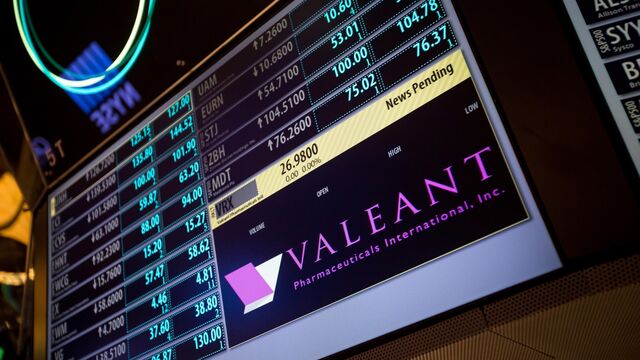 Valeant Pharmaceuticals International Inc.'s rout in the past 18 months famously drained $4 billion from Bill Ackman's portfolio. For short sellers, it's been nothing short of a boon.
Traders who borrowed the stock in hopes that it would retreat made as much as $2.8 billion in profit since Valeant's peak in August 2015, according to data compiled by financial analytics firm S3 Partners LLC. The drugmaker's stock has carried average short interest of about $800 million in that period -- bets that, if timed perfectly, would have returned 343 percent.
With the stock down 96 percent from its record and Ackman no longer boosting the company, short sellers have come to a crossroads -- bet the stock heads toward zero or get out of the way as high-profile backers such as ValueAct Capital Management add to long positions.

For Andrew Left of Citron Research, one of the company's most vocal detractors, news that ValueAct added 3 million shares to its stake after Ackman's withdrawal this week is a warning for short sellers.
"The bet on zero has changed with ValueAct buying more shares, because I trust them," Left said by phone. "They know the company as well as anyone. If you're short the stock with ValueAct in it, make sure to think twice."
Left wouldn't comment on his trading of Valeant, a company he once accused of fraud and misconduct while calling it a "pharmaceutical Enron." He renewed a short position in July 2016. The stock is down 50 percent since July 31. Left was short with the stock near its record, though he did buy into Valeant in May when it traded for around $30 a share.
S3 Partners's analysis comes days after Ackman, Pershing Square Capital Management founder and chief executive office, exited his holding, sending the shares lower by 10 percent. The stock was little changed Friday at $11.20, more than 95 percent below its record of $262.52.
ValueAct now has more than 5 percent of Valeant and holds a seat on the company's board. Billionaire John Paulson owns 19.4 million shares, or 5.6 percent of the total, according to the latest regulatory filings.
"Short sellers may start exiting their positions with Pershing Square's stock sales already having pushed Valeant's stock price to year-to-date lows," Ihor Dusaniwsky, head of research at S3, wrote in a client note. "But they might be waiting for the other shoe to drop."
Valeant, whose exponential growth through acquisitions raised doubts about the sustainability of its business model, has long attracted high-profile short sellers. In 2014, Jim Chanos, who predicted the fall of Enron Corp., sent Ackman a 26-page analysis explaining his short position. He was still betting against the company as recently as November.
Chanos did not immediately respond to a request seeking comment on Valeant.