Fashion
That Surging IPO Just Made Canada Goose an Even Bigger Protest Target
Don't think the high-flying coat maker isn't worried about activists.
By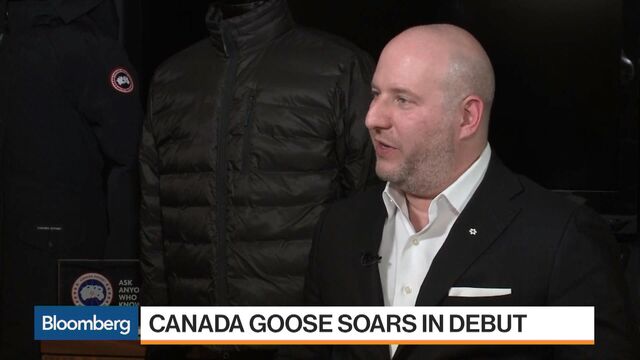 The Canada Goose-wearing pedestrians who happened to walk past the jackets at the New York Stock Exchange on Thursday had far less fun than the Canada Goose executives who rang the opening bell. Inside, morning cheers for the company's initial public offering turned into an afternoon celebration as shares surged more than 25 percent, to $16.25. Outside, however, anyone seen wearing a pricey coat with the company's signature arctic patch faced a gauntlet of animal-rights activists. 
"Your fur trim right here, you paid someone to murder a dog," a protester with a whistle yelled at a woman in a Canada Goose parka. Others chased people down the block, signs in hand, chastising the coat-wearer for animal cruelty. "Shame on you!" another protestor screamed at a woman shuffling by in Canada Goose apparel. 
On an ice-cold morning in a Manhattan neighborhood with no shortage of well-paying finance and media jobs, the dozens of activists in coyote masks who turned up for the trading debut had no shortage of targets. Every few minutes, another pedestrian in a $900 Canada Goose product would walk past and the pack would pounce as six police officers stood watch across the street. Some of the activists took to howling. The scene was organized by groups that included People for the Ethical Treatment of Animals, and it had the usual hallmarks.
For Canada Goose Holdings Inc., the morning was a success, raising $256 million in a trading debut that gave the company a richer valuation than that of any luxury retailer. A routine protest of the company's use of fur didn't factor into the IPO. Yet Canada Goose has now become a juicier target for animal-rights activists—and that could matter to the newly public company. The business model behind the pricey coats might be relatively impervious to protest signs. But no company enjoys ugly scenes in front of its stores, and the potential alienation of celebrities who helped build up the brand poses a particular threat to Canada Goose.
These dangers  prompted Toronto-based Canada Goose to list protests as a potential risk in its prospectus to potential investors. "We have been the target of activists in the past, and may continue to be in the future," the filing said. "Protestors can disrupt sales at our stores, or use social media or other campaigns to sway public opinion against our products. If any such activists are successful at either of these our sales and results of operations may be adversely affected."
The damage hasn't come yet. "We have not experienced any decline in sales with regards to any of the activity," Canada Goose Chief Executive Dani Reiss said in an interview on Thursday. He also insisted that his company sources its materials ethically and sustainably. "We do recognize whether to wear fur or not is a personal choice."
Dorothy Crenshaw, founder of public relations firm Crenshaw Communications, warns companies not to underestimate PETA's sheer persistence and ferocity. Still, she doesn't expect Canada Goose to cave. The label already allows shoppers to decide whether or not to purchase a coyote fur-fringed hood on a coat, and there's almost no chance of dropping the goose-feather insulation that has become such a prominent part of its branding.
The biggest risk, Crenshaw says, is that celebrities may shy away for fear of a backlash. Canada Goose developed a strong celebrity following as it grew in popularity, counting such names as rapper Drake and actor Hugh Jackman as fans. The strength that helped turn Canada Goose into a fashion staple can now become a major vulnerability. Already, a cluster of celebrities, including Justin Long and Maggie Q, have spoken out against the coat label.
Ashley Byrne, associate director of campaigns for PETA, said the group turned out for the IPO to expose investors and customers to the company's business practices. "They must modernize by moving away from fur and down," she said.
PETA is using one of its classic activist tactics to pressure Canada Goose: buying the minimum shares required to take part in the company's shareholder meetings, where activists can confront executives. The group used this move in 2015 to help spur Tesla Inc. into offering vegan interiors for its electric vehicles. 
Animal-rights activists standing behind a metal barrier have been a fixture since November outside Canada Goose's Manhattan flagship store. A review of the shopping experience in the New York Times found that the hubbub outside and the forbidding security guards made things awkward. The activists have been loud enough that residents in the area called for police intervention at a neighborhood meeting.
At the stock exchange demonstration, Michael Dolling, a 29-year-old animal-rights activist, handed out flyers. He held three pieces of Canada Goose coyote fur trim, unzipped from the coats, that had been donated by their wearers that morning. "We really can't allow this company to flourish," he said.
Before it's here, it's on the Bloomberg Terminal.
LEARN MORE