UBS's Weber Says `Relief Rally' Won't Last After Dutch Vote
By and
ING CEO says Dutch election result a 'good sign' for Europe

BNP chairman says euro symbolizes French-German friendship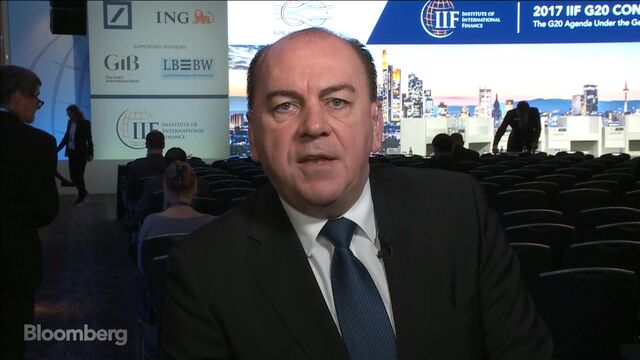 UBS Group AG Chairman Axel Weber said the rally that swept European trading floors after elections in the Netherlands won't endure in a region plagued by political risk this year.
"What we've seen in the Dutch election is that the center has been holding," Weber said. "That leads to a short relief rally in the market. It's not going to last" because the French election is approaching, he said in an interview with Bloomberg Television on Thursday.
European stock markets jumped after Dutch Prime Minister Mark Rutte's Liberals beat off an election challenge by the anti-Islam Freedom Party of Geert Wilders. The latter campaigned on pledges to close borders to migrants from Muslim nations and pull the Netherlands out of the European Union and abandon the euro.
The outcome suggests that the nationalist sentiment that prompted the U.K.'s Brexit vote and won Donald Trump the White House will struggle to secure as big a foothold in Europe's core. The region still faces key elections in France in April and May, then in Germany in September.
The gains by pro-European parties in Dutch parliamentary elections are a "good sign" for Europe, ING Groep NV Chief Executive Officer Ralph Hamers said in a Bloomberg TV interview. The Dutch bank has risk management strategies in place in the event of less favorable outcomes elsewhere in Europe, he said on the sidelines of the conference in Frankfurt.
Franco-German Friendship
Jean-Adrien Lemierre, chairman of BNP Paribas SA, said the euro is a symbol of friendship between France and Germany. "There are two photographs the French will never tear," he said at the same conference. "It's de Gaulle and Adenauer and Kohl and Mitterrand."
He was referring to two iconic images in the history of Franco-German relations. One was when German Chancellor Konrad Adenauer and French President Charles de Gaulle embraced after signing a friendship treaty in 1963. Then in 1984, their successors -- Helmut Kohl and Francois Mitterrand -- held hands during a ceremony honoring soldiers killed on the World War I battlefield of Verdun.
Weber said UBS continues to consider political developments the top risk for investors this year. Already in 2016, uncertainty around the Brexit vote and the U.S. presidential election took a toll on the bank's income as the very rich refrained from putting their money to work in investments.
Even so, UBS doesn't see a need to adjust its strategy, which for the last five years has prioritized wealth management over investment banking.
"We still find that our strategy is in the place it needs to be," Weber said, adding that the bank is trading above book value, unlike many of its European peers.