Turkey Central Bank Balancing Act Seen Working, For Now
By
Real policy signal will be in tomorrow's funding mix: SocGen

Higher rate gives cenbank more room to tighten, Nomura says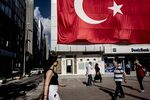 Stuck between markets demanding higher interest rates and a government keen on supporting growth, Turkey's central bank looks set on trying to please both.
The monetary authority raised its highest interest rate on Thursday while leaving all of the other rates unchanged, matching the median estimate in a Bloomberg survey. The lira rallied as the move was seen paving for they way for tighter policy -- if needed -- and serving as insurance against bouts of currency weakness.
The decision came a day after the Federal Reserve signaled no more than two further interest-rate increases this year, a move which had already buoyed the Turkish currency to a near two-week high. That prompted Nomura's London-based strategist Inan Demir to label the decision by the central bank to stick with the consensus as a "surprise hawkish move."

But the last time Turkey's central bank raised benchmark rates in January, by as much as 100 basis points, it allowed the average cost of funding to creep up by only 13 basis points by adjusting its funding mix to favor lower rates, fueling a sell-off in the lira. That explains investor apprehension about the policy marker's reliance on liquidity management, rather than conventional rate increases, even as it's driven costs up by 250 basis points this year.
Rapid Reversals
Many say this tightening can be reversed with little notice and is a sign that the regulator is leaning toward doing less than necessary to keep inflation in check and provide adequate cover if risk appetite sours. The lira is recovering from a decline to a record low against the dollar in January, and remains the worst performing major currency this year.
Still, today's decision will help the central bank support the lira until the referendum slated for April 16, according to Demir. After that, if the "yes" camp wins, giving President Recep Tayyip Erdogan the executive powers he's seeking, the focus will again move to when the central bank will start easing borrowing costs, he said.
The central bank says it will deliver further tightening if needed and that its "tight" monetary policy stance will be maintained until the inflation outlook shows significant improvement. The first test will come at 9 a.m. Istanbul time tomorrow, when it will announce how much cash it's allocating from its overnight lending rate.
Whether Thursday's 75 basis-point hike translates into tighter monetary policy over the coming days depends on the funding mix, according to Phoenix Kalen, a strategist at Societe Generale in London. If the central bank keeps its mix the same, the effective funding rate should rise by 66 basis points on Friday.
"Tomorrow is the real test of strength for the central bank, not today," Kalen said. "We -- and the market -- made the mistake with the January 24th MPC meeting that the funding mix would remain the same and would result in about 80bp of tightening. This was an incorrect assumption," she said. "The question is whether we experience deja-vu again tomorrow.'