Trump Would Slash Research in Cut to Health Budget
By and
Plan would trim discretionary HHS budget to $65.1 billion

Proposal doesn't include major issues like replacing Obamacare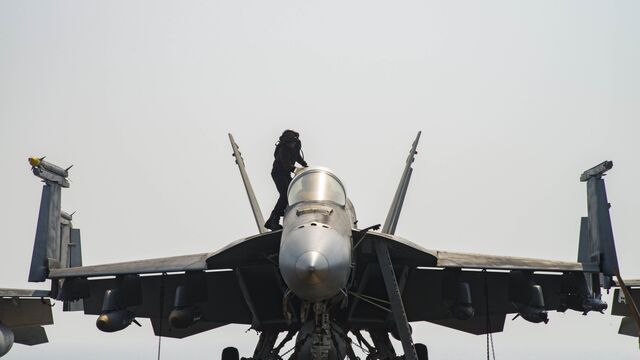 President Donald Trump is proposing big cuts to biomedical research as part of a budget to reduce discretionary spending at the Department of Health and Human Services by 23 percent -- a move likely to provoke outcry from lawmakers, research groups, drugmakers and patients.
The proposal would cut the budget of the National Institutes of Health -- which conduct and fund medical research -- by $5.8 billion, or about 18 percent from 2017 levels. The Office of Management and Budget called the change "a major reorganization of NIH's institutes and centers to help focus resources on the highest priority research and training activities."
In total, the Trump administration is requesting $65.1 billion for HHS for the 2018 fiscal year, according to an OMB document, down from $84.6 billion in 2016. While budgets serve as a statement of an administration's priorities, actual funding is set by Congress -- which often ignores many presidential proposals. That's likely to be the fate of the NIH cuts.
"We believe that this cut is dead on arrival on Capitol Hill," said Spencer Perlman, an analyst at Veda Partners. Democrats and Republicans have in the past supported the research agency and its mission, he said. Last year, Congress overwhelmingly passed a law called the 21st Century Cures Act, which boosted NIH funding significantly.

Effect on Pharma
The president's budget message isn't likely to help the biotechnology and pharmaceutical sectors, especially as Trump continues to target U.S. drug prices. On Wednesday, he told Fox News's Tucker Carlson that "we're going to get drug prices so far lower than they are now, your head will spin." The Nasdaq Biotechnology index lost 1.2 percent at 11:02 a.m. in New York.
Dane Leone, an analyst at BITG, called the budget proposal a "cartoon villain approach to biomedical innovation."
"The severity of the starting point for discussions will likely have tangible effects on how investors view the U.S. health-care sector," he said. "The main takeaway from our view is that the Trump administration clearly lacks any appreciation for the importance of biomedical innovation and makes us take ongoing banter regarding drug price negotiations more seriously."
The administration's document doesn't provide details on where exactly the cuts would come from, citing "consolidations and structural changes" as well as cutting administrative costs and a "rebalance" of government funding for research.
Mandatory Spending
Trump's budget proposal doesn't touch on major issues like changes to the Affordable Care Act or tax-reform plans. The summary doesn't mention giving the Medicare program for the elderly the authority to negotiate drug prices, which Obama had unsuccessfully proposed in past budgets. The document doesn't include the vast majority of spending by the health department, which is mandatory outlays for Medicare and the Medicaid program for the poor.
The document from the Trump administration titled "America First: A Budget Blueprint to Make America Great Again," is a broad statement of the administration's priorities. Overall, it bolsters funding for the military by $54 billion, as Trump has promised, while cutting the same amount from other departments.
At HHS, the White House wants to fully fund health programs and efforts to combat prescription-drug overdoses and limit fraud and waste. The administration would reduce what it considers less important programs, including funds to universities that collaborate on projects with scientists mainly in the developing world, according to the document.
Research Funding
The administration proposes eliminating the Fogarty International Center, and moving the Agency for Healthcare Research and Quality under the NIH. The Fogarty center, NIH's global health research arm, was created more than 40 years ago and was appropriated about $70 million in fiscal 2016. It funds about 400 research and training projects involving more than 100 universities that work on projects such as polio eradication and the effects of climate change and disease outbreaks around the world, according to its website. 
Fogarty scientists are responsible for modeling infectious disease outbreaks, such as the Ebola virus epidemic that began in 2013 and killed more than 11,000 people in Africa. The center's work helps control the spread of pathogens and provides data to guide the development of bioterrorism countermeasures.
Anti-Poverty Programs
The other big reduction comes from funding for programs at the Office of Community Services that aid low-income people. The budget proposes saving $4.2 billion from 2017 levels by ending the Low Income Home Energy Assistance Program and the Community Services Block Grant, which provides funds to fight poverty in states and communities.
The heating program provides subsidies that help poor people heat their homes, and could irk lawmakers from northern states. The administration called it a "a lower-impact program" that "is unable to demonstrate strong performance outcomes."
The budget also would increase the user fees that the Food and Drug Administration collects from pharmaceutical companies and medical-device makers to review their products -- doubling the total to more than $2 billion. New drug fees are currently more than $2 million per application, and any change will need to be confirmed by Congress. In exchange, drug and device makers will get "administrative actions designed to achieve regulatory efficiency and speed the development of safe and effective medical products," according to the blueprint.
Other changes include:
A $500 million increase in funding for opioid abuse prevention efforts, above the 2016 enacted level.
An increase in funds for the Health Care Fraud and Abuse Control program to $751 million, $70 million more than 2017.
A new $500 million block grant designed to "focus on the leading public health challenges specific to each state."
Ending some training programs for nurses and health professionals, saving $403 million, while continuing to fund other programs that encourage health-care providers to work in underserved areas.
Before it's here, it's on the Bloomberg Terminal.
LEARN MORE