Trump's Steep Cuts Face Rebuff in Congress Even With GOP Control
By and
President's deep domestic cuts get few takers on Capitol Hill

Budget plan 'cannot pass the Senate,' John McCain says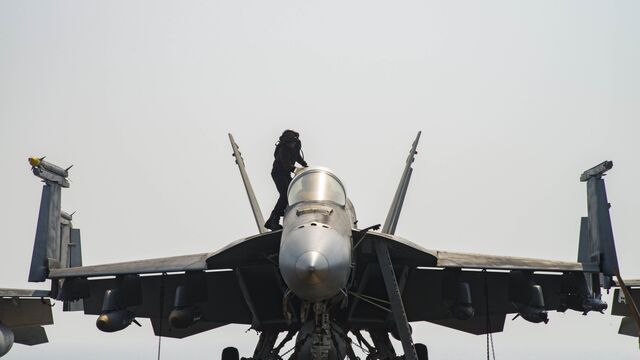 Donald Trump is offering an audacious budget with steep cuts to nearly every domestic department, but there is little chance that Congress will accept the bulk of its recommendations.
"It is clear that this budget proposed today cannot pass the Senate," said Senate Armed Services Chairman John McCain, an Arizona Republican.
Even Republicans in the House were notably lukewarm in their reaction Thursday to Trump's fiscal 2018 budget request. House Speaker Paul Ryan called it part of a "long, ongoing" budget process, while Senate Budget Chairman Mike Enzi said "I look forward" to working with the Trump administration to "to help Washington become more accountable."
Representative Hal Rogers, who chaired the Appropriations Committee in the past three sessions of Congress, blasted Trump's call for deep cuts.
"I am disappointed that many of the reductions and eliminations proposed in the President's skinny budget are draconian, careless and counterproductive," the Kentucky Republican said in a statement late Thursday, criticizing Trump's call to eliminate the Appalachian Regional Commission and the Economic Development Administration. He said agencies like those "serve as vital economic lifelines in rural parts of the country that are still working to overcome substantial challenges."
Memorable Austerity
No president in recent memory has proposed such austerity to non-defense programs -- with cuts averaging more than 10 percent before inflation. Trump is seeking to slash key agencies like the State Department and the Environmental Protection Agency by about 30 percent, while paring tens of billions of dollars from health, education, scientific research, housing, energy and transportation.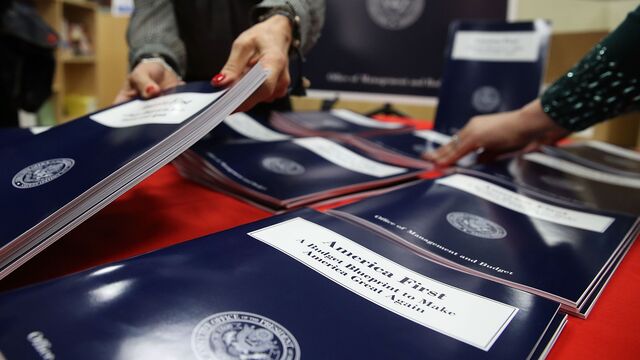 But the reaction from Congress reflects the significant challenges the new president faces as he works to bring his budget ideas to fruition. In both chambers, most domestic programs have bipartisan advocates. And in the Senate, where the party holds just 52 of 100 seats, bipartisan support for cuts will be imperative because it takes 60 votes to move spending bills past opponents' delaying tactics.
"We had an America First candidate, we now have an America First president, and it shouldn't surprise anybody that we have an America First budget," Trump's budget director, Mick Mulvaney, told reporters.
No Input
"He did not ask lobbyists for input on this. He did not ask special interests for input on this," Mulvaney said. Nor did Trump consider how the budget would affect "particular congressional districts," he said.
Trump's drive for austerity could also embolden the party's most conservative wing to insist on keeping his steep cuts, which could set up an epic government shutdown battle this fall.
Senate Democrats have already warned of a shutdown if Republicans attach funding for Trump's border wall, a deportation force or a defunding of Planned Parenthood to the upcoming spending bill Congress must pass to keep the government open after April 28. That climactic early skirmish could set the table for what looks to be a four-year fight over the size and shape of the federal bureaucracy.
Democrats in both chambers said the budget plan will have a disastrous effect on middle-class Americans, with Senate Minority Leader Chuck Schumer promising a unified front in his party to "emphatically oppose these cuts." 
"The very programs that most help the middle class are those that get clobbered the hardest: investments in infrastructure, education, scientific research that leads to cures for diseases all take big hits," said the New York Democrat.
Evidence Lacking
Mulvaney defended the budget's proposed cuts and eliminations by saying many of the targeted programs have no evidence that they're effective. He cited in particular the government's Community Development Block Grant program, which funds meals-on-wheels programs nationwide, as well as after-school programs for children.
"We can't spend money on programs just because they sound good," he said. "There is no demonstrable evidence" that after-school programs help children perform better in school, he said.
Democrats are "just scratching their head," Senator Pat Leahy, a Vermont Democrat and Appropriations Committee vice chairman, said on Bloomberg Television. "They can't believe this budget, they can't believe knocking so many people out of programs that they need."
Domestic Cuts
Several Republicans focused exclusively on Trump's request for a $52.3 billion spending boost for the military over fiscal 2016 -- the last year for which Congress has provided full-year funding -- but were stone-silent about his domestic cuts.
The chairmen of the House and Senate Armed Services panels made clear they will push for more defense spending than Trump wants, which if successful could add further to pressure to cut domestic agencies.
Just hours after Trump's plan was released, some Republicans made clear they'll combat individual cuts to programs benefiting their home states. Senator Rob Portman of Ohio said a plan to end a Great Lakes Restoration Initiative is unacceptable, just months after he fought to ensure it would get $300 million this fiscal year.
"I have long championed this program, and I'm committed to continuing to do everything I can to protect and preserve Lake Erie, including preserving this critical program and its funding," Portman said.
Trump said he is trying to keep a lid on overall government spending, while leaving space to boost military, immigration enforcement, border security, school choice and veterans' programs.
America First
"It is time to prioritize the security and well-being of Americans, and to ask the rest of the world to pay its fair share," Trump wrote.
But senior Republicans have already dismissed his proposed 28 percent cut to State Department funding. Even before the official numbers were released, Senator Lindsey Graham of South Carolina declared it "dead on arrival" and Senate Majority Leader Mitch McConnell said he personally opposed it as well. 
And it's not clear Trump will actually succeed in cutting non-defense accounts at all, let alone the $54 billion he seeks, given the 60-vote threshold in the Senate. A Democratic filibuster is a certainty if anything close to the cuts Trump proposes ever made it to the floor -- like a $9.3 billion, or 14 percent, chop to the Department of Education. 
The National Institutes of Health, which has historically had broad bipartisan support, would face a $5.8 billion cut to $25.9 billion, part of a $15.1 billion cut to non-mandatory annual health spending. Those figures, provided by the White House, are comparisons to fiscal 2017 spending based on the assumption that current funding levels are extended through the end of the fiscal year.
Death Risk, Ranked
"These are things that are really important to the country as well as defense spending," said Republican Representative Tom Cole of Oklahoma, who chairs the Appropriations subcommittee that oversees NIH spending. "You're more likely to die in a pandemic than you are in a terrorist attack."
Trump is proposing the outright elimination of dozens of independent agencies that have faced the budget ax going back to Ronald Reagan's presidency, only to survive with bipartisan support. Those include the Corporation for Public Broadcasting, the Legal Services Corporation, and the national endowments for the arts and humanities. Senator Orrin Hatch, a Utah Republican, already has warned shuttering the LSC isn't even worth trying again.
Some of Trump's reductions target programs that benefit rural regions that have fierce Republican defenders.
For instance, the administration is proposing to cut an Essential Air Service program that subsidizes commercial air service to rural airports by $175 million. One of the program's strongest defenders is Republican Senator Lisa Murkowski of Alaska.
LIHEAP
Meanwhile, his plan to ax the Department of Health and Human Services' budget by nearly 18 percent includes outright elimination of the Low Income Home Energy Assistance Program. Yet that program has fierce advocates among lawmakers in the northeast like Republican Senator Susan Collins of Maine, who say it is vital to providing heat in frigid weather for lower-income seniors and other constituents.
Trump's proposed domestic cuts are deeper than those in a budget blueprint drafted last year by then-House Budget Chairman Tom Price, who is now Trump's secretary of Health and Human Services.
Price's blueprint would have cut domestic accounts $44 billion to $472 billion and then frozen them there for a decade, part of a broader austerity plan intended to eventually eliminate the deficit.
Trump's plan cuts domestic spending an additional $10 billion in fiscal 2018 relative to Price's budget plan.
— With assistance by Anna Edgerton, Arit John, and Toluse Olorunnipa
Before it's here, it's on the Bloomberg Terminal.
LEARN MORE