Trump on Travel Ban Ruling: 'Go Back to the First One'
By and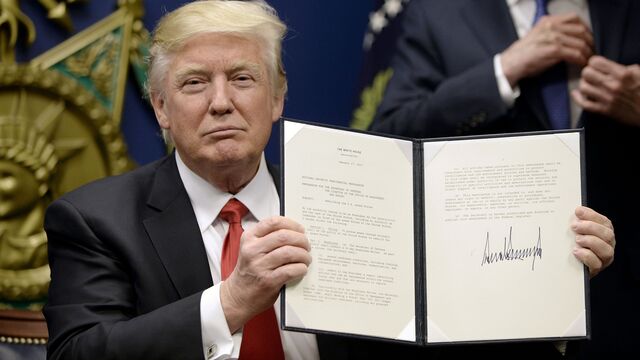 A federal judge in Hawaii on Wednesday halted President Trump's revised travel ban hours before it was scheduled to take effect. Reaction to the ruling was swift.
"Let me tell you something: I think we should go back to the first one and go all the way," President Donald Trump said at a rally in Nashville. "This ruling makes us look weak."
"This is a major setback for President Trump," said Stephen Yale-Loehr, who teaches immigration law at Cornell Law School. "President Trump and his advisers should think long and hard before trying to impose a travel ban a third time. They may strike out."
"They're purely political actions by judges who disagree with the policy and just cooked up some rationale to stop it," said Mark Krikorian, executive director of the Center for Immigration Studies, a Washington-based think tank.
"We are thrilled that the Hawaii judge recognized that the revised order, like the prior order, discriminates on the basis of religion and that real harm would occur if the order were left in place," Lee Gelernt, a lawyer with the American Civil Liberties Union who argued against the first travel ban.
"It is hard to see how his analysis would ever permit the executive branch to impose any immigration policy that has any effect on predominantly Muslim countries - no matter how small," said Josh Blackman, an associate professor at the South Texas School of Law in Houston. "The court's analysis, which hinges on parsing statements by Trump and his surrogates on cable news, and determining whether the president repudiated his prior policies, is better suited for fact-checkers."
"I think everybody realizes that the intent behind the updated travel ban is identical to what it was the first time around -- which was to get a Muslim ban, which is clearly unconstitutional, not to mention un-American," said Illinois Attorney General Lisa Madigan.
"The Department of Justice strongly disagrees with the federal district court's ruling, which is flawed both in reasoning and in scope. The President's Executive Order falls squarely within his lawful authority in seeking to protect our Nation's security, and the Department will continue to defend this Executive Order in the courts."
— With assistance by Kartikay Mehrotra
Before it's here, it's on the Bloomberg Terminal.
LEARN MORE