Trump Budget Plan Declares War on 'War on Poverty' Programs
By and
Initiatives aimed at aiding Appalachia, rural water eliminated

"America First" means priority on security, White House says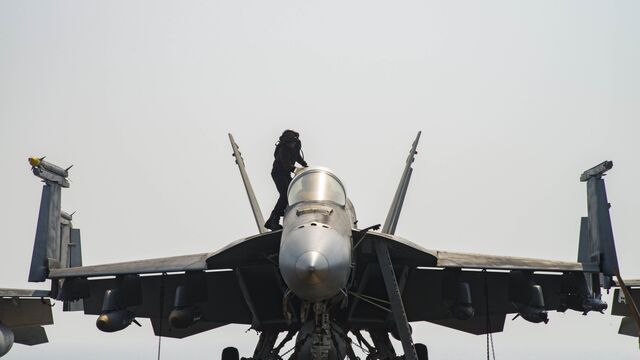 President Donald Trump's budget proposal to Congress calls for eliminating social programs dating to President Lyndon Johnson's War on Poverty and would cut spending on assistance to needy counties in Appalachia and the Mississippi Delta as well as hungry schoolchildren in Cambodia.
Grants for rural water projects, funds for local transit systems and a host of regional economic-development commissions would end under the plan being released Thursday. The reductions come as part of an attempted shift in federal spending toward security and defense without adding to the U.S. deficit, Trump said in a statement accompanying the blueprint.
"We are going to do more with less, and make the government lean and accountable to the people," Trump said. "To keep Americans safe, we have made the tough choices that have been put off for too long."

The document's proposed increase in defense spending to $571 billion, 10 percent above the level enacted in 2016, fulfills a campaign promise to restore money lost as part of a 2011 budget deal. But to not add to the deficit -- another promise -- domestic and foreign-aid program cuts go deeper than those proposed under previous presidents.
Spending on programs not controlled by preset funding formulas will fall by 28.5 percent at the State Department, 29 percent at the U.S. Department of Agriculture and 29.6 percent at the Environmental Protection Agency, the three biggest Cabinet-level agency reductions. Some independent programs disappear altogether.
Universal Basic Income: Simpler Safety Net or Smaller? QuickTake
Some agencies Trump targets for elimination, such as the National Endowment for the Arts, have been Republican targets in the past. And some social spending rises under the proposal: The administration is proposing an additional $500 million to expand efforts to fight addiction to opioids, which is skyrocketing in the U.S. population, and maintains commitments for global AIDS and malaria treatment.
Still, the breadth of cuts is wide, taking aim at programs entrenched in struggling communities for generations.
The Appalachian Regional Commission, focused on creating jobs in a region stretching from northeast Mississippi to southern New York, began in 1965 as part of President Johnson's so-called War on Poverty, part of his Great Society suite of programs. 
Heating Bills
The Low-Income Home Energy Assistance Program, which along with a companion program would save more than $4 billion annually if eliminated, according to the White House, arose during the 1970s energy crisis, when heating-bill spikes prompted federal intervention.
Major cuts to programs designed to help the needy "turn a War on Poverty into a war on poor people," said Joel Berg, the chief executive officer of Hunger Free America and a former official under President Bill Clinton. 
"If they take food, jobs, health care, child care, and housing help from working Americans, that would be catastrophic for the country," said Berg, who spoke based on media reports he had seen, not from reviewing the document itself.
Foreign aid and investment programs receive special attention in the budget document, in which the president said it's time to "ask the rest of the world to step up and pay its fair share." 
The budget proposal was welcomed by the influential conservative group Heritage Action for America, whose CEO Michael Needham said "there is a lot for conservatives to like" in Trump's request. "It envisions a smaller, more efficient federal government that will begin focusing on core functions while ensuring Americans remain safe and secure," he said in a statement.
The request was quickly condemned by Vermont independent Senator Bernie Sanders, who called it "morally obscene and bad economic policy." In a statement, the 2016 presidential candidate said, "It will cause devastating pain to the very people Trump promised to help during the campaign."
The progressive think tank Demos said the spending plan would prioritize "the profits of the wealthiest one percent while gutting programs and protections for working families."
Climate Change
Funding for United Nations initiatives, including peacekeeping, is reduced, and the Global Climate Change Initiative established by President Barack Obama is eliminated. Funding for multilateral development banks, including the World Bank, falls by $650 million over three years.
Even two former U.S. senators, Kansas Republican Bob Dole and the late South Dakota Democrat George McGovern, take a hit: Their namesake international school-feeding program, which served more than 2 million children from Laos to Ethiopia in 2017, would be gone under the proposal.
Energized Opposition
Trump's plan may be "the single biggest attack on antipoverty programs in the history of their entire existence," said Rebecca Vallas, director of the Poverty to Prosperity Program at the Center for American Progress, a Washington-based research group first led by John Podesta, chairman of Democratic candidate Hillary Clinton's presidential campaign. 
That doesn't mean the plan will become law, she added.
"The game that we're all watching at this point is, where does it go from here?" she said. An energized opposition is already flooding town hall meetings and city streets with protests of Trump policies such as the repeal of Obamacare, she said.
The budget could ratchet that up further.
"I think Republicans have learned through the course of their efforts to repeal the Affordable Care Act that it's a hell of a lot easier to message than it is to govern," she said.
— With assistance by Alan Levin, and Anna Edney
Before it's here, it's on the Bloomberg Terminal.
LEARN MORE