Treasury's Mnuchin Repeats Long-Term Dollar Strength Is 'Good'
By
Secretary says there can be "certain issues" in short term

Mnuchin spoke in Germany on his first official visit abroad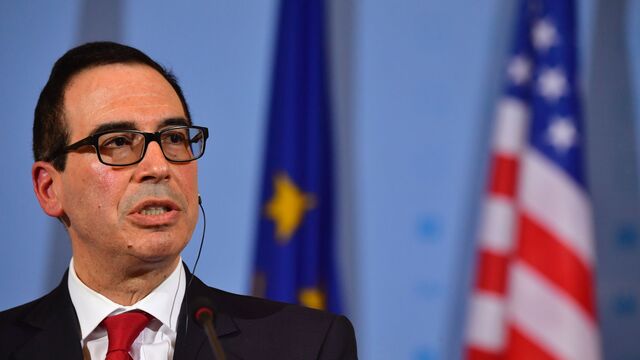 U.S. Treasury Secretary Steven Mnuchin repeated his view that the long-term strengthening of the dollar is in best interest of the economy and that it reflects confidence in the world's reserve currency.
"There could be issues in the short-term where perhaps the strengthening does create certain issues, but what I am focused on is the long-term aspects of the currency and the importance of it as a stable reserve currency around the world," Mnuchin said on Thursday in Berlin on his first foreign trip abroad in the job. He spoke at a press briefing with his German counterpart Wolfgang Schaeuble.
Mnuchin expressed the importance of the dollar's long-term strength at his Senate confirmation hearing on Jan. 19, while clarifying that earlier comments by then President-elect Donald Trump that the dollar was too strong were in reference to the short-term. At the hearing in January, Mnuchin said the dollar is currently "very, very strong."
"I believe that in the long-term best interests, the strengthening of the dollar is a good thing, and I think that long-term strengthening of the dollar is a sign of confidence in the reserve currency," Mnuchin said on Thursday.
The Bloomberg Dollar Spot Index has gained 2.6 percent since Trump was elected in November. The index pared some of the day's losses during Thursday's press conference.

On the issue of currency manipulation, Mnuchin said he and Schaeuble discussed their common belief that it's "important that countries do not manipulate their currency."
He reiterated that the U.S. Treasury examines other nations' currency practices in a semi-annual review and that it's working with "our counterparts and the International Monetary Fund on an ongoing basis." Trump and officials in his administration have made comments suggesting nations including China, Japan and Germany have undervalued currencies.
Mnuchin, who met U.K. Chancellor of Exchequer Philip Hammond earlier on Thursday, is in Germany to attend the Group of 20 meeting of finance ministers and central bankers from March 17-18.
German Chancellor Angela Merkel is due to meet Trump in Washington on Friday.