Now You Can Live in a Remodeled Shipping Container
Boxouse is selling solar-powered mobile homes equipped with Alexa and is readying a smart toilet.
By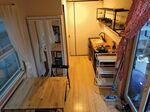 Startup Boxouse sells "portable, affordable, beautiful smart homes" made from shipping containers (the "deluxe" edition costs $49,000 and includes shipping). Chief Executive Officer Luke Iseman, a Wharton graduate who previously ran Y Combinator's hardware program, concedes that "container houses aren't perfect" but says they can help ease housing shortages. He shares one with co-founder Heather Stewart that's set up in an Oakland warehouse. They're partly financing the business by renting out two others on Airbnb.
Shipping container
Iseman buys them used for about $2,000 each and retrofits them with the help of a half-dozen part-time workers.
Solar panels
Boxouses are designed for off-the-grid living, with a 1.5-kilowatt solar system that heats and powers the unit and its kitchenette.

Extras
An app can control smart windows and lights, as can a complimentary Alexa. In the works: alerts to port-a-potty vendors when the wastewater tank needs emptying.
Business model
At Y Combinator's March 20-22 pitch event, Boxouse plans to announce it will ship a free container to customers who agree to run it as an Airbnb and split the income.
Before it's here, it's on the Bloomberg Terminal.
LEARN MORE