How to Get Diabetics Addicted to Data
Users of a new type of glucose meter scanned themselves as many as 45 times a day.
By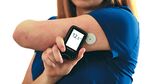 When Abbott Laboratories rolled out a device in Europe to help diabetics measure their glucose levels without having to prick a finger, it included a novel ask for patients: Would they allow the company to collect their data to help guide care? The company never imagined it would be sparking an information obsession.
More than 50,000 people who used the FreeStyle Libre from 2014 to 2016 granted the company access, yielding 409 million data points. The results provide an unparalleled glimpse into the ebb and flow of testing in a group of people whose lives—and limbs—depend on their efforts.
The Libre is a waterproof button the size of a quarter that sits on the outside of the upper arm. It houses a tiny needle-shaped sensor that rests just under the skin, continuously measuring glucose levels in the interstitial fluid that bathes the cells. Users hold a companion device, or an Android phone, above the sensor to get an immediate reading; an arrow indicates if levels are rising or falling. The information can be uploaded to Abbott.
The company didn't anticipate how addictive getting information would be. FreeStyle Libre users scanned their sensors an average 16 times a day; some exceeded 45. The results blew past traditional testing with blood taken from a fingertip, which for Type 1 diabetics is recommended four to eight times a day—a regimen that some find taxing.
The Abbott analysis found those who tested the most had the best glucose control. That's a key goal for treating diabetes, a chronic condition in almost 30 million Americans. It's marked by a deficiency of insulin, a hormone that converts blood glucose into energy. If glucose climbs too high, it can damage organs such as the kidneys, and also the hands and feet, leading to amputations; if it dips too low, it can cause a diabetic coma—or death.
Adrian Long, a 59-year-old semiretired teacher from Lancashire, 200 miles northwest of London, admits he let his blood sugar run a bit high for years. He wanted to avoid the complications of going too low, which even at nondeadly levels can cause shakiness, confusion, headaches, and fatigue.
Long says the FreeStyle Libre lets him "micromanage" his condition. An avid gardener, he says he measures his glucose about 20 times a day, sometimes more when he's physically active, such as when he's planting vegetables. "With the Libre, there is no limit to the number of scans you can do," says Long, who pays about £100 a month ($123) for the sensor, which must be replaced every two weeks and isn't yet covered by the National Health Service. "Over the two years I've been using it, there has been a significant reduction in my A1C reading," he says, referring to a widely used glucose gauge.
Simplicity is a key feature of the device, and one of the main reasons Abbott was able to gather the data it did, says Joel Goldsmith, senior director of digital platforms for the diabetes division. The specifics for each patient, including age and gender, were removed from the files, and the medical information was aggregated before it was analyzed. "The only way you get a large volume of data is making the process effortless for the user," he says. "The act requires very little of them, and they are willing to do it frequently. It's a virtuous circle."
One of the greatest pitfalls for any monitoring device is collecting data that goes unused, says Jared Watkin, Abbott's senior vice president for diabetes care. "It's not just getting the information; you have to do something with it," he says. "That's playing out. We give data to people, and they can immediately act on it."
It was the FreeStyle Libre's minimalist design that first attracted Larissa Zimberoff, a 45-year-old freelance journalist who writes about food and technology. A Type 1 diabetic, she learned about the device two years ago while researching a piece for Wired magazine. "It's not on my stomach, it's not this pager-looking thing," she says. "It's elegant. It's small. It's unobtrusive. I wanted it."
There was a problem. Zimberoff is an American living in New York City, and the FreeStyle Libre isn't approved for use in the U.S. She started importing it from Italy, thanks to an accommodating friend. She's been paying $400 every three months for the past year for the sensors, which are expected to get U.S. Food and Drug Administration approval later this year.
The repeated checks aren't always helpful, and some users have reported being overwhelmed by the data. Those who log in to the system on their computers can access seven different reports on their blood sugar, tracking readings and patterns over time.
Zimberoff says diabetics need better insight into their health than a static data point created by a traditional finger stick. "The beauty of using this flash meter is that I know my trends," she says. "Diabetes isn't something you can turn off. It's not something that you cannot pay attention to."
The bottom line: Diabetics using a new meter took readings more frequently—about 16 times a day—and did better at lowering glucose levels.
Before it's here, it's on the Bloomberg Terminal.
LEARN MORE