markets
The Next Big Test for the Global Stocks Rally is U.S. Fiscal Policy
By
Hong Kong leads Asian gains as China follows Fed hiking rates

Risk Trump fiscal policy disappoints is next market challenge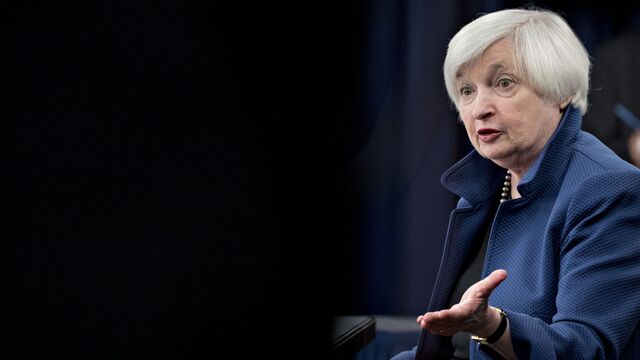 A Goldilocks policy statement from the Federal Reserve and similar action out of China kept the global rally in equities going on Thursday. And with European political concerns ebbing for now, the next test may be U.S. fiscal policy.
Fed officials delivered the quarter-point interest-rate hike they had telegraphed, while stopping short of boosting the outlook for further increases in the next two years beyond their previously predicted trajectory. A few hours later, the People's Bank of China raised borrowing rates for lenders, while emphasizing that there was no change in its overall policy stance or a need to over-interpret the action.
That was enough juice for stock investors as of 6 p.m. Hong Kong time:
S&P 500 Index e-mini futures climbed 0.2 percent after the benchmark itself jumped 0.8 percent Wednesday
Shares in Hong Kong led gains in Asia, with the Hang Seng China Enterprises Index of mainland Chinese stocks in the city rallying 2.5 percent; The Shanghai Composite Index rose to a 2017 high
Most other Asian benchmarks also advanced, with the MSCI Asia Pacific Index up 1.5 percent, set for its highest close since June, 2015
While they're high on policy tightening right now, equities could be in for what David Lafferty, chief market strategist at Natixis Global Asset Management in Boston, calls the "Trump letdown" -- where investors frustrated at a lack of progress on the president's fiscal stimulus agenda lose patience and start deserting the rally.
Expectations Pared
"The bottom line is people have pushed back their expectations somewhat," said Chris Weston, chief market strategist in Melbourne at IG Ltd., referring to Trump's plans. "Once we start seeing a realistic chance that some of these big measures which have largely been priced in are not going to happen then I think people will start panicking and start expressing more of a negative view through asset prices."
The Trump administration is proposing cuts to almost every federal agency and program in its fiscal 2018 budget request, which will be delivered to Congress Thursday. Some elements have already spurred criticism from Republicans, Bloomberg BNA reported. Also on the horizon: thorny talks with lawmakers over raising the debt limit and avoiding a shutdown or curbs to government spending that would see the fiscal side subtracting from rather than contributing to growth.
Bullish Outlook
As the struggles over immigration policy show, Trump's team is yet to assemble a record of success when it comes to executing policy. That said, while anticipation was high ahead of the president's first address to Congress Feb. 28, investors took it in their stride when he omitted further details of the "phenomenal" plan to overhaul business taxes flagged a few weeks earlier. Global stocks have since gained 1.5 percent, nudging a record high.
And aside from Trump, there are grounds for optimism about growth, with Friday's U.S. payrolls report underscoring sustained strength in hiring, accompanied by a pick-up in wage gains. Confidence surveys also have suggested companies are planning to boost spending.
China's policy move, which came amid mounting signs the economic recovery there is gaining ground, was about keeping in step with the Fed so as to maintain stability in the yuan, said Raymond Yeung, chief China economist at Australia & New Zealand Banking Group Ltd. in Hong Kong.
While economic green shoots have underpinned Chinese stock gains this year, some investors worry more monetary tightening could turn negative for the market, eating into company profits and crimping their ability to borrow.
Read more: China Stock Bulls Turn Wary as Growth Sparks Tightening Risk
On other fronts, the worst fears about a euro region breakup in the wake of a spring victory by nationalist presidential candidate Marine Le Pen subsided after elections in the Netherlands saw the defeat of an anti-immigrant party.
— With assistance by Wes Goodman, and Chris Anstey
(
Updates price moves in bullet points.
)
Before it's here, it's on the Bloomberg Terminal.
LEARN MORE