UBS Awaits Formal Brexit Notice to Decide on U.K. Job Moves
By and
Article 50 will kick off decision-making at banks, Weber says

Chairman doesn't see more countries leaving European Union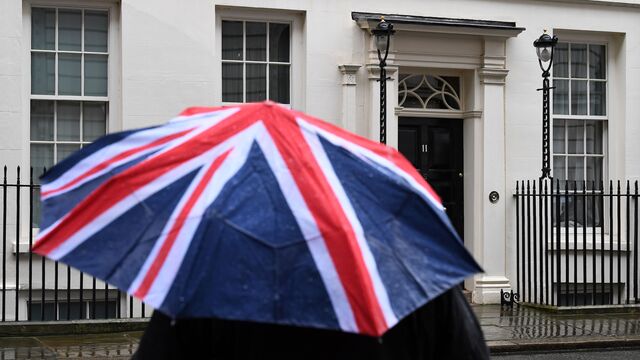 UBS Group AG will probably make a final decision on whether to move as many as 1,500 jobs from London soon after the U.K. gives formal notice of its plan to quit the European Union, Chairman Axel Weber said.
"We cannot postpone decisions on how we run our European operations," Weber said at a conference in Frankfurt on Wednesday. "As soon as we know definitely that Brexit will happen, you will see decision-making processes kick off in all financial institutions."

UBS, which employs about 5,000 people in London, is among a growing number of companies looking to shift jobs to the continent for fear Brexit will cost them their right to sell services to the EU from bases in London. Madrid and Frankfurt are among locations the Swiss bank is exploring.
While Weber said the U.K.'s departure represents a setback for European integration, he doesn't see other countries leaving the bloc. Anti-EU sentiment has intensified on the continent since Britain's decision, with French presidential candidate Marine Le Pen pledging to quit the EU and abandon the euro.
Estimates of the number of financial jobs at risk from Brexit range by order of magnitude from the thousands to the tens of thousands. The Brussels-based research group Bruegel calculates that global banks in London may have to relocate 1.8 trillion euros ($1.9 trillion) of assets to the continent, putting as many as 30,000 U.K. positions at risk.
U.K. lawmakers on Tuesday empowered Prime Minister Theresa May to invoke Article 50 of the EU treaty, which allows countries to pull out of the bloc. She is expected to take that step later this month, triggering the start of two years of negotiations on Britain's future relationship with Europe.
"Institutions like ours are faced with very important decisions about how to reshape our operations, given that London will no longer be part of the EU," Weber said. "Two years for us just will not work."
Before it's here, it's on the Bloomberg Terminal.
LEARN MORE