Token Dissent Plummets in China as Comrade Xi's Power Grows
Bloomberg News
Votes against key reports at lowest levels in more than decade

President preaches loyalty ahead of crucial party reshuffle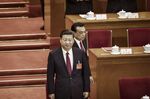 China's parliament -- never known for its independence -- saw dissenting votes sink to their lowest level in more than a decade as President Xi Jinping demands greater loyalty ahead of a crucial party reshuffle.
Only 14 of the 2,838 lawmakers who turned up Wednesday for the closing session of the National People's Congress voted against approving the annual report on the government's performance and targets for the coming year. That compares with the 101 dissenting votes cast in 2013, the final report presented under Xi's predecessor, Hu Jintao. 
Other reports introduced by the supreme court, state prosecutors and the legislature all received fewer "no" votes than at any point since at least 2006. Earlier data was only sporadically available in Chinese media reports, which failed to provide a breakdown of votes in some years.
The results show how successfully Xi has curtailed public dissent as he prepares for a Communist Party gathering later this year to reshuffle much of the country's top leadership. Xi has sought to avoid any drama before the twice-a-decade event as he seeks to win backing for his economic reform plans and secure lasting political influence.
"Since Xi Jinping's ascendance and particularly today, it is clear that the party has brought the legislature to heel," said Jerome Cohen, a New York University School of Law professor who has been studying China's legal system since the 1960s. "The annual voting records provide an unusually clear symbol of what has taken place politically, just as the numbers in environmental smog reports clearly delineate increasing pollution."

The president -- whom the party anointed as its "core" leader in October -- has increasingly demanded loyalty from officials while overseeing a graft crackdown that has ensnared more than 1 million officials. NPC Chairman Zhang Dejiang told assembled deputies March 8 to "uphold the party's leadership over legislative work." Before each vote in the Great Hall of the People on Wednesday, an announcer reminded lawmakers that the reports were produced under the party's leadership with "Comrade Xi Jinping at its core."
Even the reports submitted by the Supreme People's Court and Supreme People's Procuratorate, which had historically borne the brunt of opposition, saw dissenting votes plunge this year to 180 each. That compares with 605 and 485, respectively, in 2013.
Even at its most assertive, the NPC has never posed a serious threat to the ruling party's plans. In May 1989, 52 deputies signed a petition calling for a special legislative session to debate student protesters then gathering across the street in Tiananmen Square. In 1992, about one-third of deputies voted "no" or abstained from a measure on China's massive Three Gorges Dam project.
Starting in the 1990s, however, resistance in the NPC did help influence legislation on companies, securities and labor rights, Cohen said. A law protecting private property underwent a decade of discussions before finally passing in 2007.
While Xi urged lawmakers in a 2014 speech to "unswervingly adhere to the leadership of the Chinese Communist Party," he also called on them to "perfect the NPC's constitutional rights to supervise and monitor" the government. 
"The NPC has made progress since 2014 in areas including lawmaking capacity," said Zhan Zhongle, a Peking University law professor. "But there is a long way to go for the NPC to become a true legislature that's supposed to provide checks and balance on the government and the courts."
— With assistance by Peter Martin, Ting Shi, Christina Larson, and Keith Zhai
Before it's here, it's on the Bloomberg Terminal.
LEARN MORE