Davis Says No Brexit Deal Isn't as 'Frightening' as EU Warns
By and
Tusk insists U.K. has most to lose; Davis downplays concerns

Comments come as U.K. prepares to trigger process for EU exit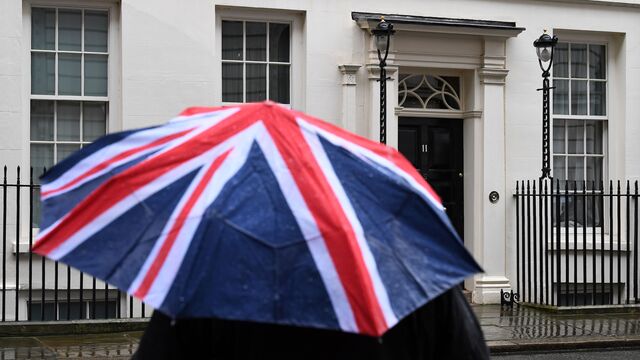 Brexit Secretary David Davis said the possibility of failing to strike an exit deal with the European Union "is not as frightening as some people think," as EU President Donald Tusk warned instead that Britain would suffer the most.
The comments from two senior figures in the Brexit landscape show how the two sides are worlds apart in how they view the fast-approaching divorce talks. In about two weeks, Prime Minister Theresa May will invoke Article 50 of the Lisbon Treaty, which will mark the formal start of two years of negotiations on everything from the size of the exit bill to the status of EU citizens.
Follow @Brexit for all the latest news, and sign up to our daily Brexit Bulletin newsletter.

Davis views his counterpart, European Commission negotiator Michel Barnier, as a "tough negotiator" but one who wants a "constructive outcome that they can be proud of." As for the risk of a no-deal outcome, Davis said it is "not as frightening as some people think, but it's not as simple as some people think."
"When we have finished making the Lego blocks, we will build the house," he told a parliamentary committee on Wednesday in London. Asked if he still thought a deal could be hashed out in 18 months, Davis answered: "Yeah, I think so. Yep."
Davis said the government had not conducted an assessment of falling out of the EU without an accord, prompting Labour Party lawmaker Pat McFadden to accuse him of having "mortgaged the country's economic future to a soundbite."
Earlier in the day, Davis's optimism was openly contradicted by Tusk. "The unity of the 27 will be our most precious asset," Tusk said in televised remarks to the European Parliament on Wednesday in Strasbourg, France. "A no-deal scenario would be bad for everyone, but above all for the U.K. because it would leave a number of issues unresolved."
To read about timing of the Brexit talks, click here.
Tusk said the bloc is "carefully preparing" for the talks and its goal is to have a "smooth divorce." For her part, May has said she hates the use of that word and could not see why things couldn't stay amicable.
"A number of people have used this term of divorce," May told the House of Commons Tuesday a day after Parliament gave her permission to trigger Article 50. "Actually, I prefer not to use the term of divorce from the European Union because very often when people get divorced they don't have a very good relationship afterwards."
Before it's here, it's on the Bloomberg Terminal.
LEARN MORE