business
Middlemen's Secret Drug Rebates Targeted by Wyden's Bill
By
Democratic senator aims at 'veil of secrecy' on drug prices

Drug benefit manager lobby says bill would add to costs
Senator Ron Wyden proposed legislation that would force drug middlemen to disclose secret discounts they receive from manufacturers, a sign of growing scrutiny of the role played by pharmacy benefit managers in high prices.
The bill would require pharmacy benefit managers such as Express Scripts Holding Co. and CVS Health Corp. to reveal the aggregate rebates that they receive from drug companies for Medicare plans and post the amounts on a government website, according to a statement from the Oregon Democrat's office. While it may not pass in a Republican Congress, the proposal calls further attention to PBMs while drug prices are in the crosshairs of Washington lawmakers and President Donald Trump.

The secrecy around rebates has frustrated lawmakers' attempts to determine the costs that health plans pay for drugs, and how much of the savings they get are passed on to consumers, Wyden said. His bill would also require the middlemen to disclose how much of the rebates they negotiate are funneled to health plans, and would eventually set minimum levels that have to be passed on, according to the statement.
"It is time to lift the veil of secrecy on a powerful industry," Wyden said on a conference call with reporters. "Today the public knows virtually nothing about whether pharmaceutical benefit managers are saving money for consumers or pocketing it for themselves."
The bill would raise costs by giving drug companies and drugstores more pricing power, the Pharmaceutical Care Management Association, a PBM industry group, said in a statement. Wyden's proposal would "increase premiums by undermining the tools employers, unions, and public programs, including Medicare, use to reduce prescription drug costs," the trade group said.
$1,000 a Pill
Express Scripts is "working with Senator Wyden and he's made changes to his bill because he understands the harm that can occur if inappropriate information is disclosed," said Brian Henry, a spokesman for the company, in an email. CVS is "concerned that this bill will make it harder for PBMs to successfully negotiate lower drug costs," spokeswoman Christine Cramer said.
Drugmakers have come under fire for setting high prices on new medications and increasing the costs of older products that were once available relatively cheaply. While PBMs say they cut costs for health plans and patients, pharmaceutical companies have begun aggressively implicating the middlemen in pharmaceutical prices.
Manufacturers such as Gilead Sciences Inc. have argued that pharmacy benefit managers sometimes prefer high list prices because they make room for larger rebates, a portion of which the middlemen keep for themselves. Benefit managers counter that rebates reduce drug costs, and that most discounts are relayed to health plans and employers.
Wyden said his interest in PBMs' rebates was sparked in 2015 by his investigation with Iowa Republican Senator Chuck Grassley into Gilead's pricing of its hepatitis C drug Sovaldi at $1,000 a pill. While Gilead said then that no one was actually paying that price, Senate investigators who tried to get details about rebates to verify this "were completely stonewalled," Wyden said.
Watch Next: Trump vs. Big Pharma: Can He Bring Drug Prices Down?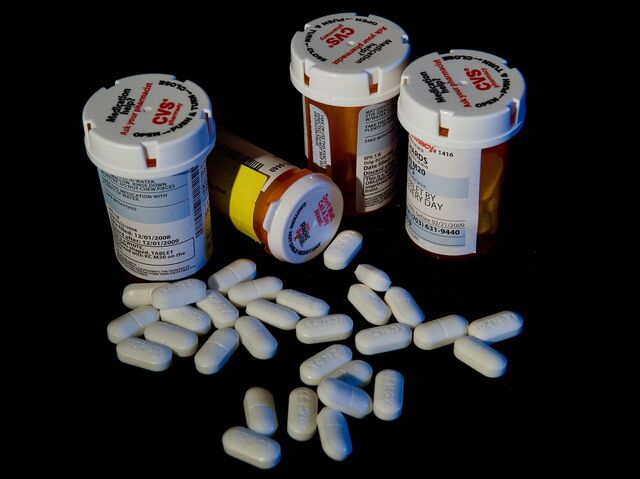 Express Scripts fell 1.5 percent to $65.83 at 2:53 p.m. in New York. CVS fell less than 1 percent to $79.50.
(
Adds CVS Health comment in sixth paragraph.
)
Before it's here, it's on the Bloomberg Terminal.
LEARN MORE