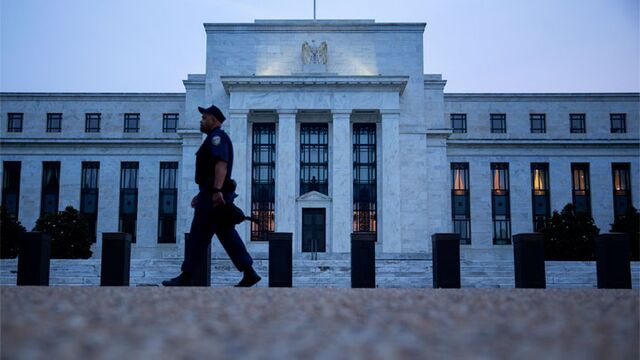 Investors see a Federal Reserve rate increase this week as a sure bet, a major shift from the small chance they assigned to a March hike coming out of the central bank's last meeting on Feb. 1.  

The change came after Fed policy makers launched an aggressive communication campaign, talking markets into the idea that rates would be climbing this month. Here's the timeline of the events that convinced monetary policy-watchers that March 15 will mark the central bank's first rate move of 2017. 

Feb. 14: Yellen testifies
Speaking before the Senate Banking Committee, Chair Janet Yellen said that waiting too long to tighten rates would be "unwise" and that the Federal Open Market Committee would evaluate progress at "upcoming meetings," noting that further adjustment was likely if the economy stayed on track. 

Feb. 15: Dudley and Yellen speak, CPI moves up
Yellen testified before House lawmakers on Feb. 15, and both New York Fed President William Dudley and Philadelphia's Patrick Harker also spoke. Dudley said the economy was growing above trend and that the Fed could expect to "snug up interest rates a little further in the months ahead," while Harker said three rate hikes would be appropriate this year. Consumer price index inflation also came in stronger than economists had projected. 
Feb. 22: February minutes released
The Fed minutes, already overtaken by Yellen's congressional testimony, toed a pretty neutral line.
Feb. 28: Kaplan, Harker, Williams, Dudley talk up increase
Dallas Fed President Robert Kaplan spoke on CNBC, saying that Fed policy makers should begin removing monetary policy accommodation, and markets moved shortly after. The same day, San Francisco Fed President John Williams said he expected a rate increase to receive serious consideration in March, Harker repeated his call for three increases, and Dudley said the case for tightening had become much more compelling. 

March 1: Brainard turns hawk
Federal Reserve Governor Lael Brainard, an influential policy dove on the committee, said a rate hike would "likely be appropriate soon," citing improved foreign growth, inflation moving gradually toward the Fed's 2 percent target, and a labor market closing in on full employment. 

March 3: Yellen seals the deal

If any doubters remained, Yellen took care of them with a speech in Chicago. She declared that "the Committee will evaluate whether employment and inflation are continuing to evolve in line with our expectations, in which case a further adjustment of the federal funds rate would likely be appropriate" at the March meeting.

March 10: Jobs are the cherry on top
The U.S. economy added 235,000 jobs in February, a Labor Department report showed, more than economists had predicted. Joblessness ticked down to 4.7 percent, and wages bubbled up. The comprehensively strong report was compelling evidence for investors that the central bank will announce a quarter-point hike when the FOMC statement is released at 2 p.m. on Wednesday.