House Republicans Take Their Own Path on Trump's Border Wall
By
Lawmakers seek flexible, less costly approaches at U.S. border

Democrats oppose adding wall funds to government spending bill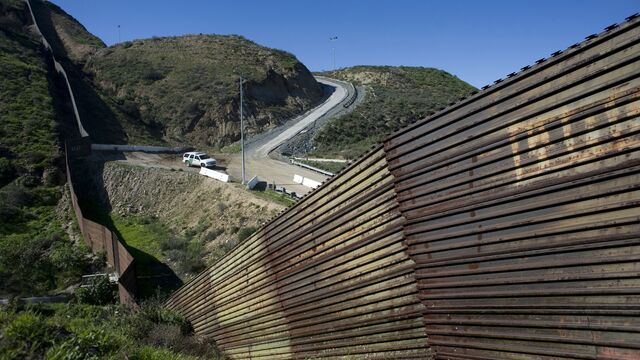 President Donald Trump's promise to build a fortified barrier on the U.S.-Mexico border is about to hit a wall of its own: Members of Congress with different ideas on how to curb illegal immigration.
The administration will seek billions of dollars to pay for it, with the first installment coming in the administration's budget request to Congress on Thursday. The Department of Homeland Security also will solicit bids as early as this week from companies for a wall it has described as 30 feet tall, made of concrete and "hard to climb." On Wednesday, it said it also will seek proposals for "other designs."
Top Republicans in Congress, meanwhile, are drafting a plan to use multiple approaches -- a wall in some areas, fencing in others, and more drones and Border Patrol agents.
"We write the check on this," House Homeland Security Chairman Michael McCaul of Texas said in an interview. "We will make sure that it's done smart and efficient from a taxpayer's standpoint."
Related: To Protect Climate Money, Obama Stashed It Where It's Hard to Find
While Republicans debate among themselves, Democrats already are threatening to block one strategy for passing funds for the wall. Senate Minority Leader Chuck Schumer and other party members said in a letter to GOP leaders Monday that they'll oppose attaching border-wall money to legislation providing stopgap funding for the federal government for the rest of this fiscal year.
"It is truly a poison pill and we would urge our colleagues not to allow the president to include this in a must-pass bill that avoids shutdown of the government," Schumer of New York said on the Senate floor.
Government Shutdown
A government funding bill must pass by April 28 to avoid a shutdown. Democrats say the wall won't work and that there's no real plan for its design, plus Trump promised during his campaign to make Mexico pay for it. Republicans control both chambers in Congress, but with 52 Senate seats they are short of the 60 needed to break a Democratic filibuster.
Much of the struggle is among Republicans, though, especially if Trump continues to disagree with fellow party members who have always seen his idea of a wall as purely conceptual.
Senate Homeland Security Chairman Ron Johnson, a Wisconsin Republican, noted that an executive order signed by Trump that called for wall construction also requires a study of potential approaches. Johnson said the outcome will help fashion practical solutions for border enforcement.
"I've never thought we needed a 2,000-mile wall. We have to use technology," Johnson said in an interview. "We have to use boots on the ground in some areas. But as we develop this information, it becomes clear what we need to do."

Mixed Signals
So far, the administration has been sending mixed signals. Even as Trump talks about a "big, beautiful wall," DHS Secretary John Kelly described a multi-layered approach to House lawmakers. Elaine Duke, a 28-year DHS veteran nominated by Trump to be Kelly's deputy, said at her Senate confirmation hearing last week that the agency's solicitation of contractor ideas for a wall will help determine possible approaches.
The debate will take place in stages, McCaul stressed, with the first including a supplemental spending request for the fiscal year that ends Sept. 30.
The administration is considering a request of as much as $6.6 billion as a down payment on Trump's promises to bolster security at the border and crack down on undocumented immigrants. That could come as early as this week, according to people familiar with the plan.
An early version of the plan being fashioned by the White House and DHS would include $2.8 billion to begin carrying out Trump's executive orders calling for construction of a border wall and increased deportation of undocumented immigrants, the people said. About half of that amount would be used for a major increase in detention facilities and for alternatives including ankle bracelets.
Wall Construction
About $1 billion would be set aside for border-wall construction. Other funding includes $115 million for added Immigration and Customs Enforcement personnel and another $115 million for Customs and Border Protection hiring, the people said.
The early version of the plan also includes $3.8 billion for other DHS expenses, including Customs and Border Protection operations unrelated to a border wall, ICE operations, including immigration prosecutions, and the Coast Guard.
McCaul said his staff is working with the administration on a second wave that would authorize up to $15 billion more for border security over 10 years. It would include a sector-by-sector approach to enhancing the border, while giving DHS new powers to access federal lands and more quickly remove undocumented immigrants caught near the border.
Democrats warn that McCaul may have to rely entirely on his own party to advance his bill. Representative Bennie Thompson of Mississippi, the top Democrat on the House Homeland Security panel, said the added security may cost more than $20 billion, and further costs will add to a price tag that looks too big at a time of other domestic needs.
$20 Billion
"A $20 billion or $21 billion price tag for a wall or a fence or whatever you want to call it, that's an awful lot of money," he said in an interview. "There's maintenance and upkeep that goes with that. And they're going to add 10,000 more people to the employment roll."
"I think if we engage Mexico, Guatemala, Honduras and start showing them how we can be partners in this effort and not have such a harsh attitude toward our neighbors, we can probably accomplish a lot more," Thompson said.
McCaul insists any differences on approaches between Republican lawmakers and Trump are bridgeable. As far as Trump's talk of concrete, McCaul and House Speaker Paul Ryan recently traveled to the Rio Grande region of the Texas border, where water levees are made of concrete. More of those will probably be part of any solution, and that might satisfy the president, McCaul said.
"When you look at the concrete levee, it's a concrete physical barrier," he said.
— With assistance by Cary O'Reilly, and Lauren Etter
Before it's here, it's on the Bloomberg Terminal.
LEARN MORE