Chow Tai Fook Adds Australia Power Firm to Property, Jewelry
By , , and
Takeover of Alinta said to be valued at more than $3.1 billion

TPG-owned energy company had been slated for 2017 share sale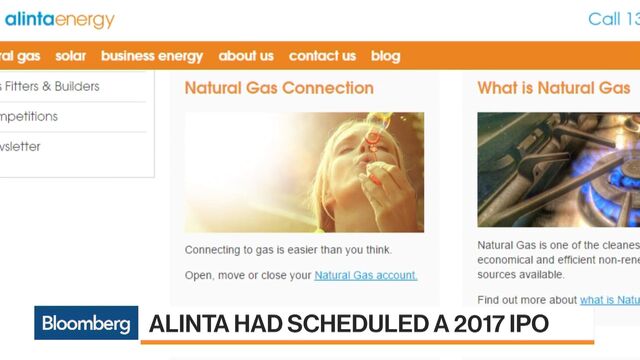 Chow Tai Fook Enterprises Ltd., the Hong Kong conglomerate known for its chain of jewelry shops across China, agreed to acquire Alinta Energy Holdings Ltd. in a multi-billion dollar deal that marks the family-owned group's foray into Australian utilities.
The companies announced the transaction in separate statements on Thursday, without disclosing financial details. Chow Tai Fook agreed to pay investors including buyout firm TPG Capital more than A$4 billion ($3.1 billion), people with knowledge of the matter said, asking not to be identified because the details are private. Alinta's assets span nationwide energy retailing through power generation for industrial customers.
The transaction is Chow Tai Fook's most ambitious overseas expansion in recent years and comes at a pivotal moment for the conglomerate as it undergoes a leadership transition. The Cheng family heads a group that includes four listed units with a combined market of more than $25 billion. Among those are New World Development Co., one of Hong Kong's largest property developers, and Chow Tai Fook Jewellery Group Ltd., whose chain of luxury stores generates more revenue than Tiffany & Co.
Chow Tai Fook follows in the footsteps of another Hong Kong group, property tycoon Li Ka-shing's Cheung Kong Property Holdings Ltd., in scouring Australia for assets. This week, Hong Kong's richest man won shareholder approval to pursue the A$7.4 billion takeover of power provider Duet Group to add an energy network that covers an area three times the size of the Chinese city.

Australian utilities the likes of Alinta and Duet have attracted foreign interest because of their steady cash flows from gas and electricity assets -- the country's power companies are overseen by national and state regulators, which decide how much network operators can charge. The utilities offer relatively high yields for Asian investors often crimped by price caps elsewhere.
Last year, Chow Tai Fook acquired a luxury Bahamas resort that's slated to open this year with a casino, hotel and golf course. "Alinta Energy would be Chow Tai Fook Enterprises' first significant investment in Australia outside of real estate and integrated resorts," the Hong Kong company said in its statement.
Obscure Energy Deals
The takeover would test the Cheng family's ability to manage large-scale utilities assets. While the family has made a number of obscure energy investments in the last decade, including ones for coking coal in Mongolia and oil and gas projects in Argentina, most of those deals have been small.
With the sale, Alinta's owners have abandoned a plan to hold initial public offering for the company this year. The IPO was delayed last year due to market volatility following the U.S. election. TPG and more than 30 lenders, including Oaktree Capital Group LLC, had taken control of Alinta as part of a debt-for-equity swap.
The sale comes at a tense time in Australia as the government battles an increase in power failures and surge in wholesale gas prices that has put pressure on energy markets. Prime Minister Malcolm Turnbull has directed utilities to increase the amount of gas available for domestic supply and warned the government could restrict oil and gas exports if companies fail to comply.
Foreign investment also remains a sensitive issue after Treasurer Scott Morrison barred separate bids for state-owned power network Ausgrid last year from Li and China's State Grid Corp. Both Alinta and Duet takeovers are subject to approval by Australia's Foreign Investment Review Board.
Click here to read about the dilemma Foreign Investment Review Board faces
"It will get a much more forensic examination than used to be the case," Peter Jennings, executive director of the Australian Strategic Policy Institute, said in an interview. "We are talking about an area that has a much higher area of sensitivity than has been the case in the past."
Jeff Dimery will continue as Alinta's chief executive officer and the existing senior management team will also be retained, the company said.
At the Hong Kong conglomerate, 69-year-old patriarch Henry Cheng has been on leave from an unspecified illness since early this year. His 36-year-old son, Adrian Cheng, is the heir apparent. Founded in 1929, the group operates in more than 50 countries. Today's deal is part of Chow Tai Fook's accelerated expansion beyond Greater China as higher land costs in Hong Kong are poised to squeeze profit margins for developers.
"The core property business no longer guaranteed a high return like in the past," said Castor Pang, head of research at Core-Pacific Yamaichi HK. "The Cheng family isn't the only one doing it."