Beauty App Meitu Produces Its Second Billionaire
By
Stock climbs for nine straight days to record in Hong Kong

Chairman and Co-founder Cai was first Meitu billionaire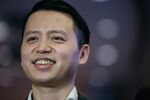 Wu Xinhong, co-founder and chief executive officer of Meitu Inc., became the second billionaire at the Chinese beauty-enhancing selfie app developer after the stock posted its longest winning streak since its December debut.
The stock extended gains since it was added to a second equity-trading link between China's Shenzhen exchange and Hong Kong on March 6, rising 4.6 percent to HK$14.88 at the close in Hong Kong on Thursday. The 10th straight advance also pushed the shares to a record, giving Wu a net worth of $1.1 billion, according to the Bloomberg Billionaires Index.
The company, based in the Chinese city of Xiamen, said Wu declined to comment and referred to the CEO's previous statement on how he's seeking to turn virtual beauty into real-life experiences through its artificial intelligence.
The link offers foreign investors more access to mainland China-listed technology shares, and gives mainland investors access to Hong Kong-traded stocks such as Meitu. The company became a household name in China by tapping a cyber-savvy generation's growing desire to look attractive online. Its apps, with more than 456 million monthly active users, help people slim their faces, lengthen their limbs and even apply virtual make-up in photos.

Meitu's shares climbed after it was added to the Hong Kong-Shenzhen link because "Chinese investors have a more positive outlook on its ability to make money," Yu Jianpeng, a Hong Kong-based analyst at ICBC International Research Ltd., said in an email.
Wu joins co-founder and chairman Cai Wensheng in the billionaire ranks. Cai, who is also an angel investor in China's technology sector, has a fortune of more than $2.7 billion, according to the Bloomberg index.
You Look Good, We Look Good Is Working for Meitu: Gadfly
Meitu generates 95 percent of its revenue from selling its branded mobile phones and has yet to turn a profit, though it hopes its beauty-conscious loyalists can be turned into a lucrative base for e-commerce and advertising. Meitu, which is set to announce 2016 earnings on March 24, expects further losses in 2017, according to its IPO prospectus.
"As it's more of a functional app, Meitu's cash generation ability isn't strong," Yu said. "But it's trying hard to monetize its large user base, and if it can achieve a breakthrough in social, e-commerce, content or other aspects, then it will help its monetization greatly."
The surge in the stock price came after Meitu's muted debut on the Hong Kong Stock Exchange in December, when it fell as much as 10 percent following its first day of trading. The company raised $629 million in what was the city's largest technology initial public offering in almost a decade.
"Meitu's IPO is a milestone for the transition of Hong Kong's capital market from the traditional to the new economy," Cai said in a statement on Tuesday, declining to comment on his net worth. He added that the surge in its shares will encourage "more startups to list their shares in Hong Kong."
— With assistance by Lulu Yilun Chen, and Venus Feng
Before it's here, it's on the Bloomberg Terminal.
LEARN MORE