Trump's Options to Deal With North Korean Threat: QuickTake Q&A
By and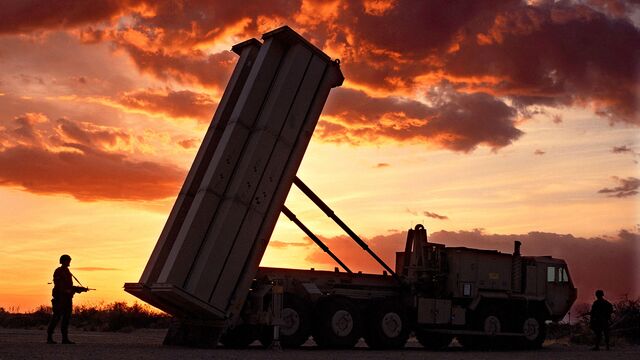 In response to recent ballistic missile tests by North Korea, U.S. officials have said that all options, including military ones, are on the table. North Korea fired another missile into the sea April 5, ahead of a meeting in Florida between U.S. President Donald Trump and his Chinese counterpart Xi Jinping. It was just the latest provocation by an isolated nation that is nuclear-armed, committed to developing missiles that can reach the continental U.S., and led by an unpredictable despot. Former U.S. President Barack Obama's strategy of imposing sanctions, pressuring China and setting conditions for North Korea talks didn't stop Pyongyang from accelerating its military programs. On the other hand, Trump's willingness to defy foreign policy traditions could lead to a change in strategy. Clarity on his approach may emerge during his meeting with Xi from April 6-7.
1. What threat does North Korea pose?
In defiance of UN resolutions, North Korea has conducted five nuclear weapons tests, including two in 2016, and dozens of ballistic missile launches. The nation is thought to possess as many as 20 nuclear warheads and missiles that can reach South Korea and Japan. It's unclear whether it has mastered how to miniaturize a nuclear device so that it can be delivered on a missile. In his 2017 New Year's address, North Korean leader Kim Jong Un claimed his nation was in the "last stage" of preparations to test-fire an inter-continental ballistic missile, the type necessary to reach as far as North America.
2. What stance has Trump taken on North Korea?
Several. On the campaign trail, he proposed to negotiate directly with Kim over a burger. But he also likened Kim to a "maniac" and said he would get China to "make that guy disappear in one form or another." After a February missile launch, Trump called North Korea a "big, big problem" and promised to deal with it "very strongly." And ahead of this week's meeting with Xi, Trump said the U.S. can "totally" address North Korea's nuclear threat unilaterally if China doesn't cooperate to put pressure on that nation, according to the Financial Times. Trump has yet to make any concrete proposals.
3. Can China rein in North Korea?
The escalation of North Korea's weapons programs has strained ties with China, its only major ally. After the February missile test, China banned coal imports from its neighbor until the end of the year. Some critics argue that China could exert much more pressure since it supplies most of North Korea's food and energy. Trump has said China could solve the problem of North Korea with "one phone call." China's willingness to pressure Kim is another question. China fears a collapse of North Korea's regime might lead to a refugee crisis and — in the event of South Korea absorbing its neighbor — create a well-armed U.S. ally straddling its border.
4. Could Trump lean on China?
He needs to tread carefully. The deployment in March of parts of a U.S. missile defense system in South Korea to counter the North Korean threat incensed China. It argues that the Terminal High Altitude Area Defense system known as Thaad upsets the "strategic equilibrium" in the region. Trump has also alienated China's leaders by threatening a trade war with the country.
5. Would a pre-emptive military attack work?
It might succeed in taking out North Korea's known nuclear and missile sites, but potentially at a huge cost. The country has too many facilities spread out over too much terrain to destroy simultaneously. Even if North Korea reacted only with conventional weapons, its response, and South Korea's counterattack, could be devastating in a region that has seen surging growth. Since 1980, South Korea's economy has expanded more than 20-fold to $1.5 trillion.
6. Can Thaad shield against a nuclear attack?
The Thaad system being installed in South Korea joins a network of U.S. missile defense systems across the Pacific. Whether they could take out a North Korean nuclear missile remains to be seen. Still, its advanced radars can help detect missile launches so batteries in other regions can respond faster.
7. Is accepting North Korea's nukes an option?
Some analysts have suggested that the best way to deal with North Korea is to accept that it has nuclear weapons and seek its cooperation in preventing them from being proliferated. Others say such an approach would lead South Korea, Japan and perhaps Taiwan to seek their own nuclear arms, undermining, perhaps critically, the Treaty on the Non-Proliferation of Nuclear Weapons.
8. So what's left?
Negotiations. However, U.S. officials are concerned that initiating talks in the near term would be seen as rewarding North Korea's bad behavior. That includes its missile launches and, according to South Korean intelligence, orchestration of the murder of Kim's estranged half brother, Kim Jong Nam, in February in Malaysia. China's latest proposal for North Korea to halt its nuclear activities while the U.S. suspends nearby military drills isn't considered realistic given the lack of trust between Pyongyang and Washington. But if Kim cools his provocations, then Trump might have room to put his self-proclaimed deal-making skills to the test.
The Reference Shelf
Before it's here, it's on the Bloomberg Terminal.
LEARN MORE