Republicans Picked the CBO Chief. Now They're Attacking the Office Over Obamacare.
By
White House blasted findings on Republicans' health proposal

Congressional Budget Office is nonpartisan, but attacked often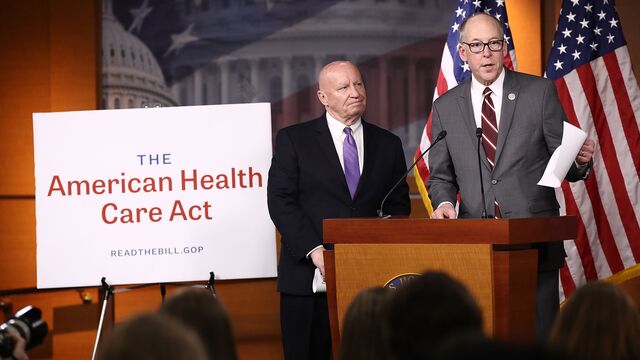 An hour after the Congressional Budget Office released its dire assessment of the GOP Obamacare plan, Donald Trump's top health official went on the attack.
"We disagree strenuously with the report," Tom Price said. "The CBO report's coverage numbers defy logic."
That initial Republican assault on Monday was the first of many that amounted to dismissing their own scorekeeper.
Left unmentioned by Price, Trump's Health and Human Services secretary: When he was in Congress, he recommended the CBO's current director, Keith Hall, for the job. Hall took the helm at the CBO in April 2015, chosen by Republican House and Senate leaders to provide advice to a GOP-controlled Congress. 
White House Press Secretary Sean Spicer joined in the criticism, telling reporters on Tuesday that the CBO has been "consistently wrong" when estimating the effects of legislation on insurance coverage.
"They're pretty good at dollars; not as good at people," Spicer said.
The CBO's precise estimates of the Affordable Care Act's insurance expansion were off by millions of people in 2010. But broadly, the agency was correct. It predicted there would be many more Americans with health insurance as a result of the law. In 2015, the proportion of the U.S. population without insurance fell to a record low -- about 10.5 percent of Americans younger than 65, down from 18.2 percent in 2010.
The barbs from Price and Spicer also sidestepped the aim of the CBO: to provide nonpartisan analyses so that Congress has its own assessments on the budgetary and economic impacts of legislation. Being caught in the middle is nothing new for the CBO, which for the past 42 years has taken fire from both Democrats and Republicans, depending on the office's findings.
Its latest estimate, published Monday, set off a new firestorm with its finding that the House Republican health-care measure would cause 14 million people to lose insurance next year, a number that would rise to 24 million uninsured by 2026.
'Dishonestly Wrong'
Price, as well as Trump's budget director, Mick Mulvaney, blasted the CBO, along with a number of current and former Republican leaders.
"Corrupt" and "dishonestly wrong" is how former Speaker Newt Gingrich lashed out, even saying Monday on Fox News that he believes the CBO should be abolished. He, like others, also claimed some CBO numbers on Obamacare have proven out to be off.
House Speaker Paul Ryan picked out a few bright spots in the report, while underscoring the CBO was only analyzing a portion of the overall Republican plan -- even though the rest of it hasn't yet been released. 
"What CBO is telling us is that it will lower premiums" and it "will stabilize the market," Ryan said Monday night on Fox News. "It actually exceeded my expectations."
Republicans also blasted the CBO in 2015 after it found that the GOP Obamacare repeal plan at the time would actually add $137 billion to the deficit over 10 years.
'Apples and Oranges'
One of the critics back then was Price, who complained that the CBO looked at a full repeal of Obamacare, not the more limited version that Republicans planned to pass under the expedited budget reconciliation process. The Georgia Republican called the report "apples and oranges" to the GOP plan.
Now, Price's complaint is the opposite -- that the CBO is only analyzing what Republicans plan to pass through reconciliation.
Yet he was full of praise back for Hall in 2015 when he was announced as the CBO's new director.
"His vast understanding of economic and labor market policy will be invaluable to the work of CBO and the important role it will continue to play as Congress seeks to enact policies that support a healthy and growing economy," Price said at the time.
Democratic Criticism
Of course, Democrats have attacked the CBO at other points, including during the passage of the original Obamacare law. At the time, many were upset at the CBO's findings that early drafts of the plan would cost $1 trillion over 10 years but add only a net increase of 16 million Americans to the ranks of the insured -- leaving tens of millions uninsured.
Then-House Speaker Nancy Pelosi of California said of the CBO, "It's always been a source, yes I will say frustration, for many of us in Congress that the CBO will always give you the worst case scenario on one initiative" and not give "any credit for anything that happens if you have early intervention, health care."
Another notable swipe at the CBO came in 1981 when President Ronald Reagan called its numbers "phony" because they did not mesh with his administration's tax cut projections. But Republicans were quick to side with the CBO numbers later on when they helped to undermine President Bill Clinton's health-care plan.
Long History
The CBO officially began operating in 1975 with the given intent of providing congressional budget committees and Congress overall with objective, impartial information about budgetary and economic issues, and impacts of congressional actions. 
It was created by the Congressional Budget and Impoundment Control Act of 1974, itself the product of conflict between former President Richard Nixon and the then-Democratic controlled Congress over congressional appropriations.
Today, with more than 200 employees, it puts together as many as 600 cost-estimate reports a year, some of which become pivotal elements in the debate over a measure.
Reacting to this latest GOP Obamacare plan estimate, Senators Lindsey Graham of South Carolina and Susan Collins of Maine suggested its findings were reason for Republicans to slow down on the health-care effort.
Democrats like Senate Minority Leader Charles Schumer of New York and Pelosi, now House minority leader, were saying the CBO's numbers should convince Republicans to outright drop their plan, with Schumer calling it a "knock-out" blow.
— With assistance by Anna Edgerton
Before it's here, it's on the Bloomberg Terminal.
LEARN MORE