Prudential Raises Dividend as Full-Year Profit Gains on Asia
By
Raises ordinary dividend 12 percent, scraps special payout

Profit at Asian business rises 15 percent while U.K. declines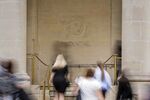 Prudential Plc, the U.K.'s largest insurer, raised its ordinary dividend after earnings rose 7 percent, helped by a stronger business in Asia.
Operating profit increased to 4.26 billion pounds ($5.17 billion) from 3.97 billion pounds a year earlier, the London-based company said in a statement on Tuesday. Earnings declined 2 percent when adjusted for exchange-rate swings. The insurer plans to increase the full-year 2016 ordinary dividend by 12 percent to 43.5 pence per share.
Chief Executive Officer Mike Wells is betting on Asia as he pursues the insurer's international expansion strategy and seeks to increase the dividend by 5 percent each year and double operating profit from Asia over the five years through 2017. As competition and regulation intensified in Europe over the past years, Prudential refocused its ambitions in long-term savings and protection markets on Asia, where it now has most of its life insurance customers.
"Our performance has been driven by Asia, which has delivered a seventh consecutive year of double-digit growth in new business profit," Wells said in the statement.
Prudential rose 2.8 percent at 9:06 a.m. in London trading, the biggest gainer in the Bloomberg Europe 500 Insurance Index. The stock has risen 5.2 percent this year and is trading at the highest since April 2015.
The dividend for 2016 compares with a regular payout of 38.78 pence plus a special dividend of 10 pence for 2015. Prudential said it will not pay a special dividend for 2016.
Home Market
In its home market, operating profit before tax based on longer-term investment returns declined 32 percent to 799 million pounds as the insurer withdrew from the bulk annuity business in the U.K., where insurers take on risk for company pension plans. Prudential also set aside a provision for the cost of undertaking a review of past non-advised annuity sales practices.
"The FCA's thematic review of non-advised annuity sales practices showed that, in a portion of annuity sales that the U.K. business made since July 2008, it was not adequately explained to customers that they may have been eligible for an enhanced annuity," the company said in the statement. "We are continuing to work to ensure we put things right."
Profit at Prudential's Asian long-term business rose 15 percent to 1.5 billion pounds when adjusted for exchange-rate swings. Earnings in the U.S. increased 8 percent on that basis. Prudential Plc has no relation to Newark, New Jersey-based Prudential Financial Inc.
Operating profit at the insurer's asset management division, which includes London-based M&G as well as Eastspring Investments in Asia, declined to 589 million pounds from 602 million pounds a year earlier on a constant exchange rate basis as M&G saw net outflows of 8.1 billion pounds last year. Market movements helped cushion the redemptions, increasing third-party assets under management by 8 percent to 137 billion pounds.
Before it's here, it's on the Bloomberg Terminal.
LEARN MORE