Mitsubishi Heavy Considers Spinning Off Shipbuilding Operations
By and
Company has booked about $2 billion in cruise-ship losses

Mitsubishi Heavy is seeking tie-ups with other shipbuilders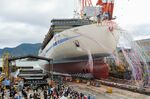 Mitsubishi Heavy Industries Ltd. is considering spinning off its shipbuilding business and planning local partnerships as weak demand for vessels prompts companies in the industry to reorganize their operations.
A decision on a new structure for the shipbuilding operation may be announced in July, Eiji Matsubara, a spokesman for Mitsubishi Heavy, said by telephone from Tokyo Tuesday. Nikkei reported the plan earlier on Tuesday.
Mitsubishi Heavy and Kawasaki Heavy Industries Ltd. are among Japanese shipbuilders reviewing their business amid reduced and delayed orders, while peers in other countries sell assets, cut capacity and jobs. The world's top three shipbuilders, all based in South Korea, have eliminated more than 20,000 jobs and lost a combined 6.6 trillion won ($5.7 billion) in the six quarters ended September.
In October, Mitsubishi Heavy, also a maker of power plants and aircraft, said it will limit production of cruise ships to small- and mid-sized ones, after the first of two vessels ordered for Aida Cruises in 2011 was finally delivered last year following multiple delays. The Tokyo-based company said it booked combined losses of 238 billion yen ($2.1 billion) in its cruise-ship construction business in the last three fiscal years ended March 31.
Capital Tie-ups
Mitsubishi Heavy, which builds ships that transport liquefied petroleum gas, liquefied natural gas, crude oil and cars, besides bulk and container carriers, also said in October that it's considering a capital tie-up with three Japanese firms -- Namura Shipbuilding Co. as well as closely held Imabari Shipbuilding Co. and Oshima Shipbuilding Co.
The company is targeting sales of 150 billion yen and an operating profit margin of 6 percent for its commercial shipbuilding operations by the fiscal year starting April 2020, it said in February.
Mitsubishi Heavy hasn't reported a revenue breakdown for the vessel business since the year ended March 2013, when shipbuilding and ocean development accounted for 225 billion yen, or about 8 percent of total sales, according to data compiled by Bloomberg.
Shares of Mitsubishi Heavy gained as much as 8.2 percent in Tokyo trading Tuesday, the biggest intraday gain in four months.
Separately, a U.S. arbitration court found Mitsubishi Heavy liable for damages of $125 million over steam generators it supplied to Edison International, a fraction of the estimated $6.7 billion the power-generation company had sought, according to statements issued after the market's close Monday.