Hedge Funds Piling Into Treasury Short Bets Could Be Let Down by the Fed
By
Speculators have bulked up on short futures bets: CFTC data

Potential for temporary rally if Fed doesn't tilt hawkish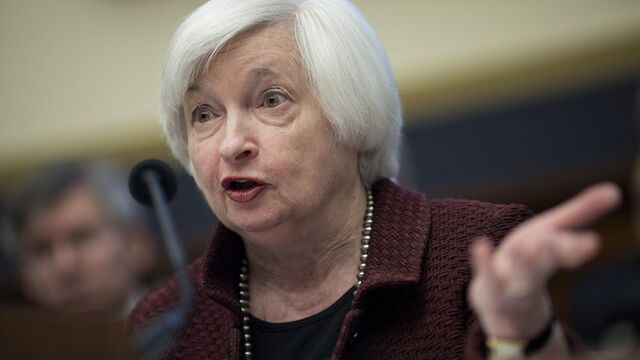 One corner of the $13.9 trillion Treasuries market is signaling growing confidence that yields will rise after the Federal Reserve's policy decision this week, leaving some analysts wary of a crowded trade that may backfire.
Hedge funds and other large speculators boosted net short bets in five-year futures to the second-largest on record as of March 7, Commodity Futures Trading Commission data show. Even asset managers, who've typically taken the other side of the wager, pared net longs to the lowest since September.

With the benchmark five-year yield already near the highest since 2011, some strategists warn the market is primed for a letdown from the Fed Wednesday. The yield has climbed 30 basis points in a two-week span, causing one indicator of market momentum to flash signs that the notes have sold off too far, too fast. That leaves them susceptible to a reversal if policy makers stop short of projecting a quicker pace of tightening.
"The biggest risk is you go into this and then the Fed messaging isn't that hawkish, and you actually see rates rally right off the bat -- you don't get this big selloff," said Aaron Kohli, fixed-income strategist at BMO Capital Markets in New York. "You could get this perverse response where even if the Fed delivers what might be a mildly hawkish message, you'll see rates rally."
Traders view a quarter-point Fed hike March 15 as a virtual lock. They'll watch for changes to the "dot plot," officials' quarterly projections for their rate path. In December, it called for three hikes this year.
Read more: Fed decision-day guide
Not everyone says yields have moved high enough heading into the Fed meeting. Goldman Sachs Group Inc. analysts said in a report Tuesday that they see little risk of a dovish surprise, and traders are overestimating the central bank's ability to stick to its gradual path in the face of strengthening economic data. Producer prices rose in February by the most since 2012 on annual basis, data showed Tuesday.
"It seems likely the Fed will err on the side of more rather than less hawkishness," they wrote.
The consensus is still for 10-year yields to climb to 3 percent by the middle of 2018, from about 2.6 percent now, reaching a level that fund managers including DoubleLine Capital Chief Executive Officer Jeffrey Gundlach and Guggenheim Partners Chief Investment Officer Scott Minerd have said may mark the end of the three-decade bull market in bonds.
Five-year Treasuries are among the most-vulnerable maturities to a faster pace of hikes. The relative-strength index for five-year U.S. yields is about 64, after approaching 69 last week, the highest this year. A number above 70 signals the notes are oversold, and below 30 indicates they're overbought.
Similarly, the relative-strength index for the two-year yield is about 68, after the yield climbed last week to the highest since 2009.
Five-year yields fell two basis points to 2.11 percent on Tuesday in New York, according to Bloomberg Bond Trader data. The longest-maturing Treasuries led gains after French presidential candidate Francois Fillon was charged with misuse of public funds.

The market is close to pricing in three hikes this year, according to fed funds futures data compiled by Bloomberg. That's effectively an additional half of an increase factored in over the span of two weeks.
Given that traders and Fed officials practically see eye-to-eye, the ball is in policy makers' court to signal the next move in yields. And after the re-pricing of the past two weeks and the growing short positions, even just keeping the outlook unchanged could be enough to spark a rally.
"The fact that you do have such a large buildup of shorts, particularly in the front end, does raise the bar for how hawkish the Fed would have to be to really drive a large bear-flattening-type move on the announcement," said William Marshall, an interest-rate strategist at Credit Suisse Securities (USA) LLC. That's referring to a selloff led by shorter maturities.
"You'd have to have something more specific, indicating that the three-hike-a-year baseline that Yellen communicated actually looks more like four hikes a year," he said.