business
Fillon Charged With Misusing Public Funds Before French Vote
By and
Charges in jobs-for-family case came day earlier than expected

Fillon has said he will stay in race regardless of probe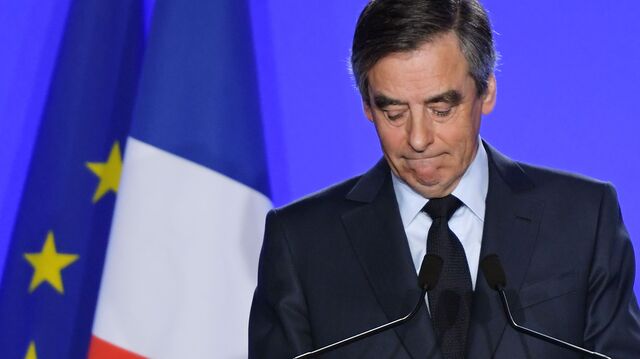 Francois Fillon was charged Tuesday with misuse of public funds, casting a permanent shadow over his bid to become France's next president.
Fillon was informed of the charges after being questioned by investigative judges looking at whether family members did any real work while on the public payroll as his parliamentary aides, according to the French financial prosecutor's office. Fillon, who had been due to meet the judges on Wednesday, has denied any wrongdoing and denounced the investigation as a plot by his political opponents to undermine his candidacy.
"The questioning was brought forward to ensure it took place in calm conditions," Fillon's lawyer, Antonin Levy, told Agence France-Presse.
Read more: Everything You Need to Know About France's Elections
For a dashboard tracking European political risk, click here
While the judges' decision confirms the worst-case scenario for Fillon, he's already promised to stay in the race whatever happens and faced down a rebellion of party officials seeking his ouster. So the announcement is not a surprise, but it does mean he will be forced to spend more days batting away questions about his integrity instead of talking about his plans to fix the French economy.
"The damage has already been done," Bruno Jeanbart, deputy director of pollsters OpinionWay, said. "He'd already said he was likely to be charged."
Read more: Q&A on how the Fillon family pay revelations have muddied the race
French bonds rose after the news, with the extra yield investors demand to hold the country's 10-year debt instead of their German equivalents narrowing 2 basis points to 64 basis points at 5:21 p.m. in Paris.
With less than six weeks to go before the first round of voting, the 63-year-old former prime minister is lying a distant third in the polls, suggesting he'd miss out on the May 7 run-off between independent Emmanuel Macron and the anti-euro nationalist Marine Le Pen. Tuesday's daily tracking poll from OpinionWay put Le Pen at 27 percent, Macron at 24 percent and Fillon at 20 percent. Macron would defeat Le Pen by 20 points in the runoff.
Probe Advances
Fillon started the year as favorite to be France's next president but stumbled in mid-January after Le Canard Enchaine newspaper reported that he had employed his wife for years as a parliamentary assistant and that she had done little real work for total pay of almost 1 million euros ($1.1 million). His children had also been paid for work they may not have done, the newspaper has said.
Last month, prosecutors extended the probe and turned it over to investigative judge Serge Tournaire. Tournaire sent Fillon a summons to be questioned within days and ordered his home to be searched by police investigators. The probe has also looked into the work Penelope Fillon did for a magazine owned by billionaire Marc Ladreit de Lacharriere, who is a friend of the Republican presidential candidate.
In addition to misuse of public funds, Fillon was also charged with complicity in the misuse of company assets and failure to comply with the transparency requirement for public officials, according to prosecutors. In his statement to the magistrates, published online by Le Figaro newspaper, Fillon said there was ample evidence that his wife had helped manage his agenda, correspondence and contacts with local voters.
All the same, Fillon may yet escape a trial -- it typically takes several more months before judges decide whether to send the case for trial or to dismiss it. Though that decision will likely come after the election.
Party Support
When news first broke of Fillon's hiring, he said he'd quit the race if ever charged. He later reneged on that promise, labeling the investigation a "political assassination." That reversal led some political allies to seek his replacement, and his campaign's director, treasurer and spokesman all quit. But Fillon faced down his rivals, and his Republican party eventually swung back behind him.
The nominee is also facing scrutiny from the French parliament, with officials considering whether gifts from a friend of some 48,500 euros worth of tailored suits constitutes a conflict of interest. Fillon has brushed off questions about the issue.
On Tuesday, lawmakers from Fillon's party took to the Internet and the airwaves to show their support.
"No one is going to steal the change that the French people want," southern lawmaker Eric Ciotti said on Twitter. "I can't say I'm enthusiastic, but now it's behind us and we can focus on the campaign," lawmaker Philippe Gosselin from the north-west said on BFM television.
The next major date in the election is likely to be a televised debate March 20. While generally considered a good debater, Fillon will have to square his calls for cutting government spending and tightening up France's welfare state with his own actions in putting his family on the public payroll.
"The debate could be decisive," Jeanbart said. "The viewership will be huge this year."
(
Updates with pollster comments in fifth paragraph.
)
Before it's here, it's on the Bloomberg Terminal.
LEARN MORE