Taiwan Leaks Case Makes Ma Third Straight President Prosecuted
By and
Ex-leader says actions were 'not a crime' after indictment

Allegations at center of 2013 feud with legislative speaker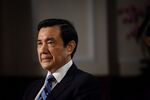 Ex-Taiwanese President Ma Ying-jeou expressed confidence he would be exonerated after Taipei prosecutors indicted him over allegedly leaking details of a criminal investigation while still in office.
Ma, 66, was hit with three criminal counts Tuesday alleging that he improperly disclosed a wiretapped conversation between lawmakers discussing an influence-peddling investigation, according to court documents filed by the Taipei District Prosecutors Office. Each count carries a possible sentence of as many as three years in prison.
The former president and Kuomintang chief told reporters Tuesday that he was exercising his "constitutionally grounded authority over crisis management" at the time. "The act was not a crime," Ma said, according to a TVBS broadcast.
The indictment makes Ma, who championed closer ties with Taiwan's one-time civil war rivals in China, the island's third consecutive president to face criminal charges after leaving office. His predecessor, Chen Shui-bian, of the rival Democratic Progressive Party, was granted medical parole in 2015 while serving a 20-year prison sentence following his corruption conviction.
Lee Teng-hui, who oversaw Taiwan's transition to direct democracy as president from 1988 to 2000, was found not guilty of money laundering and embezzling government funds in November 2013.
The charges against Ma represent the latest twist in an enduring political saga that has entangled Taiwan's most powerful officials. The alleged leaks fueled a failed bid by Ma to oust a popular legislative speaker, damaging his own low approval ratings and helped precipitate a series of election defeats that led to his Kuomintang's ouster. 
Wiretapped Conversation
The case turns on whether Ma improperly disclosed a wiretapped June 2013 conversation between the speaker, Wang Jin-pyng, and a DPP lawmaker who had recently been acquitted of breach-of-trust allegations. Wang told the lawmaker, Ker Chien-ming, that prosecutors wouldn't appeal, the Supreme Prosecutors Office said in September of that year.
While Wang was never accused of wrong-doing, Ker sought charges against Ma. On Tuesday, the former president was accused of improperly discussing details of the call with the then-premier and his deputy secretary general, according to court documents. The charges were leaking non-defense secrets, leaking classified information from communications surveillance and breaking rules protecting personal information.
Ma was questioned more than three years ago in connection with the disclosures, but presidential immunity protected him until he left office in May. Ex-Taiwanese Prosecutor General Huang Shyh-ming was convicted in 2015 of improperly disclosing the information to Ma and was released after paying a fine.
Ma faces several investigations into actions be made while in public office. In June, current President Tsai Ing-wen, of DPP, denied Ma's request to visit Hong Kong under a state secrets law that restricts trips by former top officials after they leave office, saying the city was a "sensitive region."
On Tuesday, Tsai's office declined to comment, saying only that the president respects the judiciary and wouldn't comment on individual cases.
— With assistance by Ting Shi
Before it's here, it's on the Bloomberg Terminal.
LEARN MORE