Debt Ceiling Fight May Be Too Tempting for Trump to Pass Up
By and
Lawmakers, investors see little risk of acting later in 2017

'I don't see a showdown,' says House conservative leader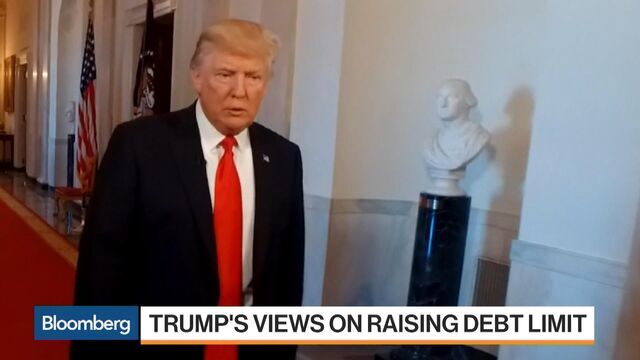 Treasury Secretary Steven Mnuchin has raised the alarm on the U.S. debt ceiling, and Republican leaders insist they won't push it to the limit as in past years by using it as a bargaining chip for deep spending cuts.
President Donald Trump hasn't weighed in recently, but both he and his hawkish budget chief have criticized Republicans in the past for being too willing to raise the debt limit -- a statutory cap on how much money the U.S. can borrow -- and may be more willing than previous administrations to threaten a default.
For Trump, the debt ceiling could emerge as tempting leverage to demand concessions, especially as Senate Democrats keep threatening to block his priorities in Congress.
"The good news is that you see all this leverage that is up for grabs," said Representative David Brat, a Virginia Republican. "You've got the debt ceiling, you've got an infrastructure plan, you've got the tax plan and the Obamacare plan. So I think that debt ceiling piece will be tied to -- and in my view it has to be tied to -- tax reform being in stone."
But second-ranking House Democrat Steny Hoyer told reporters Tuesday that his party "will not be shaken for ransom" by Republicans seeking to add partisan measures to a debt-limit plan. "We will support a clean debt-limit extension, period," said Hoyer of Maryland.
Any debt ceiling showdown is likely months off, but even the slight prospect of a default can rattle financial and credit markets and perhaps affect the ratings on sovereign U.S. debt.
Congress suspended the debt ceiling in 2015, but it will be restored on March 16. At this point, the Treasury Department has a variety of "extraordinary measures" it can take to avoid going into default. The administration has yet to offer a new estimate on when it will need new borrowing authority, but the Congressional Budget Office says Treasury's measures could extend the deadline into the fall, and private estimates suggest September or October.
Republican leaders, who control both chambers of Congress and the White House, are insisting there won't be a repeat of the brinkmanship of recent years, where conservatives have flirted with defaulting.
Senate Majority Leader Mitch McConnell told reporters last week that "of course" the limit will get a boost. "The government is not going to default," he told reporters.
Even the chairman of the conservative House Freedom Caucus, which led recent standoffs over the debt limit, downplays the risk.
"I don't see a showdown," said Representative Mark Meadows, a North Carolina Republican. "I think that all us believe that a debt ceiling increase with the appropriate amount of real balanced-budget directives is accomplishable under this president and a unified government."
The Trump administration is also a bit of an unknown. In the past, Trump has blasted Republicans for not using the debt ceiling as leverage, while his budget director, Mick Mulvaney, repeatedly said during his time in Congress that the debt ceiling should be raised only in exchange for big spending cuts.
"It's always a tough vote, but that's probably several months down the road with 'extraordinary measures' which are usually exercised," said Senator John Thune of South Dakota, the No. 3 Republican leader.
For now, Wall Street traders and firms that rate U.S. debt don't expect the types of fireworks that occurred in 2011, when debt-limit showdowns nearly resulted in default on obligations to bondholders. In a report released Monday morning, Moody's Investors Service said it sees no near-term credit risks after the U.S. debt limit -- suspended after yet another budget battle -- is reinstated.
 
"We expect Congress to agree to raising the debt ceiling, though this legislative process is likely to take months," the report said.
Conservative Republicans -- who were willing to vote against debt-limit increases under a Democratic president to win concessions on government spending -- say they see a good chance of getting cuts under a President Trump that would defuse the debt-ceiling debate.
But Trump himself has railed against lifting the debt ceiling, including in a 2013 string of posts to Twitter, saying he was "embarrassed" by Republicans' "pathetic" vote for the increase.
"Republicans are always worried about their general approval," he wrote. "With proposing to 'ignore the debt ceiling' they are ignoring their base."
White House press secretary Sean Spicer was more circumspect when asked if the president would lobby Congress to raise the debt ceiling on Thursday. He said the administration has "got a few months to do that."
Spicer noted that Trump had only occupied the White House for six weeks.
"Obviously, there are certain things that are a little beyond our control when we walked into this building, and we're going to work with Secretary Mnuchin and Director Mulvaney to address this issue, and obviously work with Congress," Spicer said.
For his part, Mnuchin has made clear that a default must be avoided.
He told lawmakers at his Senate confirmation hearing in January that he'll collaborate with Congress to ensure that a political standoff doesn't bring the U.S. to the brink of default. "I will commit to absolutely work with Congress, the House and the Senate, so that we don't get to the last minute and run out of money," Mnuchin said. "There should be no uncertainty that we're paying our bills."
But Mulvaney, back in 2010 after being elected to the House, said he had "yet to meet someone who can articulate the negative consequences" of hitting the debt ceiling, dismissing those who said "it will be the end of the world."
During his confirmation hearing last month, Mulvaney said he would "counsel the president as to the ramifications of raising the debt ceiling and of not raising the debt ceiling" and convey "all of the arguments" to Trump.
A spokesman for Mulvaney, however, said last week that the Office of Management and Budget director and the president were on the same page about the need to raise the debt limit.
"There's no daylight between them," OMB spokesman John Czwartacki said in an email.
On Wall Street, traders aren't bracing for a protracted debt-ceiling battle like those of years past, such as in 2013 when bill rates surged as investors shunned these securities in fear payments might not be met by the government.
Treasury's move to slow its issuance of bills -- aimed at bringing its cash balance back down to the level that existed when the debt limit was suspended in 2015 -- has caused some bill rates to fall sharply. Treasury bill rates that mature around March 16 have been trading about 0.1 percentage points below those that mature soon after that date -- when supply will pick up again as Treasury employs extraordinary measures to fund the nation's spending.
Last week, Mnuchin said the department will suspend the sale of state and local government securities, known as SLGS, on March 16. The action is among a set of accounting maneuvers Treasury has used in the past to temporarily free up funds during debt-ceiling debates. Other measures have included suspending reinvestments in a government retirement savings plan.
The Bipartisan Policy Center, a Washington-based think tank, estimated in early March that Treasury will run out of extraordinary steps to stay under the limit in October or November.
Lawmakers in both parties say that's just fine with them.
"We haven't finished the 2017 budget yet, and we're awaiting the 2018 budget," said Senator Jack Reed, a Rhode Island Democrat. "They've got Affordable Care Act repeal and replace issues. At some point we anticipate some tax reform proposal. All of that makes for so many different variables. This is just one part of a much-bigger picture. When we get more clarity, we'll be in a better position to think about the complications of the debt ceiling."
Since 1960, Congress has acted around 80 times -– mostly under Republican presidents -- to temporarily extend or permanently raise the ceiling, or change the definition of the debt limit, according to Treasury.
— With assistance by Liz McCormick, Terrence Dopp, Sarah McGregor, Steven T. Dennis, and Anna Edgerton
Before it's here, it's on the Bloomberg Terminal.
LEARN MORE