business
Ackman Sells Valeant Stake After at Least $2.8 Billion Loss
By , , and
Ackman, Fraidin won't stand for re-election at annual meeting

Jefferies offered shares to market for $11.10 to $11.40 each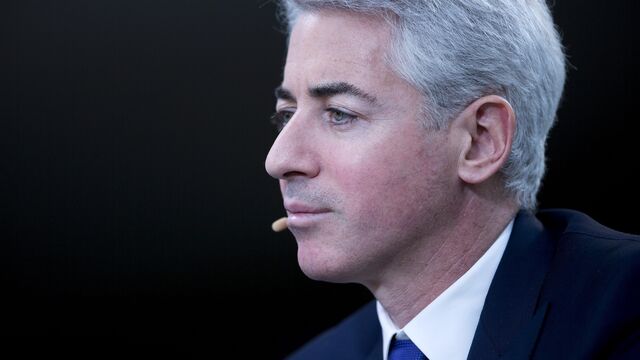 Bill Ackman has finally conceded defeat on Valeant Pharmaceuticals International Inc.
After waging a costly and outspoken public defense of the controversial drugmaker, its once-biggest champion sold his entire stake in the company at a loss and said he will leave the board.
Precise figures are hard to come by, but public filings suggest that Ackman's Pershing Square Capital Management may have lost $2.8 billion just on the Valeant shares it owned at the end of 2016, with overall losses likely to be much higher. The shares have plunged more than 90 percent from their peak.
Billionaire Ackman's big, concentrated bets and brash personality have made him one of the most polarizing names in investing. His decision to give up on Valeant, a favorite among hedge-fund types before probes into its business practices, accounting and drug pricing caused a collapse in the shares, comes after a lengthy campaign to turn around the company and salvage his investment.
The sale ends a near three-year saga that first saw Ackman team up with Valeant in a hostile bid for a rival, before later making a direct investment. Over the same period regulators intensified scrutiny of the drugmaker, its management and the board were overhauled, and its value was decimated.
Fund Losses
Pershing Square sold its entire stake in Valeant Monday and said that Ackman, along with fellow Pershing Square representative Steve Fraidin, will leave the board at the next annual meeting. The investment, which represents about 1.5 percent to 3 percent of Pershing Square's funds, required "a disproportionately large amount of time and resources," according to a statement Monday.
"We appreciate the support and guidance that Bill and Steve provided during a challenging time," Joe Papa, Valeant's chief executive officer, said in an emailed statement. "Serving on the board of a company undergoing a transformation requires a significant commitment and we accept their decision not to stand for re-election."
As of mid-December, Pershing Square held 18.1 million Valeant common shares along with call options to purchase another 9.1 million shares, according to regulatory filings. Pershing Square paid an average of $166.11 a share for the Valeant stock that it purchased outright, not counting proceeds received for subsequent stock sales or options transactions.
Based on the average price paid, Ackman's hedge funds would have lost about $2.8 billion on the sale of the 18.1 million shares that they held outright. That assumes the stock was sold at $11.25 a share, the midpoint of the offering price. Shares fell as low as $10.30 in early trading Tuesday, down about 15 percent from their Monday closing price.
Allergan Bid
Jefferies Group LLC offered Pershing Square's 27.23 million Valeant shares Monday for $11.10 to $11.40 a piece, according to a person familiar with the process who asked not to be identified discussing private information.
Though Pershing Square only disclosed its investment in Valeant in March 2015, the relationship between the two goes back a year earlier. In 2014, Ackman's fund had teamed up with the drugmaker in a hostile bid for Allergan Plc, which was thwarted when Allergan agreed to be acquired by Actavis Plc. Valeant and Ackman are now facing a shareholder lawsuit over alleged insider trading involving the failed deal for Allergan.
Valeant, once a darling of Wall Street, has seen its shares plummet more than 90 percent since August 2015 amid a spate of investigations involving its pricing strategy and the use of a now-defunct mail-order pharmacy to help sell drugs. Until now, Ackman has stood by Valeant, at times being its most vocal advocate. In 2015, he held an hours-long conference call to defend his investment, and even predicted the stock would reach $448 by 2019.
Yet Valeant's management, which underwent a complete overhaul as the scandals unfolded, has been struggling to tame its debt and rebuild investor confidence.
Asset Sales
While the company has started looking to asset sales as a way to relieve its debt burden, analysts have expressed doubt that will be enough. Valeant's Papa said last year the company could sell about $8 billion in non-core assets.
The new management team refinanced the company's debt burden last week, asking lenders for more breathing room and seeking new loans and bonds that would extend the maturities on part of its $30 billion debt load.
Ackman's Valeant exit follows earlier high-profile losses in retailers J.C. Penney Co. and Target Corp. He has also amassed losses in an ongoing short battle over nutrition products group Herbalife Ltd.
Pershing Square sold out of J.C. Penney and resigned from the board in 2013 amid a public spat with the company's board over its direction and management. That followed more than two years of changes at the retailer, including replacing the CEO and ending discounting -- a move that alienated customers.
Ackman raised a $2 billion fund to invest in retailer Target in 2007, and then lost 90 percent of the money in the next two years. At the time he called it "one of the greatest disappointments" of his career.
Pershing Square, which usually holds about 10 positions, made billions investing in big winners such as General Growth Properties Inc. and Restaurant Brands International Inc. It recently -- and profitably -- exited investments in animal-health company Zoetis Inc. and long-time railroad holding Canadian Pacific Railway Ltd. The hedge fund has two new as-yet unidentified holdings.
Short Bets
Ackman has labeled Herbalife a pyramid scheme since going public with a $1 billion short bet in December 2012. Herbalife has repeatedly denied Ackman's allegations, and fellow billionaire activist Carl Icahn went long -- subsequently amassing almost 25 percent of the stock and stacking the board with his representatives.
The maker of weight-loss shakes and supplements reached a $200 million settlement with the U.S. Federal Trade Commission last year and agreed to make sweeping changes to settle claims it deceived consumers with get-rich-quick promises. The regulator didn't call Herbalife a pyramid scheme -- and didn't say it wasn't one.
Pershing Square posted its worst annual performance in 2015, with a net loss of 20.5 percent -- largely blamed on Valeant -- after delivering a 2014 net return of 40.4 percent. Last year Pershing Square Holdings Ltd., the publicly traded security of Ackman's activist hedge fund, was down 13.5 percent, and as of March 7 had lost 1.5 percent this year, according to the latest weekly data posted online. The public fund began trading in Amsterdam in October 2014 with a similar portfolio to the hedge fund.
Ackman typically buys large stakes in a handful of big companies and agitates -- usually loudly -- for changes and transactions. The fund's current holdings include burrito chain Chipotle Mexican Grill Inc., food group Mondelez International Inc., and industrial gas supplier Air Products & Chemicals Inc. He is also suing the U.S. government over ownership of mortgage backers Fannie Mae and Freddie Mac.
(A previous version of this story corrected an earlier percentage share move in the 10th paragraph.)
— With assistance by Drew Singer, and Doni Bloomfield
(
Updates shares in 10th paragraph.
)
Before it's here, it's on the Bloomberg Terminal.
LEARN MORE