Trump Envoy Greenblatt in Israel to Judge Peace Prospects
By
He saw Netanyahu in Jerusalem, will see Abbas in West Bank

State Department calls it the first of many visits to region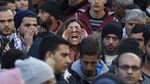 President Donald Trump pushed forward with Israeli-Palestinian peace efforts by sending his longtime lawyer turned diplomatic envoy to the Middle East to weigh whether there's a real prospect to resurrect negotiations.
Jason Greenblatt, the president's special representative for international negotiations, landed Monday in Israel, where he met with Prime Minister Benjamin Netanyahu. He's to head to the West Bank city of Ramallah Tuesday to see Palestinian Authority President Mahmoud Abbas.
"We can do some good things together," Netanyahu told Greenblatt, who was accompanied to the prime minister's office by Ron Dermer, the Israeli ambassador to the U.S.
"I hope we can do great things together," Greenblatt responded in an exchange recorded on video and circulated by the U.S. Embassy on Twitter.
Greenblatt has been charged by Trump with determining whether tangible progress can be made toward peace between Israelis and Palestinians despite decades of failed talks punctuated by outbursts of warfare.
"He'll be there to do a lot of listening, discussing the views of the leadership in the region," acting State Department spokesman Mark Toner told reporters Monday in Washington, calling it "the first of what will become many visits in the region."
Read why Israel's settlements bother Trump less than others -- a QuickTake
Trump invited Abbas to the White House in a phone call last week, his first direct communication with a Palestinian leader since taking office in January. The contact came almost a month after Netanyahu was warmly received by the president in Washington, where Trump said he would strengthen ties with the Israeli leader after years of friction with the Obama administration.
Trump also altered U.S. policy at a press conference with Netanyahu by indicating that Palestinian statehood wouldn't necessarily be the outcome of peace talks. "I'm looking at a two-state and one-state, and I like the one that both parties like," Trump said. He also asked Netanyahu to "hold off on settlements for a little bit" while he looks into peacemaking prospects and said, "I think we're going to make a deal."
Greenblatt and Dermer, the Israeli ambassador, were appointed by their leaders last month to reach an understanding between the two countries on settlement construction. Before Trump asked him to hold off, Netanyahu announced that Israel would build the first new West Bank settlement in a quarter-century and build some 6,000 new apartments across the territory where Palestinians want to establish and independent state.
Trump also has stopped mentioning his campaign promise to move the U.S. embassy in Israel from Tel Aviv to Jerusalem, a move that Palestinians have said would provoke a potentially violent reaction.
Greenblatt served as chief legal officer for the Trump Organization for 20 years before joining the administration.
Before it's here, it's on the Bloomberg Terminal.
LEARN MORE