business
That Fantastic Parental Leave Policy Sweeping America? It Isn't
The benefits arms race in Silicon Valley isn't catching on. Here's where that leaves new parents.
By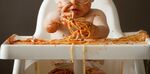 Remember the mad rush to offer employees weeks and weeks of paid leave for all new parents? 
Turns out that trend was limited to a certain sector of the American economy. Over the last decade, many companies have instead reduced their leave offerings. 
In recent years, as the labor market has tightened, Google, Netflix Inc., American Express Co., and other elite firms have announced expanded-leave policies, giving more time off to more workers than ever, in a sort of parental leave arms race. When Google (now part of Alphabet Inc.) increased its maternity leave from 12 weeks to to 18 weeks in 2007, the rate at which new moms left the company fell by 50 percent. Since then, more companies struggling to hire and retain talent have realized that generous, broadly inclusive parental leave policies save money on turnover costs. It's not such bad publicity, either.
Yet many companies have backed away from fully paid policies, an already rare benefit for the average American worker, according to a new, nationally representative survey by the Society for Human Resource Management and the Families and Work Institute.
Of 920 U.S. employers with 50 or more employees that offer paid leave, the percentage offering full pay to new parents dropped from 17 to 10 percent between 2005 and 2016, the survey found. Among the organizations that do offer leave, the average maximum time off given to new parents dropped from 15.2 weeks to 14.5 weeks.
The new data challenge the perceived rise of flashy, wraparound parental leave policies that offer 16, 20, or even 52 weeks to all new parents at full pay. Most companies are not, in fact, expanding their maternity, paternity, or parental leave offerings. 
Like many workplace benefits, paid parental leave is a story of the haves and the have-nots. While the number of companies offering some pay for new parents has risen from 46 to 58 percent in the past decade, the coverage hasn't come in the form of expanded leave policies, SHRM found. Instead, more companies than ever are offering temporary disability insurance, a free benefit for employees which by law has to give birth mothers some paid time off to recover. Of employers providing at least some paid maternity leave, 78 percent fund it through a temporary disability insurance plan, the survey found. 
The problem is, temporary disability has a much narrower scope than parental leave packages. It doesn't cover new fathers, adoptive parents, or women who didn't give birth to a child themselves, and most packages cover only 60 to 75 percent of pay for either six or eight weeks. Some companies make up the difference in pay and time off for new moms to offer full paid leave. 
"We thought there would be an increase in the length of leaves or in offering funds because of all of the name-brand companies that were in the news for doing so," said Ellen Galinsky, president of the Families and Work Institute. "That wasn't the case."
Despite the recruiting power of a rich parental leave policy, many companies burned by the recession still don't want to spend the money on paid leave. "There is still a wait-and-see view," Galinsky said. "Right now there seems to be more of a pause."
While the economic recovery hasn't expanded paternity leave, legislation has, slowly. The Family and Medical Leave Act of 1993 mandates that employers with 50 or more employees offer at least 12 weeks of unpaid time off to new parents. There's been a lag. In 2005, just 79 percent of companies were in compliance with the requirement. Now it's up to 93 percent.
As for paid leave, there is no federal law in the U.S. requiring companies to offer it to new parents. President Donald Trump did raise the issue last year on the campaign trail. His goal: six weeks of partly paid leave for new moms. 
Before it's here, it's on the Bloomberg Terminal.
LEARN MORE