MyTaxi Expands in U.K. as Parent Daimler Plots Future of Cars
By
The cab-hailing app is migrating users of its acquired Hailo

MyTaxi part of parent Daimler's autonomous vehicle planning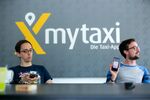 MyTaxi is to begin converting London users of its acquired Hailo app to the German company's smartphone software, as the unit of Daimler AG begins its fightback against Uber in the U.K. capital.
The Hamburg-based cab-hailing company has already moved more than 17,000 drivers who previously used the Hailo system to the MyTaxi app and plans to start converting U.K. customers this week, Chief Executive Officer Andrew Pinnington said. 
In London, more than 30,000 licensed private-hire drivers use the Uber app, according to a company spokesman.
Hailo, which opened for business in the U.K. in 2011, briefly expanded to the U.S. and Canada, but pulled out of these markets in 2014 amid stiff local competition to focus on the U.K., Ireland and Spain.
However, Hailo's growth stalled. The total value of fares charged through the Hailo application in 2015 fell 3.3 million pounds ($4 million), to 97.5 million pounds, from a year earlier, according to accounts for HNH Group Ltd, published on the British business register on Jan. 6.
Auto Hedge
Daimler last year merged the mostly European-based MyTaxi with U.K. rival Hailo, as it plots a future in which ride-hailing and car-sharing services will replace some automobile ownership.
The German carmaker also has deal with Uber Technologies Inc. in which Daimler says it will include its vehicles on Uber's autonomous-car network in coming years. Pinnington says MyTaxi, which recently acquired a rival in Greece and is eyeing the competitive French market, can be a "hedge against disintermediation" for parent Daimler.
"Unlike some of the other services, we work with the authorities," MyTaxi Chief Executive Officer Andrew Pinnington said. "Our phrase we use is we're a constructive disruptor." 
MyTaxi, which claims 120,000 registered drivers and more than 6 million users, supplies its parent with "billions of data points about how people move around European cities" that can be used to develop self-driving vehicles.
Unlike Uber, Hailo, MyTaxi and other taxi-hailing apps are intrinsically limited in the number of drivers they can deploy in a given city, since they use licensed cabbies to fill demand. They also can't set their own fares.
Technical Edge
Daimler also offers Car2Go, a car-sharing service that lets consumers pick up a car on the street. The Stuttgart-based automaker is also working with small start-ups to find a technical edge in areas including manufacturing, and electronics and entertainment systems in its cars, noted for their luxe interiors.
MyTaxi and Car2Go "provide Daimler with an early look at how urban consumer behave," J.P. Morgan auto analyst Jose Asumendi said in a recent note to clients. Using their data lets Daimler build models of European cities that could "potentially be useful when urban centers start incorporating automated taxis," he said.
BMW AG, Daimler's rival in the German luxury car market, has seen higher spending on electric-car and autonomous-driving technologies crimp profitability. BMW and rental car company Sixt SE have a car-sharing service called DriveNow. Volkswagen AG has funded Gett, which like Uber uses private drivers but eschews so-called surge pricing during periods of peak demand.
MyTaxi operates in 10 European countries including Germany, Ireland, Italy, Spain and Poland. Pinnington said he's prioritizing expansion in Scandinavia and Eastern Europe, and would reach a decision soon about France, where MyTaxi is absent.
Before it's here, it's on the Bloomberg Terminal.
LEARN MORE